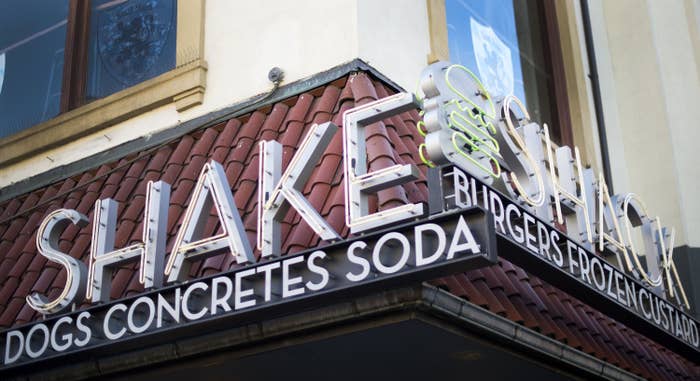 After three New York City police officers became ill Monday night after they drank milkshakes purchased at a Shake Shack, two police unions claimed, without evidence, that the cops were "intentionally poisoned" by restaurant workers.
The NYPD said early Tuesday morning that it had investigated the incident and determined there was no criminal wrongdoing by the employees. Investigators believe the substance in their drinks was a cleaning solution that had not been fully cleared out of the milkshake machine, according to CNN.
"After a thorough investigation by the NYPD's Manhattan South investigators, it has been determined that there was no criminality by shake shack's employees," NYPD Chief of Detectives Rodney Harrison tweeted.

Following news that the officers had fallen sick, the Detectives' Endowment Association (DEA), a union for NYPD detectives, on Monday night tweeted an "urgent safety message" about the alleged incident, saying "three of our brothers in blue were intentionally poisoned by one or more workers" at a Shake Shack located in lower Manhattan.
"After tasting the milk shakes they purchased they became ill, making it necessary for them to go to an area hospital," DEA President Paul DiGiacomo said in a statement.
The officers were taken to a hospital where they were treated and released.
DiGiacomo said officers must "be more vigilant than ever" and urged them "to not buy food from locations unknown to you."

"Police in New York City and across the country are under attack by vicious criminals who dislike us simply because of the uniform we wear," DiGiacomo said. "Emboldened by pandering elected officials, these cowards will go to great lengths to harm any member of law enforcement."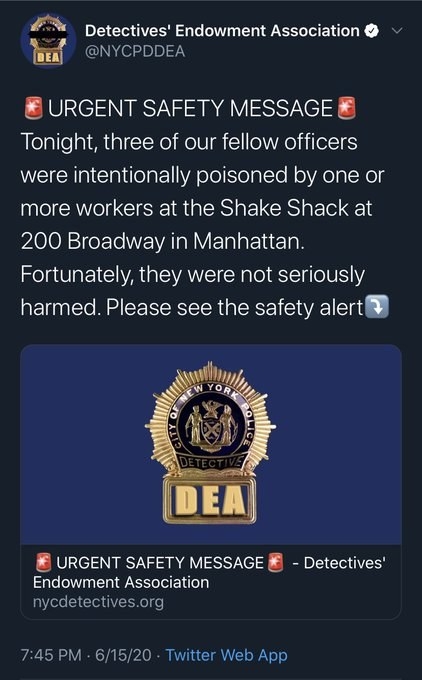 The Police Benevolent Association of the City of New York (PBA), the city's largest police union, bolstered these allegations, claiming the "toxic substance" found in the milkshakes was "believed to be bleach."

Both unions have since admitted their claims were wrong, saying they are "relieved" officers were not intentionally harmed.
Shake Shack, which initially said it was "horrified" by the allegations and would comply with the police investigation, said it is "relieved to hear the officers are all okay."
After the police announced there had been no criminal activity, right-wing media figures Sean Hannity and and Tomi Lahren were continuing to share the false allegations.
According to Vice, police officers across the country have previously made false reports about food tampering at fast-food chains.
In January, a Kansas police officer resigned after it was revealed that he had written "fucking pig" on his own McDonald's coffee cup and posted the photo on Facebook.
In July 2019, an officer in Indianapolis accused McDonald's workers of taking a bit of his McChicken, but later admitted he'd "forgotten that he had previously bitten the sandwich."
Correction: A police officer in Kansas wrote the comment on the McDonald's cup. A previous version of the article misstated the officer's rank.