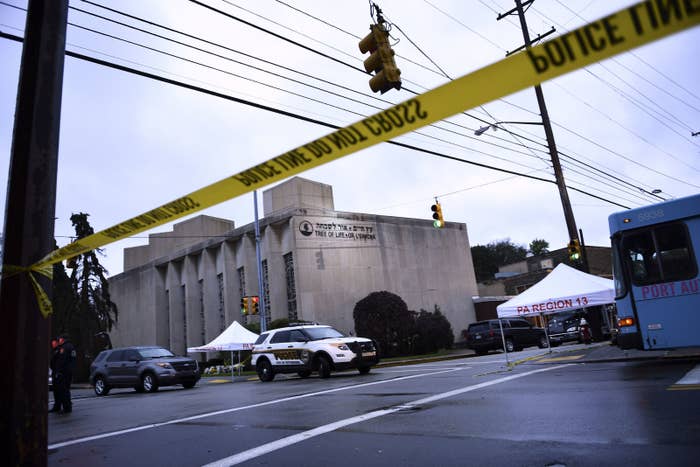 PITTSBURGH — On a cold, damp morning and under gray skies, they came to lay flowers.

Neighbors of the Tree of Life synagogue weaved through police cars and media vans parked in the normally quiet Squirrel Hill neighborhood with bouquets, seeking to pay tribute to the 11 Jewish Americans who were murdered while praying a day earlier.
"It's such a small, tight-knit community that I'm sure we'll all know someone that knows someone," Lori Fitzgerald told BuzzFeed News.
She was out walking two dogs, Freddy and Haley, who belonged to a neighbor who was injured in the shooting and is being treated in a hospital.
"That's the kind of neighborhood we are," she said. "They cat-sit for us; we have keys to people's houses. It's that kind of neighborhood. People take care of each other."

Saturday's slaughter, which is believed to be the deadliest attack on the Jewish community in US history, "has ripped at the fabric of our community," she said.
Authorities on Sunday morning outlined the federal hate crime case being built against the suspect. He was charged late Saturday night with 29 counts, including 11 counts of murdering people exercising their religious beliefs — one for each of the victims.
"The fact that this attack took place during a worship service makes it even more heinous," said Scott Brady, the US attorney for the Western District of Pennsylvania. "A place of worship is a sacred place. It's a place of peace and a place of grace."
There were also four counts related to the four police officers wounded while responding to the shooting — actions that officials say prevented the gunman from leaving the synagogue and perhaps unleashing more violence elsewhere in the city.
"They are truly heroes who, without hesitation, without concern for their own safety, ran toward gunfire to protect innocent victims," Brady said.
Officials said the suspect entered the synagogue at approximately 9:50 a.m. on Saturday, armed with an AR-15 assault rifle and three Glock .357 handguns.
As three different congregations met in the synagogue, he allegedly roamed the halls and opened fire, killing 11 people and injuring two others. The bodies of the victims were found in three different locations in the building, according to FBI Special Agent in Charge Robert Jones.
There were bullet casings scattered throughout the crime scene, which officials said would take up to a week to fully process.

"This was a large, complex crime scene," said Jones, who has described it as one of the worst he has seen in his 22 years with the FBI. "Much work remains to be done."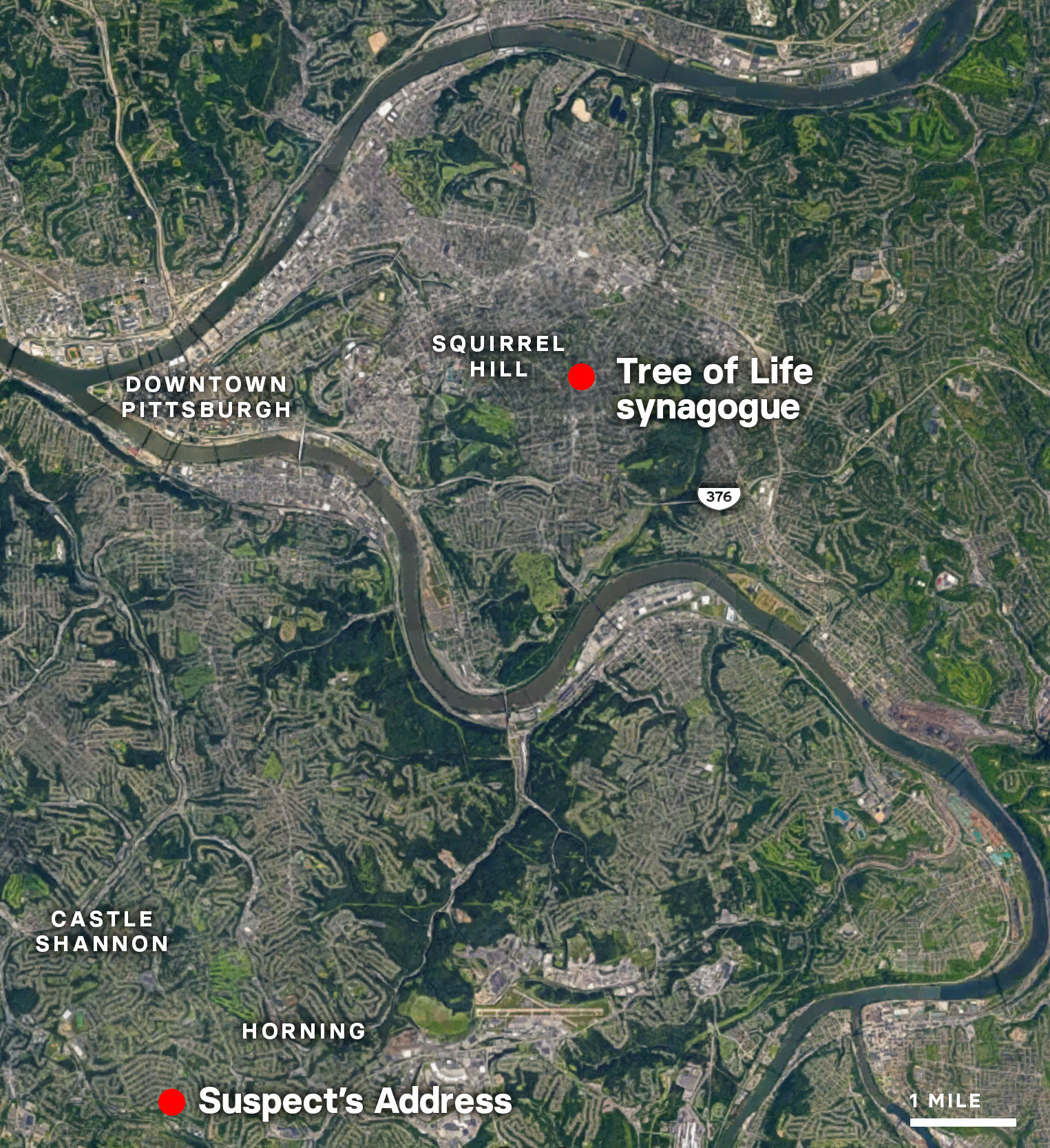 The suspect has undergone surgery and remains in a hospital under police guard. While he was receiving medical treatment, he told a SWAT team member that he wanted all Jews to die because they were committing genocide against "his people," Pittsburgh police wrote in their criminal complaint.
As the bullets rang out, the suspect also made statements relating "genocide and his desire to kill Jewish people," said Brady, the US attorney.
He "commented to one law enforcement officer, in substance, 'they're committing genocide to my people. I just want to kill Jews,'" and "repeated comments regarding genocide, his desire to kill Jewish people, and that Jewish people needed to die," according to a federal complaint.
The suspect had also frequently railed against Jews and other minorities on Gab, a social media platform popular with the alt-right.

But Brady said the shooting was being treated, for now, as a hate crime, rather than an act of domestic terrorism.
"A hate crime is where an individual is animated by a hatred or a certain animus toward a person of a certain ethnicity or religious faith," he explained. "It becomes domestic terrorism where there's an ideology that that person is also trying to propagate through violence."
Brady said investigators would "continue to see where that line is."
The suspect is scheduled to make a court appearance on Monday morning.
The bodies of the 11 victims have been identified by the Allegheny County medical examiner's office. The dead included a husband and wife, and a pair of brothers. The oldest was 97; the youngest, 54.

They were publicly named on Sunday morning as:
Joyce Fienberg, 75

Richard Gottfried, 65

Rose Mallinger, 97

Jerry Rabinowitz, 66

Cecil Rosenthal, 59

David Rosenthal, 54

Bernice Simon, 84

Sylvan Simon, 86

Daniel Stein, 71

Melvin Wax, 88

Irving Younger, 69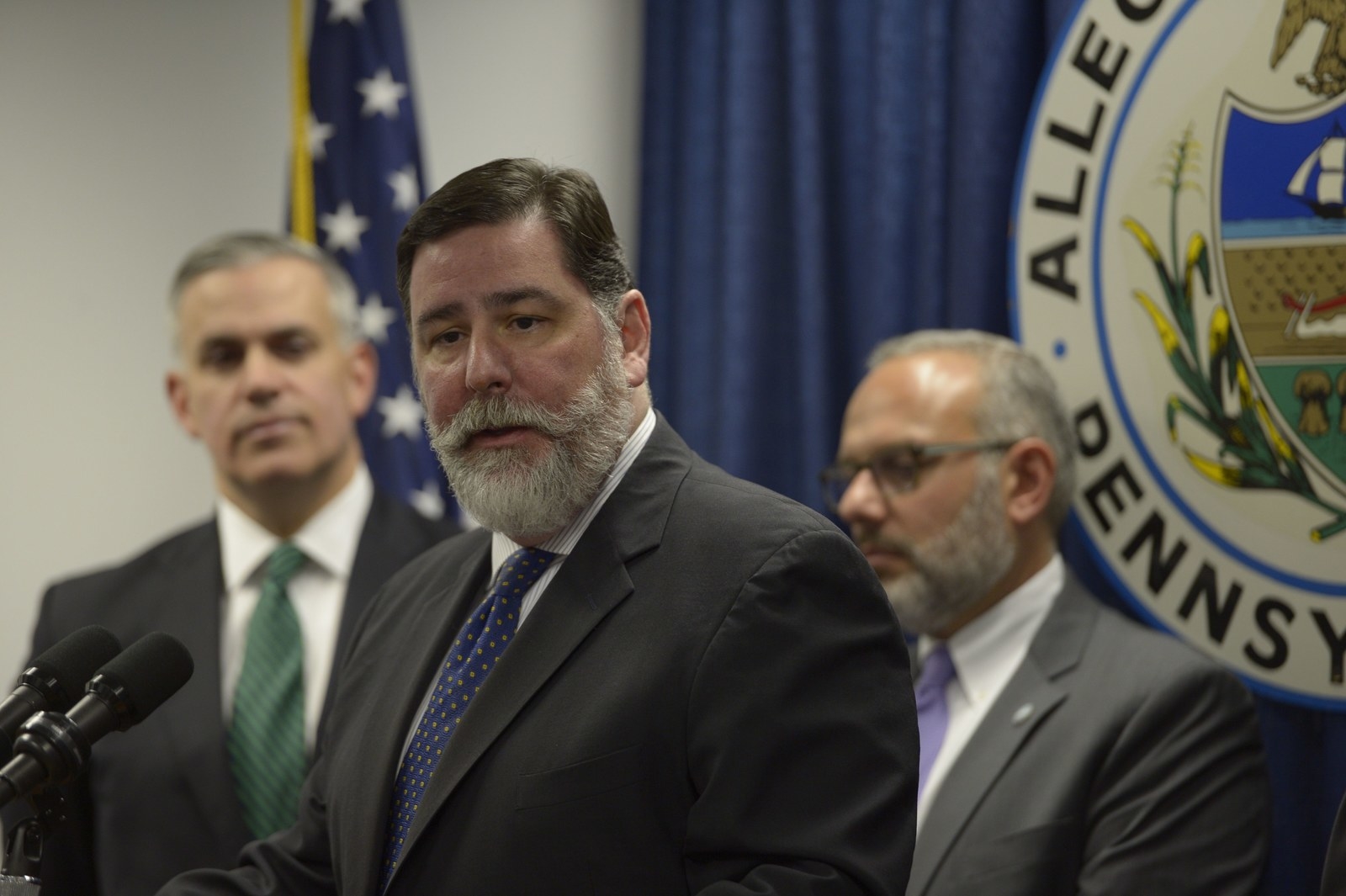 In Washington, DC, on Sunday morning, the flag at the White House flew at half-staff. President Donald Trump on Saturday condemned the "wicked act of mass murder," which he described as "an anti-Semitic attack."
But he also placed some blame on synagogue officials for not having stronger security at their house of worship. "They had a maniac walk in, and they didn't have any protection. And that is just so sad to see. So sad to see," he said. "The results could have been much better."
Responding to the president on Sunday, Pittsburgh Mayor Bill Peduto said he had seen the president's comments, but he believed the focus should be on gun control, not security measures.
"We're dealing with irrational behavior. There is no way that you can rationalize a person walking into a synagogue during services and taking the lives of 11 people," he said. "We shouldn't be trying to find ways to minimize the dangers that occur from irrational behavior. We should be working to eliminate irrational behavior and the empowerment of people who would seek to cause this type of carnage from continuing."
"I think the approach that we need to be looking at," he added, "is how we take the guns, which is the common denominator of every mass shooting in America, out of the hands of those that are looking to express hatred through murder."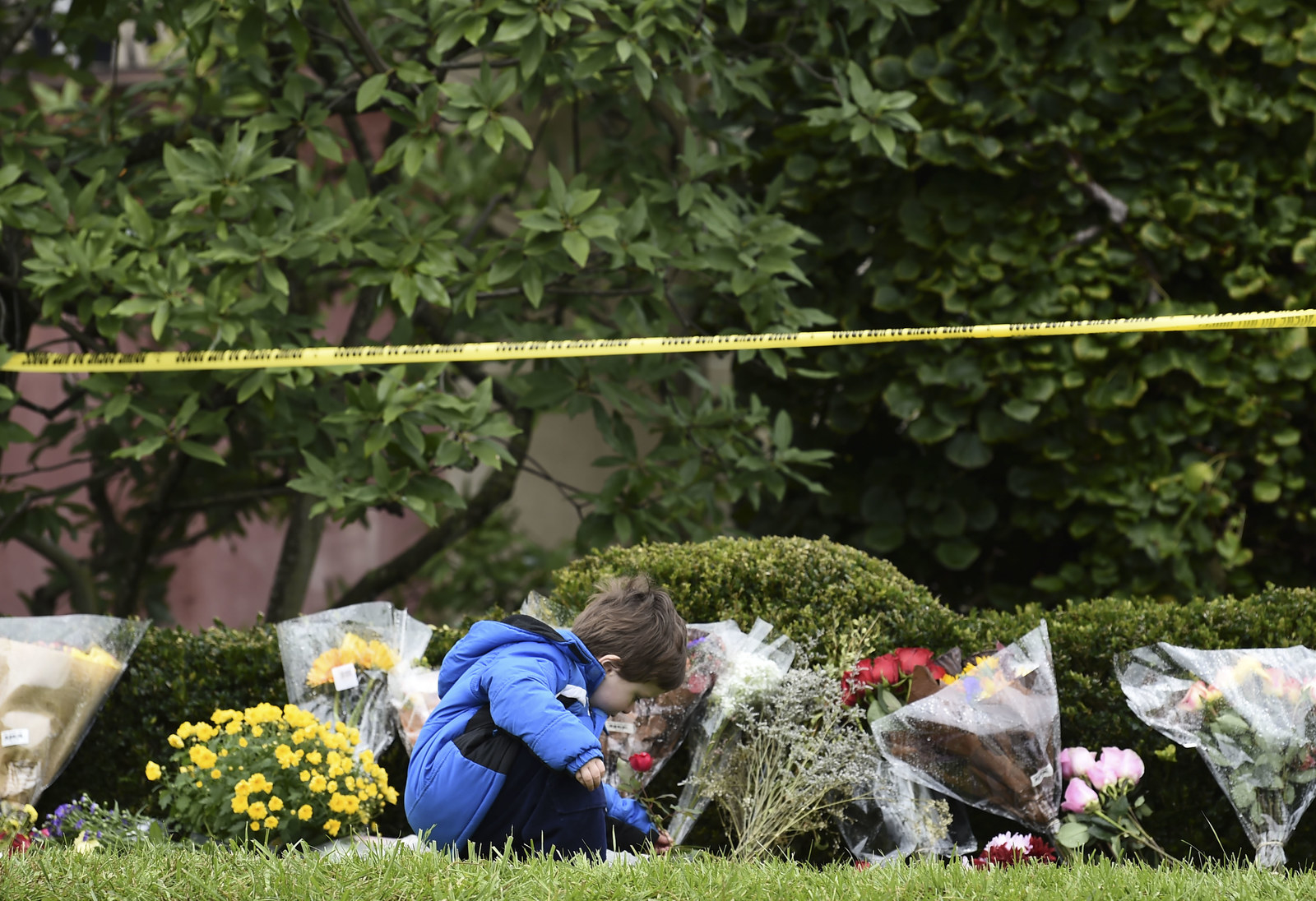 The scene around the synagogue was mostly quiet early on Sunday.
Squirrel Hill resident Chris Rawson, a theatre critic for the city's newspaper, the Pittsburgh Post-Gazette, told BuzzFeed News people in the community felt as if they had all lost loved ones.
"It doesn't matter if we know them directly," he said. "They're a part of our community, a part of our city, a part of our nation."
Wearing a football hat emblazoned with the logo of the city's team, the Pittsburgh Steelers, resident Rand Werrin told BuzzFeed News he was very sad that people would want to harm him because he is Jewish.
"It's daggering the heart of our community," he said. "But I think we're a strong community and we'll bounce back."
"Sometimes you need adversity to see strength," he said.
David Mack contributed reporting to this story in New York City.