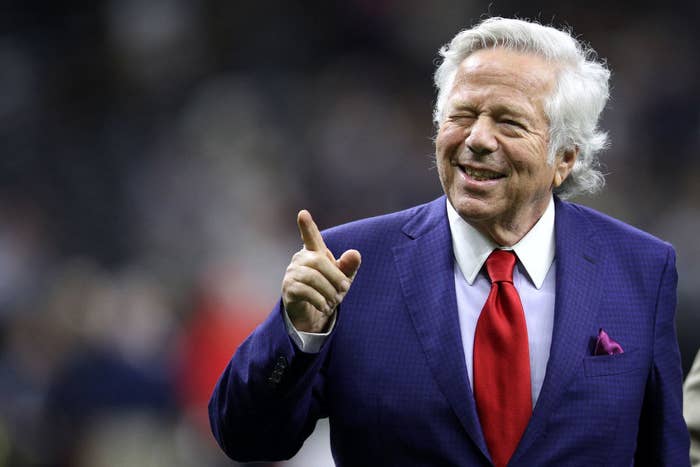 Billionaire Patriots owner Robert Kraft has been charged with soliciting prostitution as part of a Florida investigation into sex trafficking, police said.
Kraft, 77, has been charged with two counts of soliciting another to commit prostitution, the police chief of Jupiter, Florida, said, adding that there is video evidence.
"The question was does the video contain Mr. Kraft inside receiving the alleged acts? The answer is yes," Detective Andrew Sharp said at a news conference.
The incidents occurred over the course of two visits to the Orchids of Asia Day Spa, which took place approximately a month ago, police said.

"We're as equally stunned as everyone else," police chief Daniel Kerr said.

"We categorically deny that Mr. Kraft engaged in any illegal activity," a spokesperson for Robert Kraft said. "Because it is a judicial matter, we will not be commenting further."
A spokesperson for the NFL said in a statement that the organization "is aware of the ongoing law enforcement matter and will continue to monitor developments."
Kraft is a major supporter of President Donald Trump, donating $1 million to his inauguration.

And he recently told the Boston Herald that Trump is "working very hard to serve the best interests of the country."
Trump refers to Kraft as his friend, and the owner has been to the White House to celebrate his team's Super Bowl wins.
Asked about the charges on Friday, Trump told pool reporters he was "very surprised" by them.
"Well, that's very sad. I was very surprised to see it. He's proclaimed his innocence totally and — but I'm very surprised to see it," Trump said.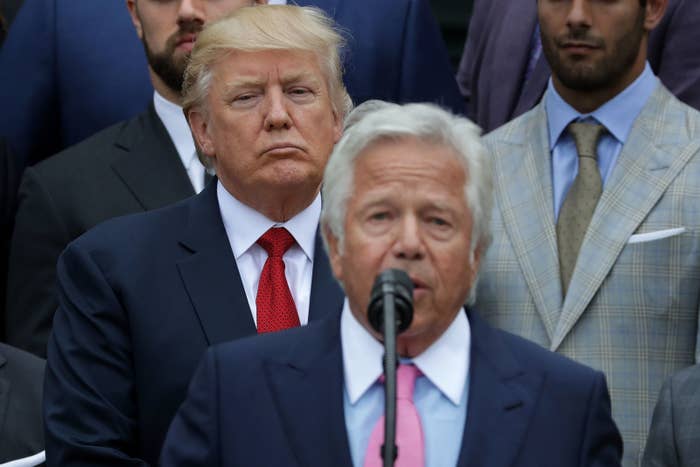 Kraft is one of 25 men being charged by Jupiter Police as part of the ring. The names of the other men were released on Friday to reporters at the press conference. Police said those individuals did not include anyone else notable in the community.
The men range in age from 29 to 84, with the majority being in their 50s and 60s. Approximately half are at least part-time residents of Florida, with the rest hailing from many states in the Northeast and the Midwest like New York, New Jersey, Illinois, and Ohio.
The charges against Kraft came as part of a wide-reaching, multi-agency investigation into human trafficking at several spas and massage parlors Florida's Treasure Coast region.
Arrest warrants have been issued for more than 300 people as part of the entire bust, Martin County Sheriff William Snyder told BuzzFeed News. In addition to the dozens of men arrested for soliciting sexual acts, several parlor owners were arrested.
The women who were allegedly being trafficked are being treated as victims in this case, Snyder said.
"We do not treat these women as suspects," Snyder said. "The true monsters are the men. The men who go in there have the key to their freedom. If they stop frequenting these places, the sex trafficking would stop."

Police had been surveilling the spa over "several months" and have video evidence of all who were arrested, they said.

Snyder characterized the ring of spas as an "international trafficking enterprise," and said they've traced millions of dollars to bank accounts in China.
"We have seized half a million dollars so far, one house, several cars," he said. "We followed the money trail and there was $20 million between China and the US."
The women, who are mostly in their 20s and 30s and "don't speak one word of English," did not have access to showers, stoves, or transportation. They "never left these establishments," Snyder said.
"The women are treated as merchandise, the way they're moved from place to place," he said.
Snyder said the businesses have persisted for so long "because these places hide in plain sight."
"They're in strip malls, next to nice grocery stores," he said. "They have beautiful facades and there's nothing about them that makes them look like illicit sex trafficking is going on."

"The women are made to have unprotected sex with 15 men a day, seven days a week, with no days off," he said. "That's a lot of people. This is risky behavior."

Rumors of Kraft's alleged involvement may have been circulating before Friday. In a Thursday press conference, Vero Beach Police Chief David Currey was asked if any NFL players or people working in professional sports were arrested as part of the Vero Beach investigation.
"We don't have any in this county as of now…NFL, to my knowledge, no," Currey said.
Kraft, who lives in Massachusetts and also has a house in Palm Beach County, will be issued an arrest warrant from Florida.