Papa John's founder and chair John Schnatter used the n-word during a May conference call about how to not seem racist, BuzzFeed News has confirmed.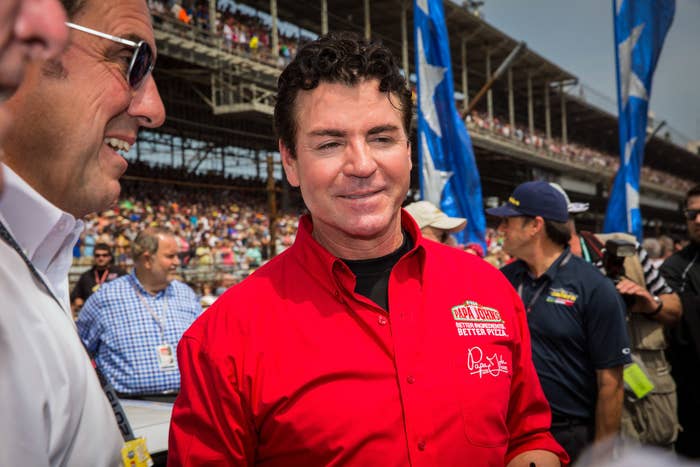 The call, which was first reported by Forbes, was between executives of the pizza chain and marketing agency Laundry Service.
The call was reportedly intended as a public relations training exercise for Schnatter after he faced backlash last year for saying NFL players who kneel during the national anthem were hurting pizza sales.
The NFL comment was celebrated by neo-Nazis, and Schnatter was ousted as CEO as a result.
In the May call, Schnatter reportedly asked how he could distance himself from the company's neo-Nazi fans, and made light of his comments about the NFL.
"Colonel Sanders called blacks n-----s," Schnatter said, according to Forbes, which censored the word in the story. Schnatter was reportedly complaining that the KFC founder wasn't vilified the way he had been.
In an effort to show how not racist he is, Schnatter also reportedly described in graphic detail the violence black people faced where he grew up in Indiana.
According to Forbes, "multiple individuals on the call" were offended by the description.
Laundry Service owner Casey Wasserman reportedly "moved to terminate" their contract with the pizza company after hearing about Schnatter's comment, according to Forbes.
Laundry Service did not immediately respond to a request for comment from BuzzFeed News.
In a statement to BuzzFeed News, Schnatter confirmed he'd used the n-word on the conference call.
"News reports attributing the use of inappropriate and hurtful language to me during a media training session regarding race are true," said Schnatter. "Regardless of the context, I apologize. Simply stated, racism has no place in our society."
A spokesperson for the pizza chain said the company "condemns racism and any insensitive language, no matter the situation or setting."
"Our company was built on a foundation of mutual respect and acceptance. One of our core company values is People Are Priority Always (P.A.P.A.) and we are committed to maintaining a diverse, equitable and inclusive workplace for all of our corporate and franchise employees," said the spokesperson.
"Diversity is an essential ingredient in our pursuit of providing a better product and better service to our customers and to the communities where we operate and live," the spokesperson said. "We take great pride in the diversity of the Papa John's family, though diversity and inclusion is an area where we will continue to strive to do better."
On Wednesday, Schnatter resigned from the University of Louisville Board of Trustees, which he'd been on for two years.
In a statement, board chairman J. David Grissom thanked Schnatter for his two years on the board and his "generous support for so many years."
Schnatter, for whom the university's "Papa John's Cardinal Stadium" is named, previously reportedly donated more than $20 million to the school's athletic programs.
Grissom said he is "confident that his comments, while inappropriate, do not reflect his personal beliefs or values."
"No member of the board of trustees condones racism or insensitive language regardless of the setting," said Grissom. "The University of Louisville embraces and celebrates diversity and is a supporter of all its students and stakeholders regardless as to their identity."