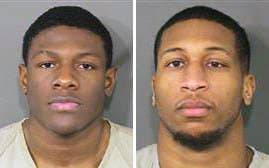 Two Ohio State University football players were arrested Tuesday on rape and kidnapping charges for the assault of a woman earlier this month.
Amir Riep and Jahsen Wint were arrested after turning themselves in for the alleged Feb. 4. rape of a 19-year-old woman, police said. It is unclear if the woman is also a student at Ohio State.

Both men pleaded not guilty.
According to a Columbus Police Department complaint filed with the Franklin County Municipal Court, obtained by BuzzFeed News, the woman had initially been having consensual sex with Riep but then told him she wanted to stop.
At that point, Wint walked into the room and Riep allegedly asked the woman if he could join in. Riep then grabbed her by the neck and vaginally raped her, and also held her down while Wint forced oral penetration, the court records state.
After assaulting the woman, police said Riep and Wint filmed the woman, telling her she needed to say her name and that it had been consensual. In the video, Riep can reportedly be seen laughing at the woman as she cries, according to the records.
On Wednesday, Ohio State University issued a statement to BuzzFeed News about the arrests.

"We are aware that two of our students have been arrested and criminally charged," a spokesperson for the school said. "They have been suspended from all activities involving the football program. We will share more information when available."

Riep is a senior at the school and is from Cincinnati, according to the football team's website. Wint, also a senior, is from Brooklyn, New York.
Late on Wednesday afternoon, the two men were dismissed from the school's football program.
"I am not making any statement on the criminal charges," said Coach Ryan Day, "but it is clear they did not live up to our standards and my expectations
Both are expected to be arraigned Thursday. It was not immediately clear whether either has retained an attorney.