Citing lagging sales, Nordstrom is dropping the Ivanka Trump collection after a boycott was launched against stores carrying the brand.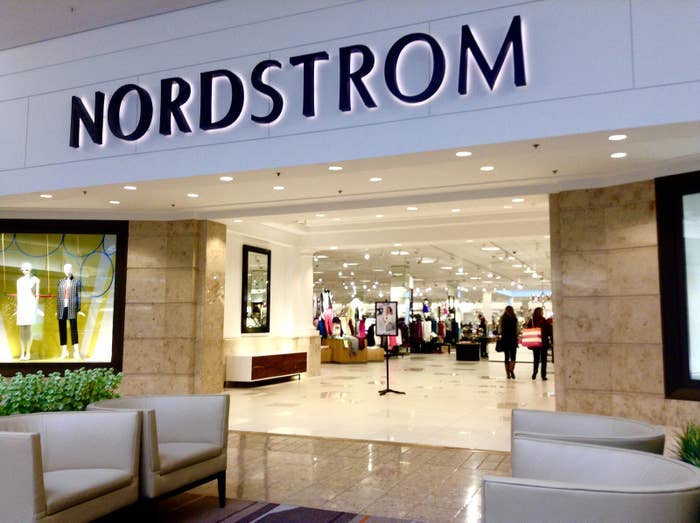 A spokesperson for the department store chain confirmed it was ending its relationship with the Ivanka Trump brand due to declining sales.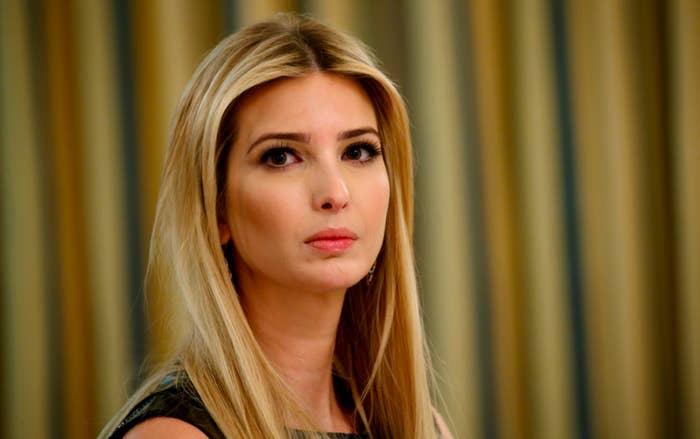 In a statement to BuzzFeed News, a spokesperson for Nordstrom said the company carries "thousands of brands" and makes "buying decisions based on performance."
"Each year we cut about 10% and refresh our assortment with about the same amount," a Nordstrom spokesperson BuzzFeed News. "In this case, based on the brand's performance we've decided not to buy it for this season."
The brand's removal appears to already be in action, with Ivanka Trump no longer listed as one of the store's brands.

A spokesperson for Ivanka Trump's collection told BuzzFeed News the company had already bought spring apparel from the brand and is reallocating inventory to their physical stores.
"The Ivanka Trump brand continues to expand across categories and distribution with increased customer support, leading us to experience significant year-over-year revenue growth in 2016," Rosemary K. Young, the brand's Senior Director of Marketing, told BuzzFeed News.
"We believe that the strength of a brand is measured not only by the profits it generates, but the integrity it maintains. The women behind the brand represent a diverse group of professionals and we are proud to say that the Ivanka Trump brand continues to embody the principles upon which it was founded. It is a company built to inspire women with solution-oriented offerings, created to celebrate and service the many aspects of their lives," she said.
Shannon Coulter, who started #GrabYourWallet, a campaign to boycott brands the Trump family profits from, told Racked she noticed a significant decrease in the number of Ivanka Trump products stocked at Nordstrom:
In the month of December, the number of Ivanka Trump items stocked at the department store chain dropped from 71 to 48. In January, it dropped from 43 to 26.
"I am absolutely thrilled, and I know the vast majority of Grab Your Wallet participants will be as well," Shannon Coulter, a co-founder of Grab Your Wallet, told Bloomberg.
Just four Ivanka Trump items — which are all heavily discounted — currently remain listed on the Nordstrom website.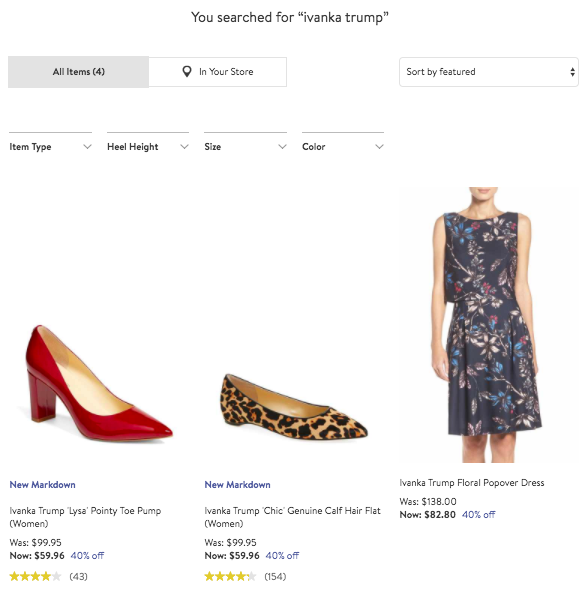 Neiman Marcus has a very small Ivanka Trump precious jewelry business which is comprised 100 percent of consigned merchandise (merchandise owned by the vendor). Based on productivity we continuously assess whether our brands are carried in stores, on our website, or both.
Nordstrom and Neiman Marcus aren't the first company to stop selling Ivanka Trump products.
Shoe retailer shoes.com dropped the brand in November.
Coulter also noted that the Macy's website had 90 Ivanka Trump items listed, all heavily discounted.
The Macy's website now lists 52 Ivanka Trump items in stock.
Now, people are putting on the pressure for other Ivanka Trump retailers — which include Bloomingdales, Lord & Taylor, Zappos, Amazon, DSW, 6pm, Saks Off 5th, and T.J. Maxx — to drop the brand.