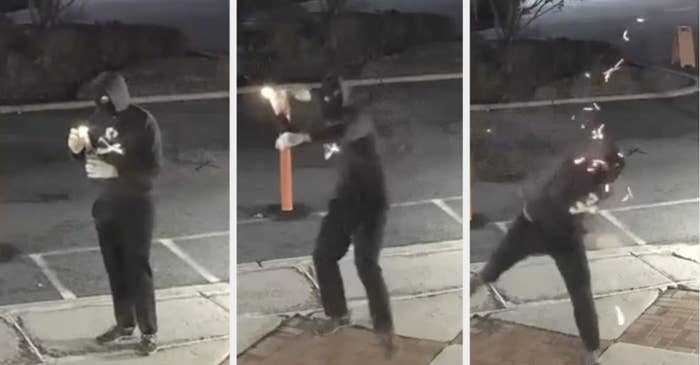 A man in a ski mask threw a Molotov cocktail at a synagogue in New Jersey early Sunday, an incident police are now investigating as a bias crime.
Surveillance footage shows the suspect, clad in all-black clothing, outside Temple Ner Tamid in Bloomfield, New Jersey, just after 3 a.m. He is seen lighting the Molotov cocktail, hurling it at the building's entrance, and then running away. The explosive device's glass bottle broke, but "did not cause any damage to the Temple," Bloomfield Police said in a news release.
The suspect was arrested Wednesday and identified as Nicholas Malindretos, 26, of Clifton. Officials have not yet said whether they are aware of a possible motive, but FBI Special Agent in Charge James E. Dennehy said they "take seriously all threats of hate and bias aimed at all religions and faiths."
Malindretos has been charged with attempted use of fire to damage and destroy a building used in interstate commerce, and is expected to appear in federal court on Thursday afternoon. If convicted, he would face between five and 20 years in federal prison and a $250,000 fine. It was not immediately clear if he had retained an attorney.
It was the car Malindretos allegedly drove to and from the synagogue that helped connect him to the incident, federal officials said. A license plate reader recorded a passing vehicle in the area right before and after the alleged crime, which the police located and "saw several items consistent with the video of the incident plainly visible inside."
"No one should find that their lives are at risk by exercising their faith," US Attorney Philip R. Sellinger said in a statement announcing the arrest. "Protecting communities of faith and houses of worship is core to this office's mission."
Several law enforcement agencies are assisting with the investigation, including the FBI and the Bureau of Alcohol, Tobacco, Firearms, and Explosives.
In a statement to BuzzFeed News, Temple Ner Tamid officials said all activities at the synagogue were canceled Sunday, and that there would be a heightened police presence throughout the week.
"Hate and antisemitism will not be tolerated and have no place in our welcoming community," Bloomfield Mayor Michael Venezia said in a Facebook post. "Our thoughts and prayers are with our entire Jewish community."
The synagogue's rabbi, Marc Katz, said that the safety measures that were already in place protected the building from being damaged.
"Everything worked as it should," Katz said. "Our cameras recorded the incident and our shatter-resistant doors held."
He also expressed the importance of sticking together as a Jewish community and not giving in to fear.
"There is hate everywhere, and hate wins when we let it penetrate," Katz said. "When the weight of this grows too heavy, I remind my congregation that every day, despite what is happening, in Jewish communities around the world, babies are named, children are educated, and people are married."
"Our religious traditions continue," he said. "No act of hate can stop the power of religious freedom."
In a statement, the Anti-Defamation League of New York and New Jersey said they were "outraged" by the incident, which they said came at a time when "we have seen a spike in antisemitic incidents."
"It also took place on the heels of International Holocaust Remembrance Day when we are reminded of where such horrific actions can lead," the ADL said.
In a separate incident in New Jersey over the weekend — which is also being investigated as a "possible bias-motivated incident" — an unidentified man targeted an Asbury Park church that was holding an anti-racism benefit concert. There were no injuries.
In a press release, Chase Danford, the reverend of Trinity Episcopal Church, said the suspect "attempted to pepper-spray a group of people" and also "threw smoke bombs" outside the church on Friday night after the event.
"The church's LGBTQ+ Pride flag was also vandalized on the same evening, something that has occurred twice previously in recent months," Danford added.
The attack on Temple Ner Tamid is just one of many recent incidents in which synagogues have been threatened with violence. Antisemitic beliefs and conspiracy theories have at times inspired deadly attacks on Jewish people, with several being committed at synagogues in recent years.
In November, Jewish communities across New Jersey were sent into a panic after the FBI warned of a "broad threat" to synagogues across the state. A suspect, who was arrested days later, allegedly wrote a violent screed detailing his hatred of Jews and his desire to commit a deadly attack on a synagogue.
In October 2018, a man who railed against Jews online fatally shot 11 people at a synagogue in Pittsburgh. Less than a year later, a man who praised the Pittsburgh shooter in an online diatribe fatally shot a woman at a synagogue in Poway, California. And in recent months, antisemitism has trended on social media, as some of the biggest names in the country have spouted conspiracy theories and disturbing beliefs.