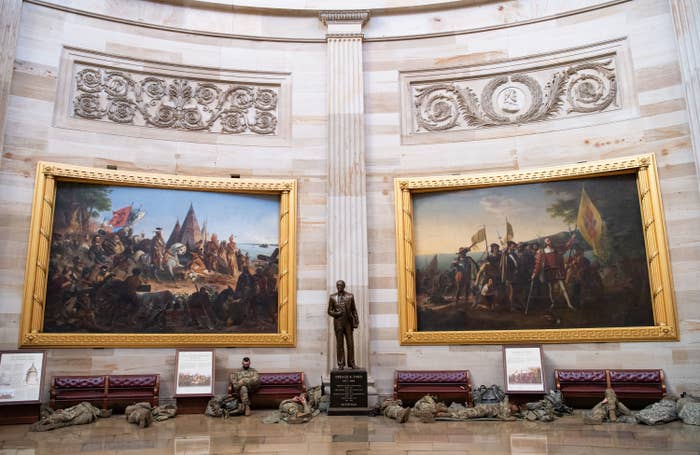 Ahead of Wednesday morning's impeachment hearing, National Guard members slept on the floor of the Capitol to protect lawmakers who just one week earlier may have been targeted for assassination by pro-Trump rioters.
The troops were seen lying in the halls of Congress, dressed in uniform and asleep beside their guns. Some rested under a bust of Abraham Lincoln and a plaque honoring the troops that quartered in the Capitol during the Civil War.
About 2,000 National Guard members were stationed there as of Wednesday morning, according to a Department of Defense official who told CBS News that the threat level at the Capitol is "very high" — "higher than has been reported" in the news.
BuzzFeed News reporter Paul McLeod reported Wednesday that about 3,000 troops were sheltering in the building and had to stay overnight because there was nowhere else for them to go.
The high levels of security are intended to prevent the sort of mass casualty incident that — according to several members of Congress who on Tuesday night began publicly sharing the terrifying details — came close to occurring on Jan. 6.

Though much of the initial coverage of the attempted coup at the Capitol focused on the rioters who went there with little plan beyond posing for own-the-libs selfies, it has become increasingly clear that many in the mob were quite literally out for blood.
Photos of the siege showed some wearing riot gear and carrying zip ties. Police found two pipe bombs and a cooler full of Molotov cocktails. One man drove from Colorado to DC with a car full of ammunition, allegedly planning to kill House Speaker Nancy Pelosi on live TV.
Up to 15,000 National Guard members will be deployed in the lead-up to President-elect Joe Biden's inauguration, NBC Washington reported.
On Tuesday night, House Democrats began revealing harrowing new information about what happened that day and how dire things nearly were.
In an Instagram Live, Rep. Alexandria Ocasio-Cortez said she had a "very close encounter" during which she thought she "was going to die." She did not disclose further details on the incident, citing security concerns, but said it was traumatizing and she intends to seek counseling to work through it.
"I did not know if I was going to make it to the end of that day alive," Ocasio-Cortez said.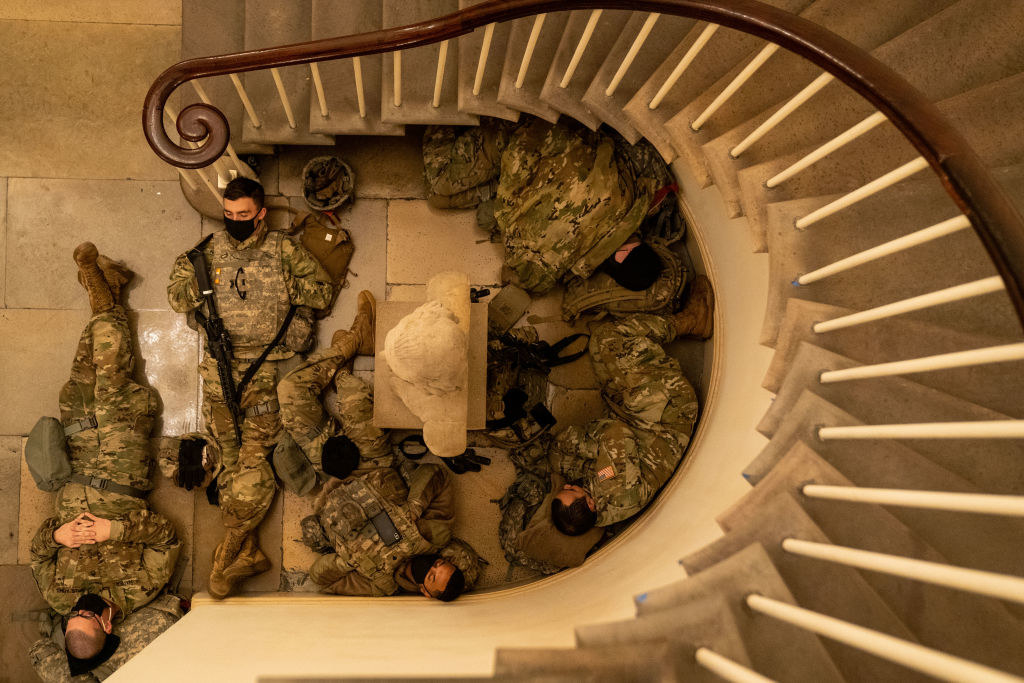 In a Boston Globe article that came out Tuesday night, Rep. Ayanna Pressley's chief of staff Sarah Groh said that after her staff barricaded themselves inside her office, they discovered their panic buttons had disappeared without explanation.
"Every panic button in my office had been torn out — the whole unit," Groh said.

Rep. Mikie Sherrill has alleged that the rioters may have actually been aided by sitting members of Congress. In a Facebook Live on Tuesday night, Sherrill said she personally witnessed unnamed members of Congress leading people around the Capitol building the day before the attack, in what she called "a reconnaissance for the next day."

"I'm going to see they are held accountable and, if necessary, ensure that they don't serve in Congress," Sherrill said.
BuzzFeed News has reached out to Reps. Pressley and Sherrill and their staff for more information.