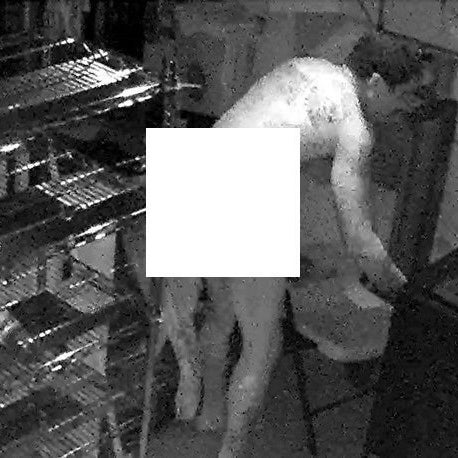 Police are seeking the public's help in identifying a man who broke into a pizza place by crawling through an air vent, and then stripped naked and robbed it.
The incident occurred around 6:00 a.m. on Nov. 10 at Slice of Towson in Towson, Maryland.
Surveillance images shows the man entering the restaurant, taking off all his clothes, draping them over his head, and ransacking the place.
The man was unsuccessful in opening the register, and made off with only a small amount of change, according to Baltimore County Police. He caused at least $3,000 in damages.
He did not take any pizza — though he did snag a water bottle for the road.
The sweatpants, along with a sandal, were later found inside the vent by police, leading many to believe he removed the pants due to them getting stuck.
"It's definitely a bizarre situation," a rep for the Baltimore County Police told BuzzFeed News.
The pizza place has promised "free pizza for life" as a reward for whoever identifies the "naked Slice burglar."
"I'll stand behind my word," Paul Rizas, the restaurant owner, told the Baltimore Sun. "As long as I'm here, they'll have pizza."