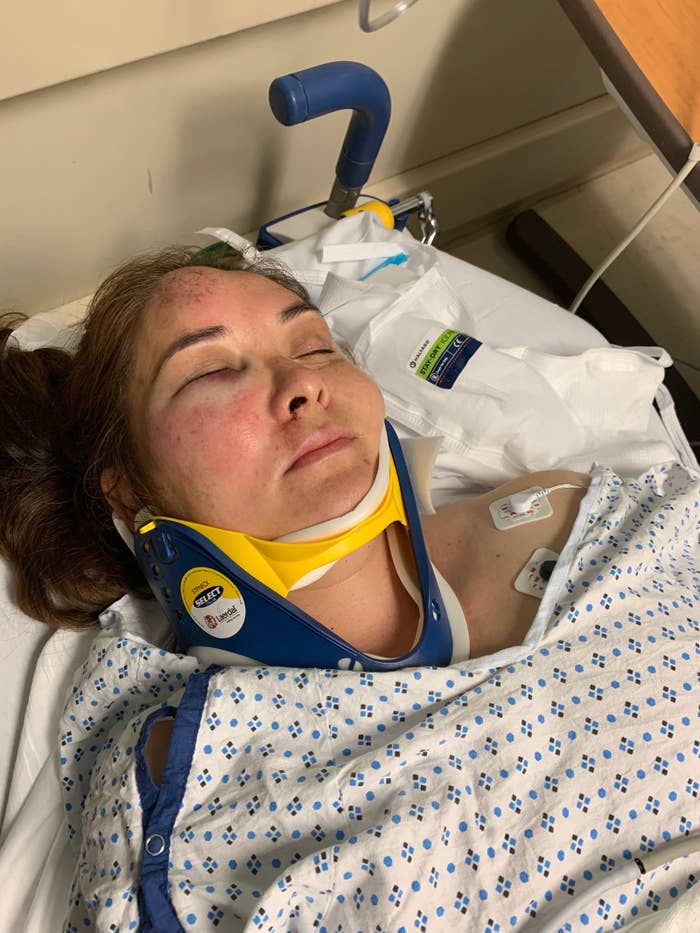 A New Jersey mom was beaten unconscious last week by a 13-year-old boy who had shouted racist chants at her 12-year-old son the day before, her lawyer told BuzzFeed News.
Beronica Ruiz, 35, suffered a concussion and facial fractures after the boy allegedly punched her in the face and threw her to the ground just blocks away from Passaic Gifted and Talented Academy School No. 20, where both boys are students.
The 13-year-old, who is not being named because he is a minor, had allegedly chanted "Mexicans should go back behind the wall" at Ruiz's son, along with a few other boys in the cafeteria on June 18.
Her son, who is also not being named, responded to them, "We all come from immigrants," lawyer Daniel Santiago said.
"But that angered the other boys," Santiago said. "The boys were threatening him, saying they'd beat him up."
Fearing for his safety, the 12-year-old pulled a teacher aside, and he was sequestered in an office or classroom to keep him away from the boys, Santiago said.
Ruiz didn't find out any of this until her son came home and told her he was scared to go to school the next day. She was livid that she hadn't been alerted to the bullying incident. According to Santiago, the assistant vice principal of the school said he'd simply forgotten to call her.
"He essentially said my bad, my mistake," Santiago said.
Ruiz picked her son up from school the day after the cafeteria incident, walking him home along with her 1-year-old daughter, whom she pushed in a stroller.
Just a few blocks away from the school, the boy told his mom that three of the boys who'd threatened him were following them.
One of the boys, the 13-year-old, then approached the family and punched Ruiz's son in the face, the lawyer said.
"Then, as any mother would, after [he] was knocked down, Beronica got between the assailant and her son, trying to stop the attack," Santiago said. "And the young boy punched Beronica in the face and threw her to the ground."
Ruiz's "head cracked against the sidewalk" and she lost consciousness, Santiago said. An official GoFundMe has been set up to help with her medical expenses.
The 13-year-old boy fled the scene and "left her for dead," he said, adding that the other two boys were not involved in the physical attack and unsuccessfully tried to stop it from happening.
Ruiz was hospitalized for two days. When her son returned to school, he found that the boy who attacked her was still in classes and had apparently not been punished.
When the 12-year-old's father, Alfonso Vasquez, asked school administrators why the assailant had not been reprimanded, their response was "Well, he has the same right to an education as your son does," Santiago said.
At that point, the family reached out to Passaic Mayor Hector Lora, who contacted the school.
"It was only after the mayor got involved that the school suspended the child," Santiago said.
In a statement to BuzzFeed News, Lora said he is "outraged over this incident" and taking it "extremely seriously."
"The details regarding what led up to this incident remain under investigation," Lora said. "However, one thing is very clear: what occurred to this mother is unacceptable and whatever we need to do as a city, as a community, to do better by our families and our children, we will do."

After Santiago shared the story with the media, the school offered to pay the medical bills for Ruiz, who Santiago said does not have health insurance.
School administrators did not respond to a request for comment from BuzzFeed News.
The 13-year-old was charged as a juvenile with aggravated assault and simple assault. He was released to his parents and will appear in family court, according to the Passaic County Prosecutor's Office.
The family is now planning a lawsuit against the school and possibly the city, with Santiago saying, "Clearly there was negligence."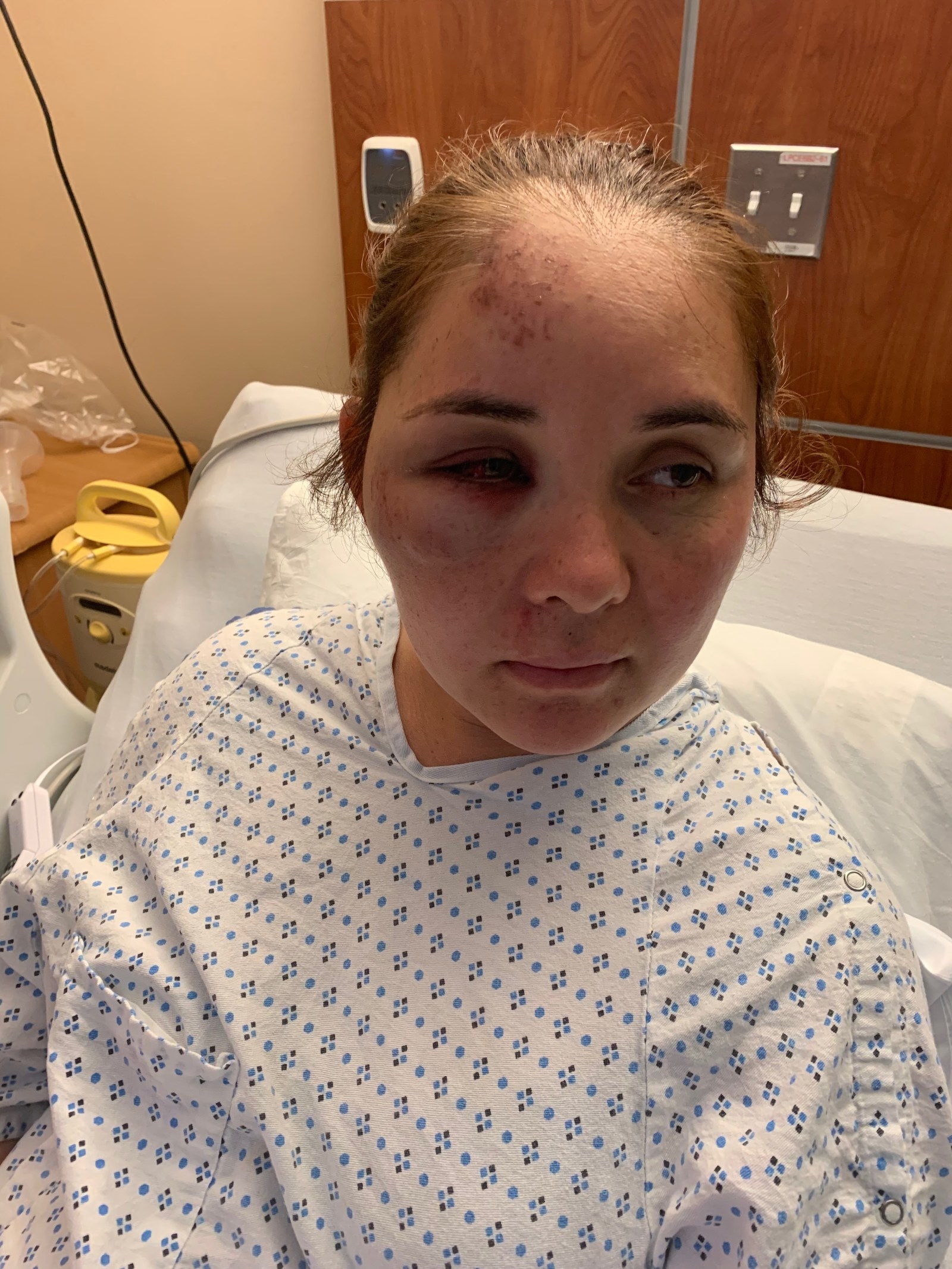 The 12-year-old is still "terrified" and not sleeping well, giving the family some tough decisions to make about whether he will return to the school, which Santiago noted is for gifted children.
"His father is a landscaper, his mother is a homemaker. Economically, they can't just send their kid to a private school," Santiago said. "This school was supposed to provide an opportunity, and now they're faced with the untenable decision of whether to pull their child out of a school where he doesn't feel safe."
"It's a very tragic situation, and one that they shouldn't have to face," he said.
Ruiz and her husband, who are from Mexico, are living in the US on work permits and have gone for their green card interviews, Santiago said. Their three children are all American citizens.
Santiago said it's "hard to get into the mind of any individual, let alone a child," when considering what drove the 13-year-old to do this, but said it "clearly starts at home."
"I don't know that a child is able to fully understand and comprehend the implications of his words and saying things like 'You should go back to Mexico,'" Santiago said. "But this was clearly generated from hatred, and clearly this young man has a great deal of anger in his heart, and that's sad for a whole other list of reasons."
"It does not help that adults that are in authority and have voices use those voices to spread rhetoric that is racially divisive and ethnically charged — that doesn't help," he added.