Olympic gold medalist McKayla Maroney filed a lawsuit in Los Angeles Superior Court on Wednesday, saying USA Gymnastics attempted to cover up her claims of sexual abuse by team doctor Larry Nassar.
The lawsuit alleges that Maroney was "forced to enter" into a confidential settlement with USA Gymnastics in December 2016 "after suffering for years from psychological trauma of her sexual abuse at the hands of Nassar, and in need of funds to pay for psychological treatment for her worsening psychological condition."
It seeks damages from the USA Gymnastics, the United States Olympic Committee, and Michigan State University, where Nassar worked for years.
According to the Wall Street Journal, the settlement was for $1.25 million.
The lawsuit seeks to overturn parts of the settlement, arguing that its nondisparagement clause and confidentiality provision are illegal in child sexual abuse cases.
"The US Olympic Committee and USA Gymnastics were well aware that the victim of child sexual abuse in California cannot be forced to sign a non-disclosure agreement as a condition of a settlement," Maroney's lawyer, John Manly, said. "Such agreements are illegal for very good reasons, they silence victims and allow perpetrators to continue committing their crimes. That is exactly what happened in this case."
Maroney broke her confidentiality agreement in October, when she publicly spoke out about the abuse at the hands of the former USA Women Gymnastics and Olympics doctor in a tweet as part of the #MeToo movement.
"People should know that this is not just happening in Hollywood," said Maroney. "I had a dream to go to the Olympics, and the things that I had to endure to get there, were unnecessary, and disgusting."
Maroney said she was repeatedly sexually abused by Nassar from the time she was 13 until her retirement in 2016.
"It happened in London before my team and I won the gold medal, and it happened before I won my silver," Maroney said.
USA Gymnastics is denying responsibility for the confidentiality provision. In an email to BuzzFeed News, Leslie King, vice president of communications for USA Gymnastics, said that it was initiated by Maroney's lawyer at the time, Gloria Allred, and that it was legal.
"Although USA Gymnastics is disappointed by today's filing, we applaud McKayla and others who speak up against abusive behavior -- including the despicable acts of Larry Nassar," said King. "We want to work together with McKayla and others to help encourage and empower athletes to speak up against abuse."
King also said the organization's CEO is "eager to speak personally with McKayla to hear her ideas on how to move the sport forward and to discuss the many safe sport enhancements that have already been implemented at USA Gymnastics."
The US Olympic Committee is denying involvement in the settlement, spokesperson Mark Jones told BuzzFeed News.
Jones said the US Olympic Committee first heard of the allegations against Nassar in 2015, when USA Gymnastics informed them they were in the process of contacting law enforcement.
"We are heartbroken that this abuse occurred, proud of the brave victims that have come forward and grateful that our criminal justice system has ensured that Nassar will never be able to harm another young woman," said Jones. "We are hopeful that with the U.S . Center for SafeSport's continued education and prevention efforts, as well as their investigative and adjudicative authority, we will help ensure that tragedies like this will never happen again."
A spokesperson for Michigan State University declined to comment.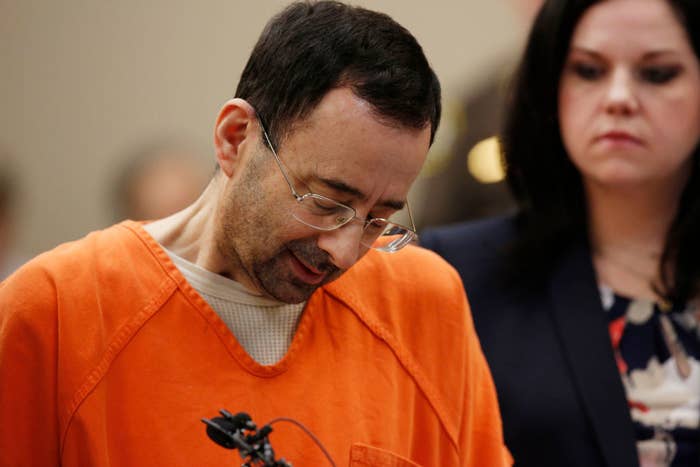 Nassar — who was employed by USA Gymnastics for 29 years, including during four Olympic tournaments — allegedly told Maroney she was receiving "medically necessary treatment that he had been performing on patients for over 30 years."
He has been accused of sexual assault by more than 130 women, including Maroney's former team members Gabby Douglas and Aly Raisman.
Nassar pleaded guilty in November to charges of molesting young gymnasts.
He was sentenced to 60 years in prison on child pornography charges in December.
Nassar's lawyer and Gloria Allred did not immediately respond to requests for comment.