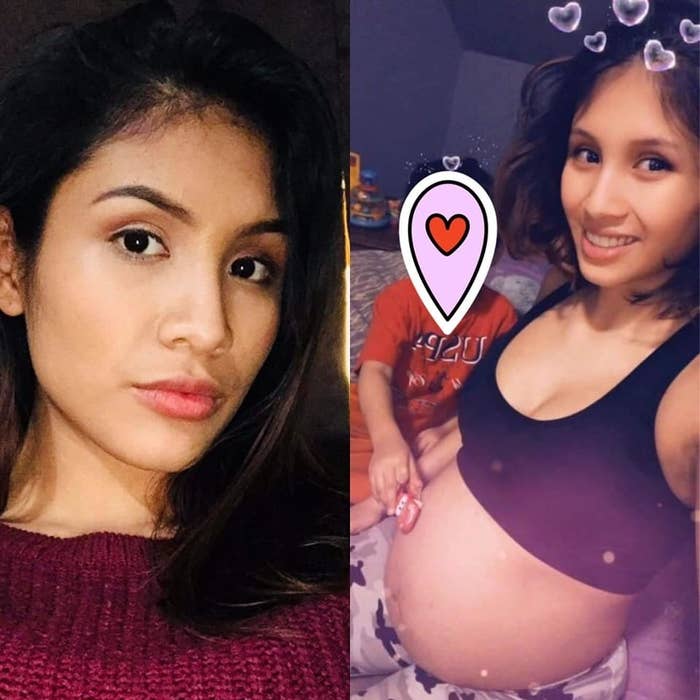 A 19-year-old pregnant woman in Chicago was strangled to death and her baby was cut out of her body, police said.

Marlen Ochoa-Lopez, who was nine months pregnant, went missing April 23 after leaving her high school, according to the Associated Press, and for weeks, her family and police had no idea what had happened to her.
On Thursday, Chicago police announced they had found her body and arrested three people they believed were responsible in her death. Her infant son, who police said was cut from her womb, was in a hospital in grave condition.
"Words really cannot express how disgusting and thoroughly disturbing these allegations are," Chicago Police Supt. Eddie Johnson said at a news conference Thursday.

According to police, Ochoa-Lopez was lured to a house to pick up free baby clothes and a stroller that had been offered in a Facebook group for pregnant mothers. She had met with the woman offering the clothes, identified as 46-year-old Clarisa Figueroa, in the past for baby items, Johnson said.
But on April 23, Figueroa and her daughter, 24-year-old Desiree Figueroa, strangled Ochoa-Lopez with a coax cable, police said. They then allegedly cut the baby out of her and disposed of her body in a trash can outside the house.
Johnson said investigators can only assume the women planned to "raise the child as their own."

After Ochoa-Lopez's death, Figueroa called 911 because the baby wasn't breathing, police said. When paramedics arrived, "there was a baby, a newborn, who was having trouble breathing and was transported to the hospital in critical condition," Chicago Fire spokesperson Larry Merritt told BuzzFeed News.
Merritt said the woman who called paramedics was also taken to the hospital in an ambulance and, according to police, claimed to be the baby's mother.
"On that particular day, there was nothing to tip us off that those two things were related," Johnson said.
A spokesperson for Advocate Christ Medical Center, where the baby was taken, said the hospital was cooperating with authorities but declined to answer questions.
"Our top priority is to provide the safest and highest quality care for the patients and communities we serve," a hospital statement said. "Out of respect for patient privacy and in compliance with federal and state regulations, we are unable to provide comment."

It wasn't until May 7 that investigators linked the newborn and Ochoa-Lopez's disappearance, police said. A friend told investigators that Ochoa-Lopez had been part of a Facebook group for mothers, and investigators then discovered her communications and plans to meet with Figueroa.
From there, they started to interview the Figueroas as well as collect DNA samples. Investigators then determined the infant was not related to Clarisa Figueroa and obtained a search warrant for her home, where they found evidence of blood, burned clothing, and ultimately on Wednesday, Ochoa-Lopez's remains, police said.
"This is not TV. This is real life," Johnson said. "We still have to gather the evidence we need to charge the individuals responsible."
The suspects were charged Thursday after Desiree Figueroa confessed to police, Johnson said. She and her mother face charges of first-degree murder and aggravated battery on a child. Clarissa Figueroa's boyfriend, Piotr Bobak, is also accused of helping to conceal the crime.
Ochoa-Lopez was married and also has a 3-year-old son. Police initially identified her by the last name Ochoa-Uriostegui, her maiden name.
Her husband, Yiovanni Lopez, has been visiting his newborn son in the hospital.
At a news conference on Thursday, Lopez said his son is currently in a coma and they are hoping for a miracle.

"We plead to God that he gives us our child because that is a blessing that my wife left for us," he said in Spanish alongside a translator.
Ochoa-Lopez's mother, Raquel Uriostegui, thanked everyone who helped search for her daughter while she was missing.
"If it wasn't because of your help and your support, we would've not been able to find her, even if it wasn't in the best ways," she said. "Now she's in peace, wherever she is now. She's not suffering anymore."

"She was an angel, and God called her," Uriostegui added. "My daughter was a very joyful person, a beautiful girl. She had a lot of dreams in her life."