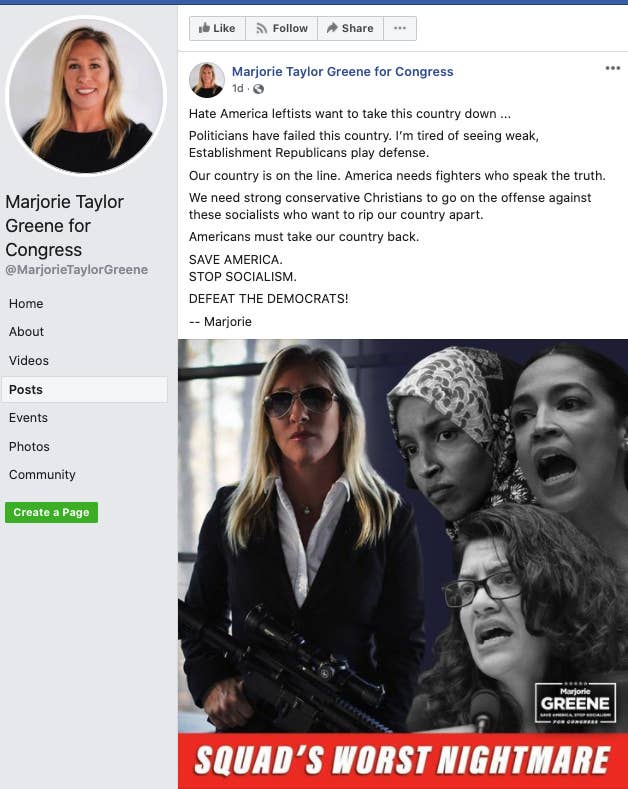 Marjorie Taylor Greene, a QAnon supporter likely to join Congress this November, posted a Facebook picture on Thursday of herself holding a gun next to images of Reps. Alexandria Ocasio-Cortez, Ilhan Omar, and Rashida Tlaib.
"Squad's worst nightmare," said text at the bottom of the image, referring to the nickname for the group of young leftist women of color in Congress.
The image has since been taken down by Facebook for violating the site's policies, a spokesperson told BuzzFeed News.
In the post, Greene called Ocasio-Cortez, Omar, and Tlaib "hate America leftists [who] want to take this country down."
"We need strong conservative Christians to go on the offense against these socialists who want to rip our country apart," Greene wrote, using hyperpolarized rhetoric meant to divide the country that many Republicans have adopted and was a central theme of the party's convention in August.
Omar responded to the post on Friday, denouncing it as an incitement to commit violence, and called on Facebook to "remove this violent provocation."
After Omar tweeted about it, a Facebook spokesperson replied, "The image violates our policies and we've removed it."
In a tweet, Omar also condemned President Donald Trump and House Minority Leader Kevin McCarthy, saying "this rests squarely on your shoulders."
"You have incited attacks on us since we were sworn in," Omar wrote. "You have told us to 'go back' where we came from. This is your party now. Dangerous and disgraceful."

House Speaker Nancy Pelosi also spoke out against Greene's post in a tweet, saying, "Republican Leader Kevin McCarthy must immediately condemn this dangerous threat of violence against Democratic Congresswomen."
Asked by BuzzFeed News whether her post should be taken as a threat against the women pictured, Greene said, "Those who say that are paranoid and ridiculous. Fake news is always looking for the next conspiracy theory. This question is idiotic. Go back to bed."
Greene, who recently won her Republican primary in Georgia and is expected to win the election in November, has expressed support for QAnon, the mass delusion that the FBI has deemed a domestic terrorism threat.
In a video in 2017, Greene praised QAnon, which falsely preaches that Democrats and Hollywood figures are Satan worshippers who are running a secret child sex-trafficking ring and that Trump was elected to bring them to justice.
"Q is a patriot. We know that for sure," Greene said in the half-hour-long video. She went on to explain the ins and outs of the theory, noting that QAnon "seems completely for the good" "and totally on Trump's side." The mass delusion has led to people opening fire in a pizza parlor and provoking a standoff with law enforcement officials.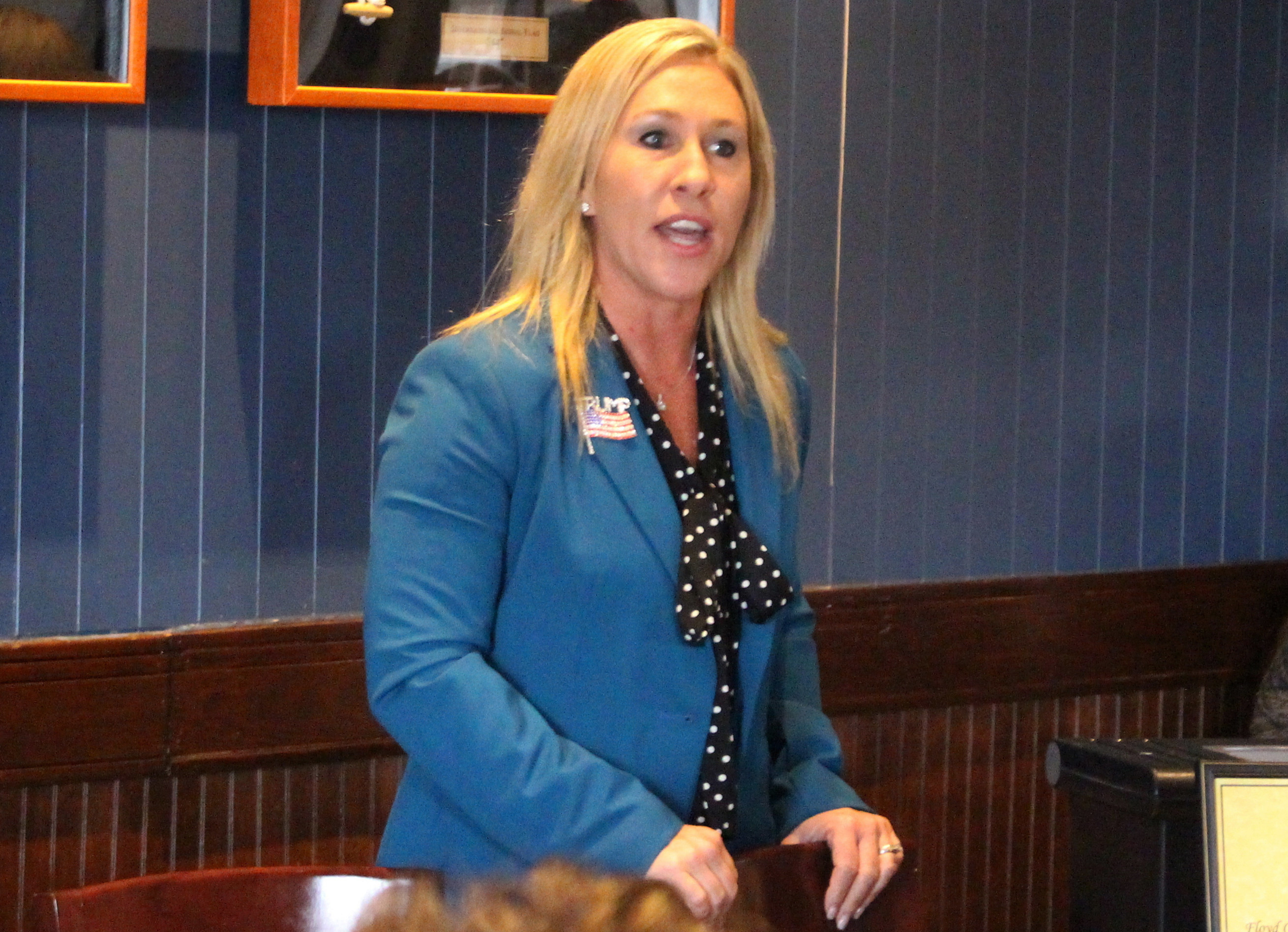 Greene is also a racist who has gone on screeds against Muslims, Jews, and Black people.
In June, Politico uncovered videos of Greene saying there was an "Islamic invasion into our government offices," calling Black people "slaves to the Democratic Party," and calling Jewish philanthropist George Soros a Nazi.
After she won her primary in August, President Trump praised Greene, calling her a "future Republican Star" in a tweet.
At a press conference shortly after his tweet, Trump dodged a reporter's question about whether he supported Greene's views on QAnon.
Days later, Trump acknowledged the collective delusion for the first time and even praised it, saying, "I don't know much about the movement other than I understand that they like me very much, which I appreciate."
"If I can help save the world from problems, I'm willing to do it, I'm willing to put myself out there," Trump said.