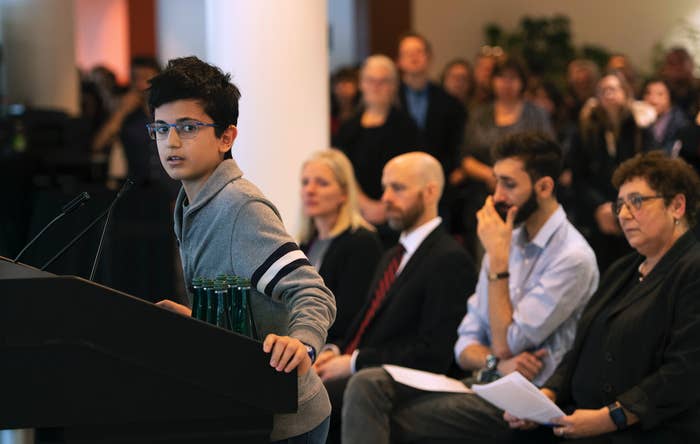 Just over a week ago, 13-year-old Ryan Pourjam's father, Mansour Pourjam, died in a plane crash after Iran's government shot down the jet just outside Tehran. All 176 passengers were killed.
Iran initially blamed the Jan. 8 crash on engine failure but later admitted it was shot down in a "human error" amid heightened tensions with the US military.
On Wednesday, Ryan gave an emotional speech at a memorial service at Carleton University. His father earned his degree in biology there in 2001 and went on to become a dental technician in Ottawa, according to the Ottawa Citizen.
Ryan said his dad was an incredibly positive person who would have wanted his loved ones to remain optimistic through such a painful time.
"He'd always tell me to stay positive through the dark times and through the good, when we'd get stuck in traffic or when I couldn't get the coffee that I wanted," he said.
"I don't want to talk about the bad things," he continued. "Because I know that if my dad was alive and if someone else died in the crash and that he was right here giving a speech, he wouldn't talk about the bad stuff. I won't."
Ryan said he would describe his dad in one word as "strong."
"He's been through tragedy after tragedy, wall after wall, wrong turn after wrong turn, and he stood strong," he said. "He was amazing, and we loved each other."
More than 200 people came to the Wednesday vigil, which was held jointly for Mansour Pourjam and another victim, Fareed Arasteh. Arasteh was a PhD student studying molecular genetics at the university, according to CBC.
Ryan said he was comforted by how many people came together to "celebrate Mansour and Fareed's amazing lives."
"I stand up here a week after this horrible tragedy, and I still can't believe it," Ryan said. "I feel like I'm dreaming."
"But I know that if I was dreaming, and that if he woke me up, he'd tell me that it's going to be OK," he said. "And it will be."