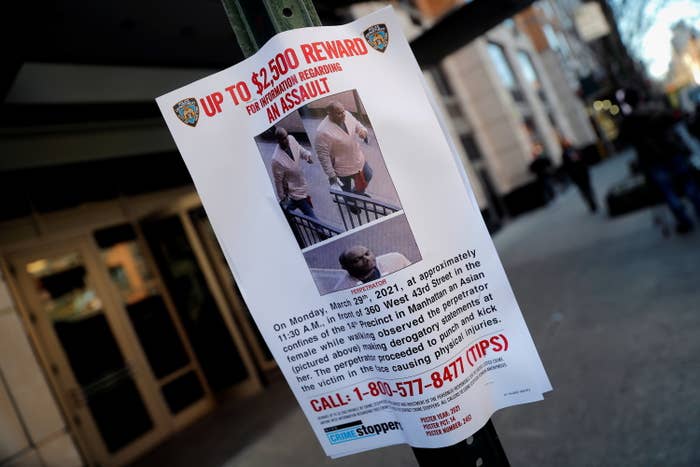 A man suspected of violently attacking a 65-year-old Filipino American woman near New York's Times Square has been arrested on hate crime charges, the NYPD said Wednesday.
The suspect, who police identified as 38-year-old Brandon Elliot, was seen Monday on surveillance footage kicking the woman to the ground and stomping on her head.
According to the criminal complaint, Elliot yelled "fuck you, you don't belong here, you Asian" at the woman before walking away from her, still lying on the sidewalk.
NYPD Commissioner Dermot Shea said Elliot is a parolee out on supervised release. When he was 19, he was reportedly convicted of stabbing his mother to death in the Bronx. He was released from prison in 2019 on lifetime parole.
The victim in Monday's assault was identified as Vilma Kari, who immigrated from the Philippines decades ago, her daughter told the New York Times. Kari was reportedly walking to church at the time of the attack.
She was transported to the hospital and treated for a fractured pelvis and contusions all over her body and head, the criminal complaint states. Police have said she is now in stable condition.

Elliot has been charged with two counts of assault as a hate crime, as well as attempted assault as a hate crime, assault, and attempted assault. He was arraigned Wednesday and is expected to appear in court again Monday.
In a statement, Manhattan District Attorney Cy Vance Jr. said his office has worked on more than a dozen cases related to anti-Asian racism in the past year alone, and encouraged any other victims or witnesses of such crimes to report them.

"There is no place for these atrocious acts of violence in New York, particularly as the AAPI community is still grieving and in pain following the heinous attack by a gunman in Georgia earlier this month," Vance said. "We stand with the AAPI community, and want you to know we are here to listen, and to help."

The Legal Aid Society, which is representing Elliot, said in a statement that they "strongly urge the public to reserve judgment until all the facts are presented in court."
"Mr. Elliot has a constitutional right to counsel and due process," the statement said. "As with every client we represent, he will have unfettered access to our legal resources and expertise. We are fully reviewing this case and will have additional comments in the coming days and weeks."

In surveillance footage of the attack, security staff are seen failing to intervene and even closing the door as the victim lay injured just feet away.
In a GoFundMe raising money for Kari's recovery, her daughter said video footage did not show that there was someone across the street who yelled and tried to divert the assailant's attention during the attack.
"To this person, I understand your decision in remaining anonymous during this time. I want to THANK YOU for stepping in and doing the right thing," her daughter wrote.

The security staff seen in the video have been suspended, according to the Brodsky Organization, which manages the building outside of which the attack took place.

This incident is yet another in a wave of anti-Asian attacks across the US, many of which have been against older adults, and some of which have been deadly.
Anti-Asian racism has skyrocketed over the past year, egged on in part by the former president, who repeatedly pushed blame for COVID-19 onto China, calling the disease the "Chinese virus" and "kung flu."
There have been at least 3,795 hate incidents against Asian Americans since the beginning of the pandemic, according to the organization Stop AAPI Hate.
Hours after the organization's report was released, a man shot and killed eight people, six of whom were Asian women, at three spas in Georgia.