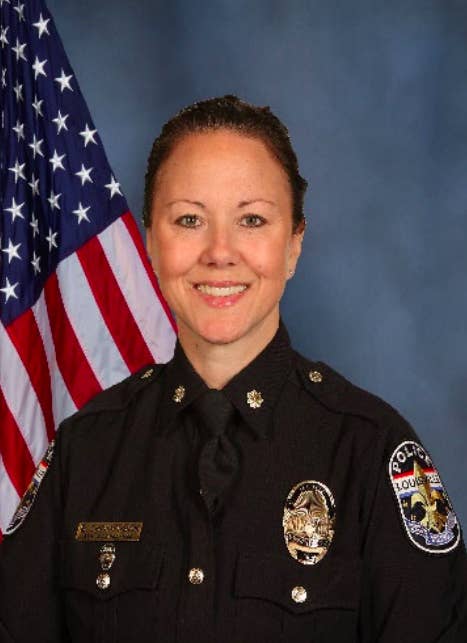 A Louisville police major has stepped down after it was revealed that she sent an email to other officers insulting Black Lives Matter protesters.

Maj. Bridget Hallahan, who led Louisville Metro Police Department's Fifth Division, has been "relieved of command," a spokesperson for the department told BuzzFeed News.
"Major Hallahan has accepted responsibility for her emails and is retiring from the department on October 1," the spokesperson said.
In the email, which was obtained by the Courier-Journal, Hallahan mocked protesters and said they "do not deserve a second glance or thought from us."
"These ANTIFA and BLM people, especially the ones who just jumped on the bandwagon 'yesterday' because they became 'woke' (insert eye roll here), do not deserve a second glance or thought from us. Our little pinky toenails have more character, morals, and ethics, than these punks have in their entire body," Hallahan wrote in the email.

"Do not stop to their level. Do not respond to them. If we do, we only validate what they did. Don't make them important, because they are not," she continued. "They will be the ones washing our cars, cashing us out at the Walmart, or living in their parents' basement playing COD for their entire life."
Hallahan confirmed to NBC News that she had sent the email, adding that her law enforcement colleagues had been supportive of it.
The publication of her email and her relief of command capped off a week of protests in Louisville — and across the nation — sparked by grief and fury after none of the officers involved in the fatal shooting of Breonna Taylor were charged in her death. One of the officers, Brett Hankison, was charged with wanton endangerment for shooting through Taylor's apartment wall.

Lonita Baker, an attorney for Breonna Taylor's family, addressed Hallahan's comments in a press conference Friday, CNN reported.
"I want LMPD majors who say that we're the ones out here washing cars or checking you out at Walmart — no, we're not," Baker said. "We're lawyers. We're businesspeople. We're city employees just like you."
"And guess what," Baker added, "even if I was washing your car, it doesn't matter. I have a right to use my voice."