Hundreds of animals have been rescued in Louisiana after catastrophic flooding, which officials have called the worst natural disaster since Hurricane Sandy.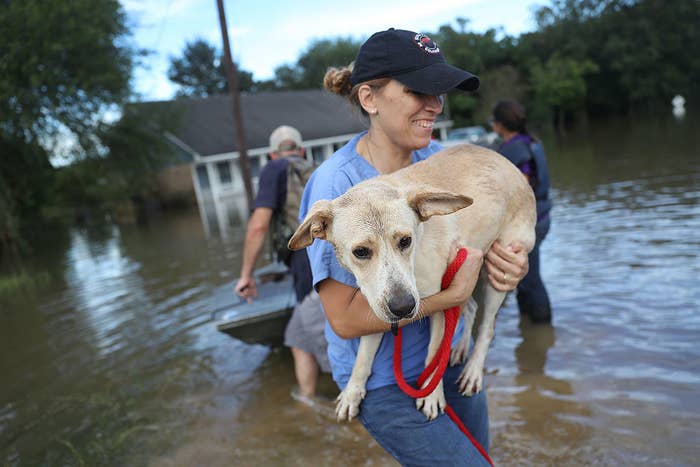 The flood has led to at least 13 deaths and required the rescuing of 30,000 people.
Adam Einck, a spokesperson for the Louisiana Department of Wildlife and Fisheries, told FoxNews.com that rescuing pets can be a crucial part of search and rescue operations, as was learned in 2005 during Hurricane Katrina.
"One of the biggest hang ups in getting people to evacuate their homes was that they didn't want to leave their pets," he said.
He also said that many people now keep pet carriers around in case they need to evacuate.
"We definitely will try to work with them any way we can," he said. "Obviously, it makes it a lot easier if that kind of stuff is already taken care of."
The staff of one animal shelter, which was severely damaged by the flood, worked to relocate as many of their animals as possible before "having to unlatch the kennel doors and let the dogs swim out and climb onto the roof," they wrote on their GoFundMe page.
The Denham Springs Animal Shelter director wrote on Facebook that they "lost a few but most all cats and dogs were saved."
They are now searching for the missing ones, and working to find foster homes.
One man saved a herd of sheep by piling them into a boat.
Diane Andrews, a 69-year-old woman from Baton Rouge, told Huffington Post about how she saved her five dogs with the help of her kitchen table.