Trump Just Met His Death-Grip Handshake Match In French President Macron
Each of the two presidents reportedly "gripped the other's hand with considerable intensity, their knuckles turning white and their jaws clenching and faces tightening."
On Thursday, ahead of the NATO summit in Brussels, President Trump met newly elected French President Emmanuel Macron.
The two exchanged...quite a handshake.
Okay, it was a white-knuckled death grip.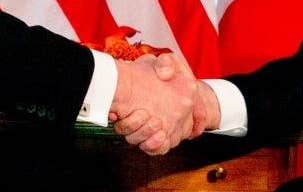 People were very impressed with the very strong, very manly, and not-at-all-awkward meeting.
The two later shook hands again and got a bit arm-wrestley.
While Trumpshake™ discourse is nothing new, this has been quite a week for it. On Tuesday, when Trump met Emomali Rahmon, president of Tajikistan, the two had a particularly bonkers handshake.
And people were SHOOK (lol, sorry).