On Thursday, ahead of the NATO summit in Brussels, President Trump met newly elected French President Emmanuel Macron.
The two exchanged...quite a handshake.
Okay, it was a white-knuckled death grip.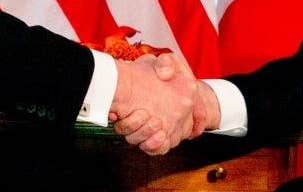 People were very impressed with the very strong, very manly, and not-at-all-awkward meeting.
The two later shook hands again and got a bit arm-wrestley.
And people were SHOOK (lol, sorry).