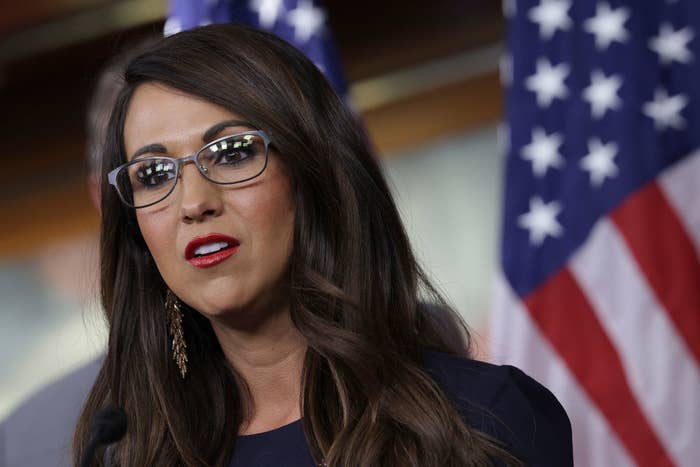 At least five people were killed and at least 18 others injured after a shooter opened fire in a gay nightclub in Colorado Springs, Colorado, on Saturday night.

The tragedy took place the night before Transgender Day of Remembrance — a day honoring the many trans people killed in violent acts of hatred — which the club had planned to commemorate at its drag brunch event.
On Sunday, Colorado Republican Rep. Lauren Boebert — known for her anti-LGBTQ rhetoric, pro-gun activism, comments against Muslims, and support for far-right conspiracy theories — commented on the deadly shooting in her neighboring district.
"The news out of Colorado Springs is absolutely awful," Boebert tweeted. "This morning the victims & their families are in my prayers. This lawless violence needs to end and end quickly."

Boebert's tweet did not mention that the shooting had taken place at a gay club — a notable omission, considering her proclivity for tweeting about the LGBTQ community, typically with unabashed disdain. Much of her ire has been directed at trans people and drag queens, whom she has accused of "grooming" children.
Boebert's "grooming" comments stem from a growing wave of anti-LGBTQ rhetoric that has coalesced into a right-wing moral panic. Conservatives have repeatedly smeared LGBTQ people and their allies as pedophiles and child predators — baseless claims that have roots in age-old anti-gay tropes and conspiracy theories like QAnon.
From those fringe beginnings, the term has made its way into the mainstream, appearing on Fox News and in talking points of high-ranking conservative lawmakers like Georgia Republican Rep. Marjorie Taylor Greene, who has called Democrats "the party of pedophiles." Florida's "Don't Say Gay" law, which bans teachers from speaking in class about sexual orientation and gender identity, was nicknamed the "Anti-Grooming Bill" by one of Republican Gov. Ron DeSantis's top staffers.
Repeatedly, this rhetoric has led to threats and intimidation against LGBTQ people. Across the US in June, numerous Pride events had to be canceled or had increased security because of threats, often from white supremacists. Many "drag queen story hours" at libraries have been interrupted with hate speech and, in at least one case, a man carrying a gun. In September, a woman was arrested for allegedly making a bomb hoax against Boston Children's Hospital, which the right-wing Twitter account "Libs of TikTok" had targeted over the gender-affirming care it provides to children.
Boebert's response to the Colorado Springs shooting has been widely lambasted as disingenuous and hollow. New York Democratic Rep. Alexandria Ocasio-Cortez slammed the lawmaker in a tweet, saying, "[Y]ou have played a major role in elevating anti-LGBT+ hate rhetoric and anti-trans lies while spending your time in Congress blocking even the most common sense gun safety laws.
"You don't get to 'thoughts and prayers' your way out of this," Ocasio-Cortez tweeted. "Look inward and change."
Democratic state Rep. Brianna Titone — the first openly trans legislator elected in Colorado — called for Boebert to "just resign."

"Thanks for the 'thoughts and prayers' but that does nothing to offset the damage that you directly did to incite these kinds of attacks on the LGBTQ+ community," Titone tweeted. "You spreading tropes and insults contributed to the hatred for us. There's blood on your hands."

Boebert did not immediately respond to a request for comment from BuzzFeed News.
UPDATE
The number of people injured has been updated after police provided new information.