Katie Arrington, a Republican state representative who beat incumbent Mark Sanford in the South Carolina Congressional primary earlier this month, was seriously injured in a car accident that killed one on Friday.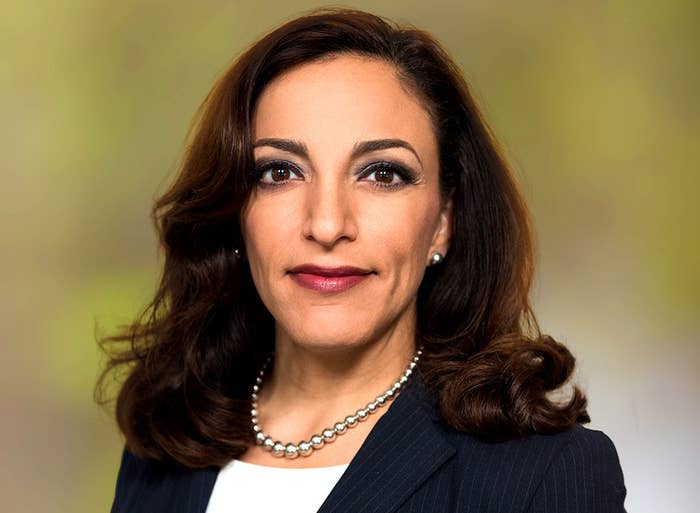 Arrington was traveling to Hilton Head with a friend to receive an award when a car heading in the wrong direction on the highway struck them, a spokesperson for Arrington said on Twitter.
The driver of the other car, who has not yet been publicly identified, was killed, the Charleston County Sheriff's Office told BuzzFeed News. The two other passengers are being treated for injuries.
Arrington's injuries include a fracture in her back and several broken ribs. She will undergo surgery to remove part of her small intestine and colon, and requires a stent to repair a main leg artery that has partially collapsed, according to her spokesperson. She is expected to remain in the hospital for two weeks.
The sheriff's office identified Arrington's companion as Jacqueline Goff, 59, from Mandeville, Louisiana.
"As we all know, Katie Arrington is an extremely strong woman and has tremendous faith and an incredibly supportive family," her spokesperson said. "And it is from her strong faith, the support of her family, the prayers and support of our community, and the incredible doctors and staff at the hospital that she is certain she will be back to work for our state soon."
Arrington's spokesperson asked for "continued prayers for the deceased and the deceased's family, as well as prayers for a quick recovery for Katie and her friend."
On June 12, Arrington won the primary with 50.6 percent of the vote after President Donald Trump endorsed her on Twitter hours before the polls closed.
Arrington ran against incumbent Republican Rep. Mark Sanford, who had won the seat after serving two terms as governor, during which he had a widely publicized extramarital affair in 2009.
More recently, Sanford had been critical of Trump while in Congress, which the president did not take kindly to.
Arrington, on the other hand, ran on an unabashedly pro-Trump platform.
Hours before polls closed on June 12, Trump tweeted an endorsement of Arrington — and a smear of Sanford.
"Mark Sanford has been very unhelpful to me in my campaign to MAGA. He is MIA and nothing but trouble. He is better off in Argentina," Trump tweeted, referencing Sanford's affair, which took place in Argentina.
"I fully endorse Katie Arrington for Congress in SC, a state I love. She is tough on crime and will continue our fight to lower taxes. VOTE Katie!" Trump tweeted.
In Arrington's victory speech, she embraced the president's support.
"We are the party of Donald J. Trump," she said in the speech.
Following Arrington's win, Trump tweeted again, congratulating her and taking credit for the upset.
During a Tuesday meeting with House Republicans on immigration, Trump took another dig at Sanford, according to CNN.
Trump reportedly brought up Sanford's loss of the primary, then asked if he was present in the room. Upon learning he was not, Trump reportedly called him a "nasty guy."
There were "moans" and "groans" when Trump insulted Sanford, Arizona Republican Rep. Paul Gosar told CNN.
North Carolina Republican Rep. Mark Walker told CNN, "It didn't go over great in the room."
The next day, Trump tweeted that the House Republicans "applauded and laughed loudly" in response to his comments about Sanford.
On Saturday morning, Sanford tweeted his "thoughts and prayers" to Arrington, her family, and those involved in the accident.
And Joe Cunningham, Arrington's Democratic opponent, said he and his wife are "lifting her and her family up in prayer right now."
Cunningham also said he is "suspending all campaign activities until further notice."
Trump also tweeted a message of support for Arrington.