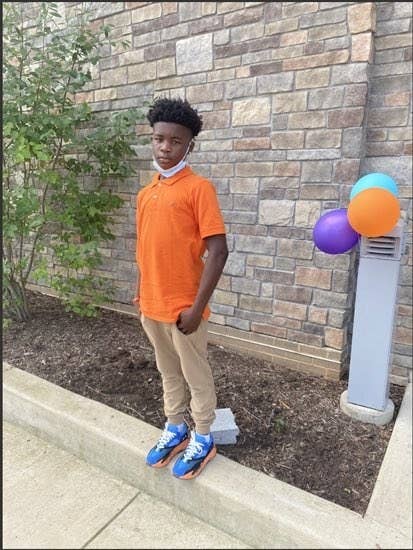 A Black middle school student was fatally shot in Washington, DC, on Saturday by a man who told police he thought the child was trying to break into a car.
The child was identified by police as Karon Blake, 13.
The shooter has not yet been publicly identified or arrested, with police saying they are "currently working with the US Attorney's Office to review the facts and circumstances for any potential criminal charges."
According to police, the man had been inside his home early Saturday morning when he "heard noises and observed someone that appeared to be tampering with vehicles."
"The male resident went outside, armed with a registered firearm, to further investigate," police said. He then shot the 13-year-old, police said, who was pronounced dead at a nearby hospital.
The sole account of what transpired during the incident — including the shooter's explanation for why he fired his gun — comes from the shooter himself, and there is "no indication at this time" that the boy was armed, police told the Washington Post.
In a tweet Monday, DC Councilmember Christina Henderson hit back against any attempt at justifying the boy's killing. "Property is not greater than life. Karon should be alive today," she wrote.
A sixth-grader at Brookland Middle School in northeast DC, Karon was a "quiet and inquisitive scholar who loved fashion and football," the school's principal, Kerry Richardson, wrote in an email to parents, according to FOX 5 DC.
"Although he loved his neighborhood, he loved Brookland MS (the faculty & his peers) and the structure it presented to him even more," Richardson wrote.
Karon is survived by his mom and three younger siblings, the principal added.
In another email to parents, which a spokesperson for the school shared with BuzzFeed News, Richardson said mental health resources and counseling would be offered to support Karon's grieving classmates.
"With great sadness, I share that a Brookland student tragically lost their life to gun violence in the early morning of January 7," Richardson wrote. "Let us join in sending love and support to their family as they grieve this devastating loss. As a member of the Brookland family, we know our student will be missed by all who know them."
DC Councilmember Zachary Parker tweeted about the "devastating tragedy" on Saturday, saying he has "deep concerns about neighbors taking justice into their own hands."
"Our young people deserve long lives with the opportunity to dream big," Parker wrote.
In August 2021, according to police, Karon was reported missing but was located shortly after. Further details were not released to the public.
The American Public Health Association says gun violence in the US is a public health crisis. It is a leading cause of premature death in the country, responsible for more than 38,000 deaths annually. As of Jan. 9, at least 426 people have already died from gun violence this year, and another 594 have died by suicide, according to data from the Gun Violence Archive. In 2022, more than 20,000 people died from gun violence, with over 24,000 additional gun deaths by suicide.