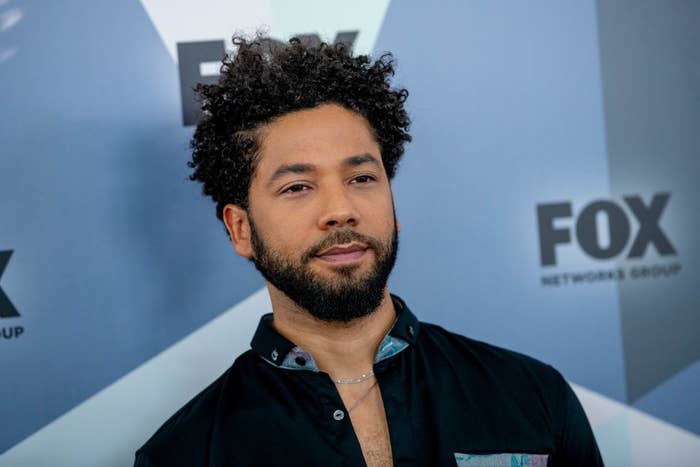 Two persons of interest have been identified in the possible hate crime attack on Empire star Jussie Smollett, Chicago police spokesperson Anthony Guglielmi said Thursday.
The individuals are not suspects, but "were in area of concern and are being questioned," he said on Twitter. They have not been arrested or proven to be involved with the attack as of now.
"We know who they are and have brought them in for questioning," a police spokesperson told ABC News.
A CBS Chicago reporter on Thursday said police raided the home of two potential suspects and found a laptop, shoes, and bleach. Family members who were questioned reportedly said the men are brothers from Nigeria, which is where they left for on the day of the reported attack.
The actor, who plays one of the most prominent black gay men on television, told officers in January that two men brutally beat him. According to police, Smollett said they tied a rope around his neck, poured an unknown chemical on him, and shouted racist and anti-gay slurs at him.
The attackers also yelled, "This is MAGA country," police said Smollett reported.
Shortly after the attack, police reviewed surveillance images in hopes of identifying the suspects.
In the surveillance footage, two figures could be seen in the area near where Smollett was attacked.
"While video does not capture an encounter, detectives are taking this development seriously & wish to question individuals as more cameras are being reviewed," Guglielmi tweeted at the time.

Days after the attack, Smollett performed at a nightclub in West Hollywood and addressed what had happened, telling the crowd "I fought the fuck back."
In an interview on Good Morning America Thursday, Smollett said the attack has left him "forever changed."
"I will never be the man that this did not happen to," he said.
Smollett also said he believes the two men in the surveillance video are his attackers.
"I understand how difficult it will be to find them but we gotta," he said. "I still want to believe with everything that has happened, that there's something called justice."