Passengers were kicked off a JetBlue flight Thursday morning after reportedly confronting Ivanka Trump.
In a series of since-deleted tweets, one of the removed passengers, Matthew Lasner, said he was flying out of John F. Kennedy Airport in New York with his husband. Trump, along with her children and husband, Jared Kushner, was also on the flight.
Lasner said his husband, Daniel Goldstein, was "chasing them down to harass them." He later said his husband "expressed displeasure in a calm tone" and was thrown off the plane when "JetBlue staff overheard."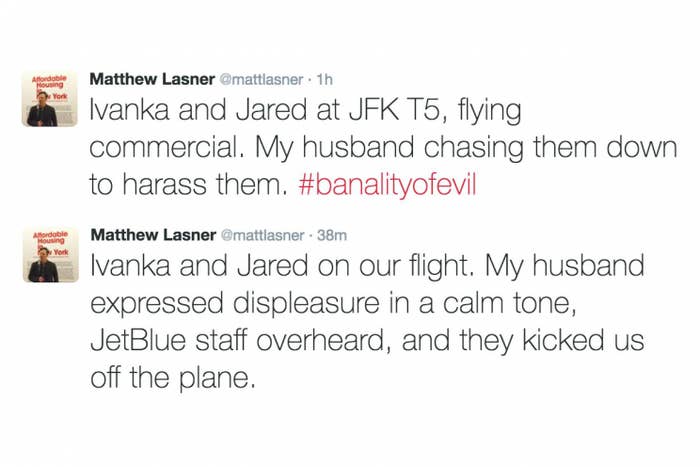 A passenger on the flight told TMZ that Goldstein, while carrying his son, reportedly told Trump, "Your father is ruining the country."
"Why is she on our flight. She should be flying private," he reportedly said.
Trump did not pay attention to the passenger and distracted her children with some crayons.
Marc Scheff, the passenger sitting in front of Trump in the photo, described the incident differently, telling BuzzFeed News that Goldstein did not "get up in her face," but rather "spoke from where he was standing."
"He did not approach her seat or speak to her," he told BuzzFeed News, providing his boarding pass to prove he was on the flight. "He did not yell. He was visibly shaking. I would say he was agitated."
Scheff described the incident on Facebook:
"When he got on and saw her, sitting behind me, he said 'Oh my god. This is a nightmare' and was visibly shaking," Scheff wrote. "He said 'they ruin the country now they ruin our flight!'"
"When the JetBlue staff went back to speak to the man I overheard Ivanka say to them, 'I don't want to make this a thing,'" he wrote. "My assessment is that she was happy to let the man take his seat. She handled the situation calmly and with class. Security made the call to remove the man."
A JetBlue rep said that "the decision to remove a customer from a flight is not taken lightly," and that the passengers were rebooked on another flight.
"If the crew determines that a customer is causing conflict on the aircraft, the customer will be asked to deplane, especially if the crew feels the situation runs the risk of escalation during flight. In this instance, our team worked to re-accommodate the party on the next available flight."
A representative for Trump declined to comment.