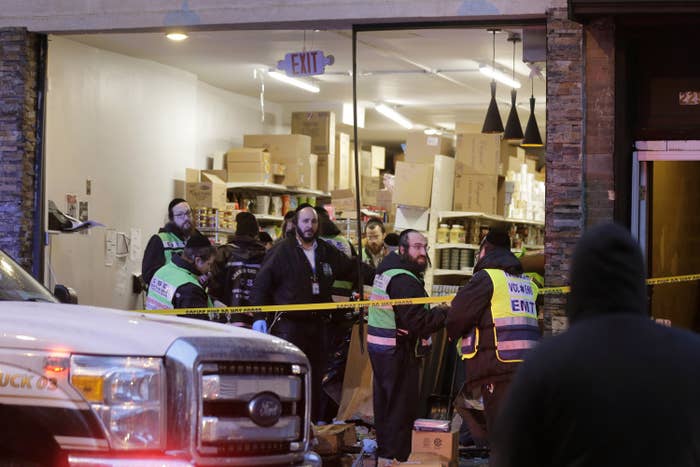 A shooting that left six people dead Tuesday in New Jersey was a "hate crime," Jersey City Mayor Steven Fulop said Wednesday afternoon.
"There's no question that this is a hate crime and anti-Semitism should be called out aggressively and firmly, and immediately for what it is," he said, after earlier calling the shooting at the kosher market an "attack on the Jewish community."
Fulop said he was calling the shooting a hate crime based on CCTV video that showed a gunman walking out of a van and targeting the kosher market, as well as Facebook comments made by the suspects that he said showed a "favorable sentiment on social media toward anti-Semitic groups."
"I know some people say we should review things and take our time, but when you look at the facts of what transpired yesterday, it's difficult to argue anything but that," Fulop told reporters, adding that "when you look at all their actions during the day, it's very clear what they tried to do, and where they went, and why they went, and how they acted. I don't know how anyone could interpret it any other way."
New York City Mayor Bill de Blasio also called the shooting an "act of terror" and a "premeditated, violent, anti-Semitic hate crime."

"We feel a lot of pain but we have to understand why this is a moment of urgency." de Blasio said. "This confirms a sad truth — there is a crisis of anti-Semitism gripping this nation, there is a crisis of anti-Semitism gripping this city. It has continued to take on a more and more violent form all over this country."
Fulop's "hate crime" comments were in contrast with those made by the state attorney general's office, who said Wednesday the motive was still under investigation.
"We had conversations earlier about the type of information that can be shared, and when it could be shared, and my sentiment is that it should be viewed as a hate crime and called out aggressively and called out quickly," Fulop said regarding his conversations with other agencies. "I'll leave it at that. You can interpret it how you want to interpret it."
The three civilian victims were identified as Mindy Ferencz, 31, Moshe Deutsch, 24, and Douglas Miguel Rodriguez, 49.
New Jersey Attorney General Gurbir Grewal initially identified Rodriguez as "Miguel Douglas" but later clarified his full name, adding that he went by Miguel Rodriguez.
Ferencz and her husband, who were from the Williamsburg neighborhood in Brooklyn, moved to Jersey City "due to the sky-rocketing prices of housing," Rabbi David Niederman said. The couple had three children and ran the neighborhood's first kosher grocery store. (Spellings of her name have varied in early reporting on the shooting.)
Deutsch, 24, "was dedicated to studying his Jewish faith everyday by learning in a Yeshiva," Niederman said. He was the son of Abe Deutsch, a United Jewish Organizations board member who organizes a massive Passover food drive each year.
"Moshe followed in his father's footsteps and devoted his spare time and energy to help organize the UJO Passover food distribution and many other acts of kindness," Niederman said.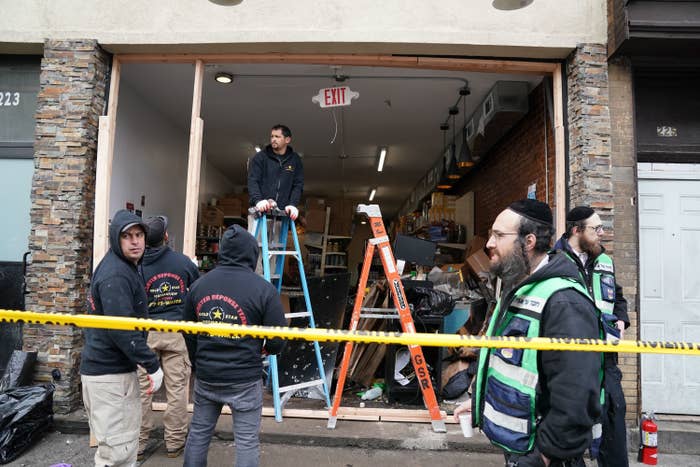 Rodriguez, an employee of the store, "served everyone who came into that place fairly and our heart goes out," Niederman said.

A police officer, identified as Detective Joseph Seals, was fatally shot at a nearby cemetery just before the store attack.

Grewal identified the two shooters as David Anderson, 47, and Francine Graham, 50. They were both killed in the market.
Several online profiles that appear to be connected to Anderson in recent years supported violence against police and anti-Semitic attacks. As first reported by NBC News, a Facebook account using the name Dawada Maqabath in 2016 posted photos that match other photos of the shooter, who had a distinctive tattoo on his cheek.
A few months ago, a user going by Dawada Maqabath commented on a video about the manifesto allegedly written by Gavin Long, the former Marine who fatally shot three Baton Rouge police officers in 2016, saying, "There are NO innocent cops. The entire organization was built with nefarious intentions against Israelites." On another site, a user going by the Maqabath name commented in favor of Long, saying that he "saw an injustice that needed to be corrected, and he obeyed the commandments of TMH God."
In response to another video about police investigating anti-Semitic attacks in Brooklyn, Maqabath wrote in support of a suggestion by another user that black people are mostly responsible for attacks against Jews. He also wrote that black people were "not violent enough, because you're still alive" in response to a racist comment about black people by another user.
Anderson and Graham are also suspected of having killed another man — 34-year-old Michael Rumberger, who was found beaten to death in the trunk of a car in Bayonne, New Jersey — on Saturday, Grewal said.
In addition to numerous firearms, authorities also recovered a pipe bomb from their van.

Shortly before Tuesday's attack, the two encountered Seals at the Bayview Cemetery and fatally shot him. Officials said they believe Seals was attempting to engage the two armed suspects before he was killed.
They then drove about a mile to the JC Kosher Supermarket, where they parked across the street. Anderson exited the car "within seconds of arriving," walked directly toward the store, "and immediately began shooting," officials said. Graham followed, gun in hand.
Surveillance video first obtained by NBC shows the shooters exiting the van with guns drawn. At least seven other people visible on the street can be seen running away.

"There were multiple other people on the streets," Jersey City Director of Public Safety James Shea said. "So there were many other targets available to them that they bypassed to attack that place. So clearly that was their target, and they intended to harm people inside."
According to Grewal, there were four civilians inside the market at the time of the shooting. One was wounded in the gunfire, but escaped and is "recovering fully."
In the surveillance footage, one person can be seen running out of the store.
On Twitter, Fulop said "hate and anti-Semitism have never had a place here in JC and will never have a place in our city."
"I'm Jewish and proud to live in a community like Jersey City that has always welcomed everyone," Fulop said. "It is the home of Ellis Island and has always been the golden door to America."

The grocery store shooting broke out near schools and stores, and police believe more would have been killed had police not swiftly responded with gunfire.

"With the amount of ammunition they had, we have to assume they would have continued attacking human beings if we hadn't been there," Shea said.
Over the past few years, a large number of Hasidic Jews have moved from Brooklyn to Greenville, the Jersey City neighborhood.

There have been several shootings targeting Jewish people in the last two years. In October 2018, 11 Jews were killed at the Tree of Life synagogue in Pittsburgh. Exactly six months later, one was killed at a synagogue in the San Diego area. This past Yom Kippur, two were killed in Germany after a far-right shooter attempted to attack a synagogue.
UPDATE
The story was updated with the Attorney General's correction of Douglas Miguel Rodriguez's full name.