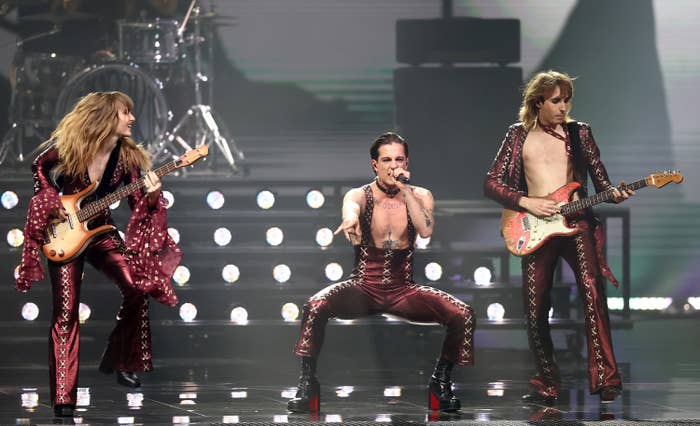 Following widespread speculation about whether he'd snorted cocaine on live TV, the lead singer of the Italian band that won Eurovision passed a drug test, officials said Monday.
"No drug use took place in the Green Room and we consider the matter closed," the European Broadcasting Union, which organizes the international music competition, said in a statement.
After performing at Eurovision on Saturday, Damiano David, lead singer of glam rock band Måneskin, was seen on camera ducking his head in a way that made a lot of people think he was doing a line of cocaine.
In a press conference after the band was announced as the winners, David denied having done cocaine, and explained that the video showed him reacting after another bandmate broke a glass.
"I don't use drugs. Please, guys," he said. "Please don't say that, really."
The European Broadcasting Union later confirmed broken glass was found at the band's table, and David said he would voluntarily take a drug test.
On Monday, officials said David's drug test had come back negative and denounced the allegations that spread widely on social media.
"We are alarmed that inaccurate speculation leading to fake news has overshadowed the spirit and the outcome of the event and unfairly affected the band," the European Broadcasting Union said in a statement.
In an interview with the BBC on Monday, David said he felt the false rumors had overshadowed their victory.
"I feel really offended," he said. "I think these kind of things are outrageous."