In Washington, DC, and across social media, there's been a massive public outcry in response to an apparent lack of attention to a large number of missing black girls.
The number of missing person reports in DC has actually decreased in 2017 compared with recent years.
DC police told USA Today that an average of 200 people have been reported missing each month for the past five years. This year, the average number of cases per month has been 190.
So far, there have been 501 missing children cases in 2017. All but 22 have been solved as of Friday, according to NBC Washington.
Officials said 99% of missing person cases from between 2012 and 2016 have been closed, leaving just 16 of 19,000 total cases open.
The outcry came to a head Thursday when a viral Instagram post claimed, incorrectly, that "14 Girls Have Gone Missing in DC in the Last 24 Hours."
Even so, the information spread like wildfire.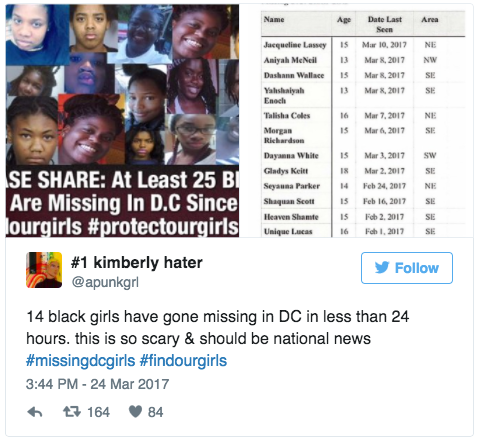 New York Daily News writer Shaun King pointed out that some of the girls in the viral Instagram post have actually been missing for several years, and not all of them are from DC.
Despite a widespread belief that the missing persons were kidnapped, all of the teens reported missing in 2017 left voluntarily, Metro Police spokesperson Karimah Bilal told NBC Washington.
"Because of the number of releases, there have been concerns that young girls in the District of Columbia are victims of human trafficking or have been kidnapped," she said.
Bilal also said there's no evidence that the missing teens' disappearances were related to human trafficking.
"We look at every case closely to make sure that doesn't happen, but to my knowledge, that hasn't been a factor in any of our missing person cases," Bilal said.
Even so, the number of black people missing across the US is staggeringly disproportional — though that's not a new phenomenon.
According to the Black And Missing Foundation, 36.7% of missing people under 17 are black.
Very few of these cases receive widespread media coverage — especially when compared with the "missing white woman syndrome" that often follows the disappearance of white women in the US.
And now lawmakers are starting to take action.