When Justin Timberlake flew to his home city of Memphis last month to vote early, he snapped a selfie in the booth and posted it on Instagram — and landed himself in some hot water in the process.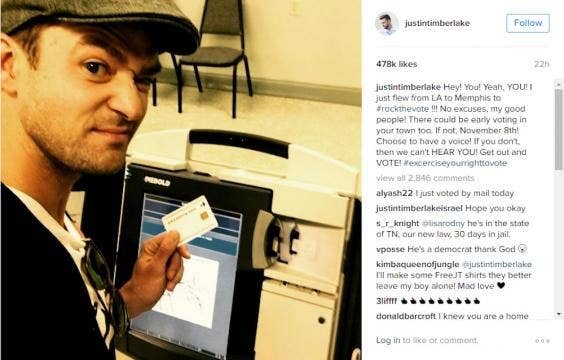 The Associated Press asked election officials in every state where taking pictures in the booth is and isn't allowed.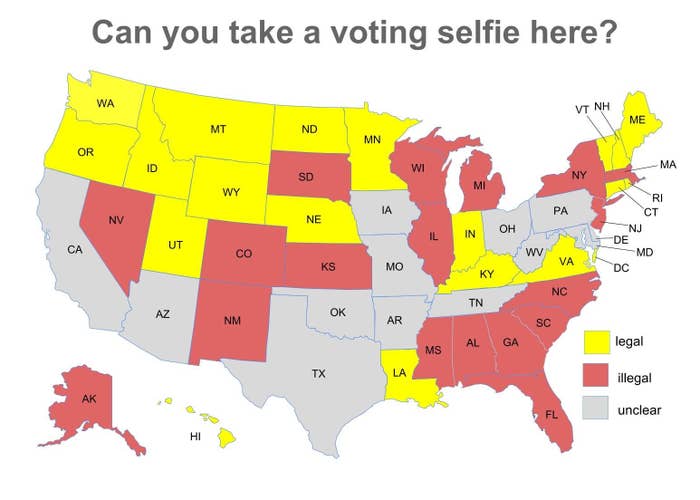 Really, though, many of these "unclear" states lean more toward "maaaaybe just don't do it."
Unless you're certain your selfie is legal, consider holding off until you're outside the polling place.
Here is a list of where it is legal, illegal, and unclear whether it's legal or not to take a ballot selfie:
Legal:
Connecticut
District of Columbia
Idaho
Indiana
Kentucky
Louisiana
Maine
Minnesota
Montana
Nebraska
New Hampshire
North Dakota
Oregon
Rhode Island
Utah
Vermont
Virginia
Washington
Wyoming
Illegal:
Alabama
Alaska
Colorado
Florida
Georgia
Illinois
Kansas
Massachusetts
Michigan
Mississippi
Nevada
New Mexico
New York
North Carolina
South Carolina
South Dakota
Wisconsin
Unclear:
Arizona
Arkansas
California
Delaware
Iowa
Maryland
Missouri
Ohio
Oklahoma
Pennsylvania
Tennessee
Texas
West Virginia
CORRECTION
A previous version of the map incorrectly identified the legality of ballot selfies for Michigan and Massachusetts. The map has since been updated with the correct information.
The list of states previously left out South Carolina.