The hosts of the popular podcast Guys We Fucked are being called racist after a 2014 clip of them talking about having sex with black men went viral.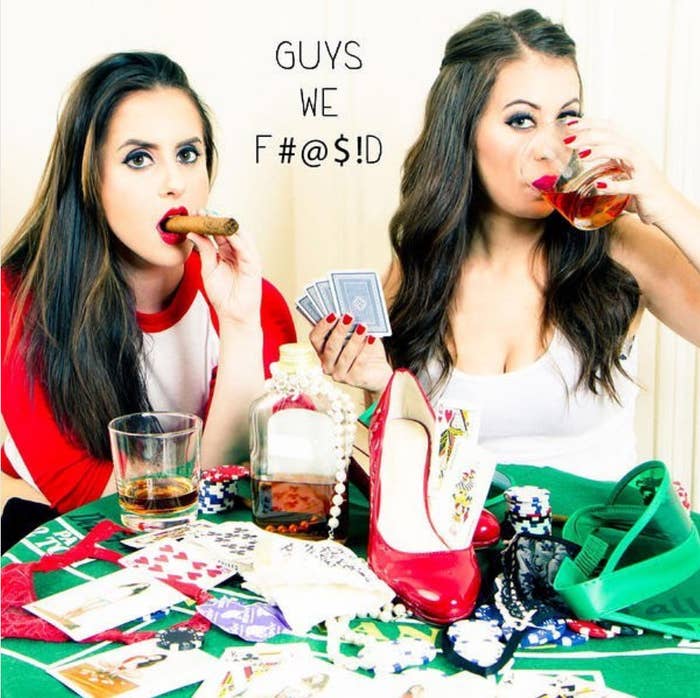 On the weekly podcast, which reportedly has more than a million subscribers, comedians Corinne Fisher and Krystyna Hutchinson discuss their sex lives and interview men they've slept with.
The self-declared "anti slut-shaming podcast" has been lauded as feminist for its sex positivity.
On Monday, blogger Dami Olonisakin tweeted that she was "really disappointed with a sex podcast."
Olonisakin said she'd been a fan of the podcast duo "till they started fetishising black men."
"Dear white women, black men are not sexual objects you can tick off your bucket list for your own sexual gratification," she tweeted.
Olonisakin did not immediately call out Guys We Fucked, but later shared the offending clip in a follow-up tweet.
In the clip, Fisher and Hutchinson discussed having sex with black men and complained about "black people who act like white people."
"I had sex with two dudes, and one was the black guy," Fisher said in the clip, prompting Hutchinson to respond with a gasp and "score!"
"It was my second black guy though," said Fisher. "Everyone was like, 'Oh, is that your first black guy?' And I'm like, um, excuse me, I've been fucking black guys since the early 2000s, thank you very much."
"Yeah, but you even said your first one didn't count," Hutchinson replied.
"But this was like a real black guy, like basketball player height, deep voice, lives uptown," replied Fisher. "He doesn't act black enough, though."
"What do you mean? Like, talk black?" asked Hutchinson.
"Well, I just mean, like, act, more like…thug," said Fisher. "I don't like...black people who act like white people."
"And I know we're gonna get a bunch of letters like, 'What do black people act like?'" Fisher continued. "Guys, we all fucking know when we say stereotypically what black people act like, and that's what I like."
"Nico's kinda like that. He's got that hood swag, mmm, I love it," Hutchinson replied, referring to her ex who appears in their second episode, titled "NICO: DO I HAVE ANY BLACK FRIENDS?"
The clip has gone viral, and people are criticizing it as "straight out racism."
"This is what 'not racism' sounds like among white people when they think there's no black people in earshot," one person said.
Hutchinson apologized on Twitter, saying she wants to "erase insensitive dialogue from my conversations & am trying to do that by shutting the fuck up & listening when people point it out."
Hutchinson said that she and Fisher "have had many conversations about why [the episode is] fucked up."
Hutchinson and Fisher did not immediately respond to a request for comment from BuzzFeed News.