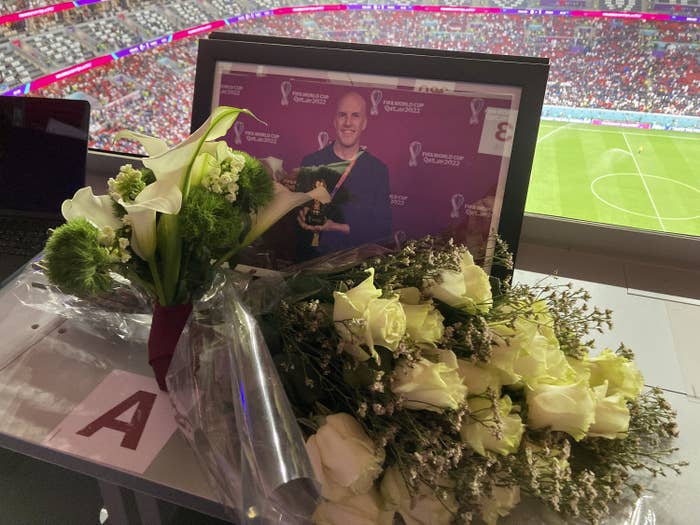 Grant Wahl, the prominent soccer journalist who died Friday while covering the World Cup in Qatar, had suffered an aortic aneurysm that ruptured, his wife said.
Céline Gounder, Wahl's wife and a noted infectious disease doctor, revealed his cause of death Wednesday in an interview with CBS Mornings.

"[The aorta is] the big blood vessel that comes out of your heart, sort of the trunk of all the blood vessels, and an aneurysm is a ballooning of the blood vessel wall, so it's weak," Gounder explained. "It's just one of these things that had been likely brewing for years, and for whatever reason, it happened at this point in time."

Wahl, 49, had been in Qatar reporting on the men's World Cup when he suddenly collapsed in the last few minutes of Friday's Argentina–Netherlands quarterfinal, according to other reporters who were present.
Paramedics attended to Wahl and performed CPR, NPR reported. He was then transported to Hamad General Hospital in Doha, the Qatari government said.
After this death, Wahl's body was taken back to the US. An autopsy, which was conducted by the New York City Medical Examiner's Office, revealed his cause of death, Gounder said.
Shortly before his death, Wahl had complained of a persistent cough and illness on his website and on his podcast. On Wednesday, in a note shared on her late husband's Substack, Gounder said the "chest pressure he experienced shortly before his death may have represented the initial symptoms."
"No amount of CPR or shocks would have saved him," she wrote.
Gounder also pushed back against baseless conspiracy theories that have tied Wahl's death to the COVID-19 vaccine.
"His death was unrelated to COVID," Gounder wrote. "His death was unrelated to vaccination status. There was nothing nefarious about his death."
Shortly after the news of the writer's death broke, Wahl's brother, Eric Wahl said in an emotional Instagram video that he suspected foul play, noting that his brother had received death threats after being briefly detained ahead of the USA–Wales group match on Nov. 21 for wearing a shirt in support of the LGBTQ community. Same-sex relationships are illegal in Qatar.

"My brother was healthy," Eric Wahl said in the video. "I do not believe my brother just died. I believe he was killed."
He later walked back his statements. On Tuesday, he tweeted that he "no longer suspect[s] foul play."
On CBS on Wednesday, Gounder said she attributed her brother-in-law's theories to grief, saying their family had lost several loved ones in recent years. "I think in these kind of moments, you really have to show grace to how people grieve," she said.
News of his death prompted an outpouring of tributes from athletes and other journalists who remembered Wahl as a passionate fan, a generous colleague, and a champion of American soccer and the women's game, in particular.
Gounder said the response to Wahl's death has been a great comfort to her.
"To know that he was so loved by so many people, it makes me feel a little bit less alone," she said. "It's like a warm hug when you really need it in a moment like this."
The longtime sports writer covered soccer for more than two decades at Sports Illustrated before being fired from the magazine in 2020 amid pandemic-related pay cuts. He went on to start his own newsletter and became an analyst for CBS Sports. Wahl wrote two books about English star David Beckham's move to Major League Soccer and how elite players strategize and harness their craft in each position on the pitch.
In the note on Substack, Gounder said Wahl "was an incredibly empathetic, dedicated, and loving husband, brother, uncle, and son who was our greatest teammate and fan."
"While the world knew Grant as a great journalist, we knew him as a man who approached the world with openness and love," she wrote.