There's apparently a new campaign dedicated to empowering "females" and, based on Donald Trump's "grab her by the pussy" comments, it's called..."Grab Her by the Brain."
The group is also selling these hats that say "Grab Her by the Brain."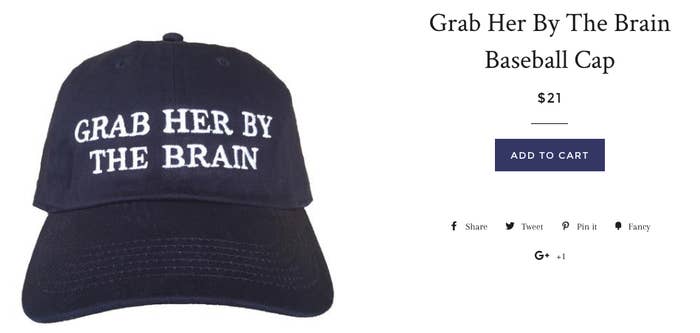 The campaign got a lot of attention after actor Gregg Sulkin, who is listed as an "ambassador" for the group, shared a photo of himself in the hat on Twitter. People immediately had a looot of feelings about the campaign.
People were quick to point out that, perhaps, we shouldn't be "grabbing" women at all.
Also, this.
And some were especially pissed that only 10% of proceeds go to charity.
BuzzFeed News has reached out to Grab Her by the Brain and Boo2Bullying for comment.
UPDATE
Campaign founder Elizabeth Ariosto responded to criticism in a statement to BuzzFeed News, saying:
"As a domestic violence survivor and someone who dedicates her life to advocating for women's rights, I am deeply saddened by the way certain members of our society value women in both the workplace and at home.
Intentionally provocative in nature, Grab Her by the Brain, is designed to serve as a timely metaphor to promote gender equality by using satire to help influence healthy public debate following Mr. Trump's derogatory remarks about women.
Undoubtedly, our slogan is being used to protest his lewd comments and propel the nation to join in demanding cultural change. My hope is that this campaign will bring every woman closer to achieving their greatest potential without the fear of being objectified or disempowered."
Actor and campaign ambassador Gregg Sulkin responded on Twitter, saying:
"After the demeaning way women have been referred to in the press these past weeks, I was asked to participate in a campaign that promoted women and did not objectify them. I am sorry if anyone found the wording offensive, however the intent was to promote women for their intellect and not just their bodies."