Spencer's Gifts is getting flooded with criticism for selling this "Grab America by the Pussy" shirt, which many are saying normalizes sexual assault.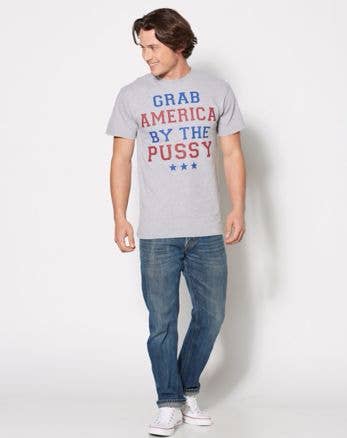 The now sold-out shirt's description reads:
He's done it again. The Donald grabbed America by the pu$$y this election, now you can too with this hilarious political tee! This laugh out loud Spencer's exclusive shirt is perfect for reminding everyone that Trump's in charge.
The shirt went viral after it was spotted in a Portland store by copywriter Mary Numair:
"Sexual assault is not patriotism," one person said.
"It's elevating sex assault as patriotism," wrote another.
Many have accused the store of "normalizing sexual assault" and of appearing "pro-sexual assault."
"Your misogyny is showing," said another.
People have called it "revolting" and a "new low."
One person who said he previously worked in the store said Spencer's has pretty much always sold "offensive stuff," but that he "would quit over this."
And people are now bombarding every post on the store's Facebook with criticism and demanding an explanation: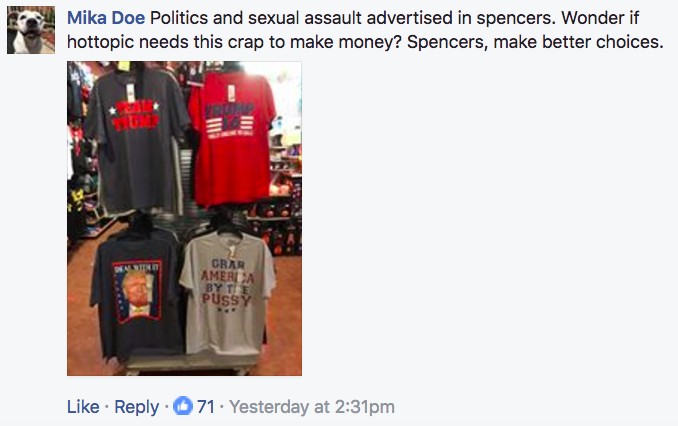 Bob Dye, who manages the Lloyd Center store in Portland where the shirt first went viral, told The Oregonian he would doing everything he could to get the shirt removed from the store.
"This is wrong on so many levels, regardless of where on the political aisle you stand," Dye said. "We are as incensed at this as you are and we will do everything within the confines of the lease to have it removed."
According to The Oregonian, the shirts were no longer in the store Monday morning.
Kevin Mahoney, the VP of Spencer's, told The Oregonian the shirts were "satire" like Alec Baldwin's portrayal of Trump on SNL and were "never meant to promote any type of abuse or attack on any person."
When asked why a "satirical" shirt would be displayed alongside shirts supporting Trump, Mahoney reportedly said they sold shirts for and against both candidates before the election, but "since Donald Trump won the presidency" they would sell more Trump-related products going forward.
"The shirt originates with the comment made by the President-elect," he said. "The purpose of that shirt was to address that controversy and that news, and not in any way to condone that type of activity."