A group of Instagram-famous sisters are actually the daughters of prominent anti-Islam activist Pamela Geller, the Daily Beast revealed Wednesday.
Claudia, Jackie, Olivia, and Margo Oshry have built a social media empire through multiple Instagram accounts.
Claudia, 23, aka @GirlWithNoJob, is the most successful of the group and boasts nearly 3 million followers. She posts a variety of relatable memes and stolen tweets.
Her sister, Jackie, runs the popular Instagram and Twitter account @JackieOProblems, on which she shares the occasional joke and a large volume of selfies, to more than 100,000 followers.
Margo runs @hungoverandhungry_, a food porn Instagram full of cheese-smothered fries and triple-decker s'mores, also with over 100,000 followers.
Olivia is their self-declared "momager," and executive produces Claudia and Jackie's YouTube talk show, The Morning Breath.
In an interview with ABC in 2016, Claudia declined to share how much she earns from being a Girl With No Job.
"It's a loophole because having no job is my job," she told ABC.
Pamela Geller is an anti-Islam conservative firebrand, hardcore Trump supporter, Breitbart contributor — and the mother of the Oshry sisters. She's no stranger to Instagram.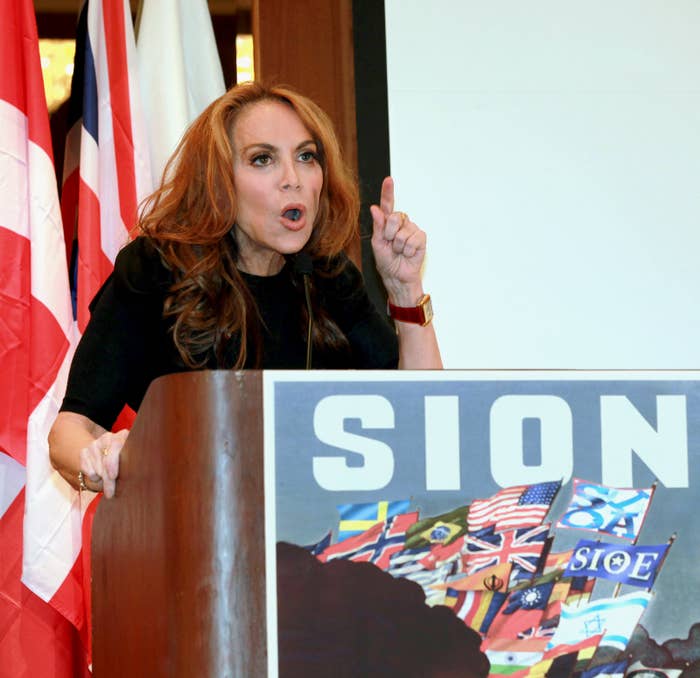 She is also president of the anti-Islam organization Stop Islamization of America, which the Southern Poverty Law Center has classified as a hate group.
In 2013, Geller was banned from entering the UK after a British government official said her presence "is not conducive to the public good."
In 2015, two shooters were killed after they opened fire on a "draw the prophet Muhammad" contest, an event which Geller's organization had planned. The event was decried because depictions of the prophet are often considered offensive in Islam.
Geller was previously married to Michael H. Oshry, and they had the four daughters together. The couple divorced in 2007, and Michael died the following year.
BuzzFeed News has independently confirmed the relation between Geller and the Oshry sisters.
An attorney representing Claudia provided the following statement to BuzzFeed News:
We want to be clear to our audience and fans that our political and cultural beliefs are not anti-Muslim or anti-anyone. Our views are separate from our mother's. Being raised by a single parent, we were taught to make our own choices based on our personal beliefs. We are inspired to think for ourselves and we do. We do not condone discrimination or racist beliefs of any kind.
Despite the Oshry sisters' public-facing lives, they've managed to keep their mother's identity a tight-lipped secret.
In September, when Claudia married Ben Soffer — aka fellow Instagram star @boywithnojob, guests were not permitted to use their phones at the ceremony.
According to the Knot, which shared photos of the couple's wedding in September, Claudia's mom walked her down the aisle. Even so, no photos of Geller appear on the site, or in Instagram photos of the event.
Photos of the wedding invitation, which were shared on the invitation company's Instagram, seem to show the bride's middle name as "Geller." But, when Claudia shared the invite on Instagram, she covered up her name.
Though the sisters frequently post photos of each other on Instagram, their mother has never made an appearance.
Even so, they seem to have posted Instagram photos from the same locations.
In April, Geller posted a photo from a dining room celebrating Passover. The following July, Jackie posted a paid #ad for McDonald's from what seems to be the same dining room.
Daily Beast noted that last Thanksgiving, Jackie posted a photo of the four sisters on a balcony. On Geller's Instagram, she posted a photo of only herself on that same balcony.
Geller's Instagram was reportedly removed after the Daily Beast story was published, and her account is now private.
Even though the sisters have never publicly declared their support for their mother, posts on their social media accounts indicate they may share their mother's political views.
"I can't help but feel like I'm funding terrorism when I take a cab," Claudia tweeted in 2014.
"Listening to Obama talk about ISIS is like listening to me talk about quantum physics," she later tweeted in 2015.
Jackie retweeted her sister's tweet about Obama, adding that "Listening to Obama talk about ISIS is like listening to me talk about boys. I too don't understand the enemy."
In March, all four sisters posed for a photo with failed conservative candidate for mayor of New York Bo Dietl and endorsed him.
Jackie shared her own photo with Dietl, saying he would "MAKE NEW YORK GREAT AGAIN!"
On Trump's inauguration day, Jackie posted a photo of Melania Trump and said her outfit was "Jackie O Approved!" She also hashtagged "#MAGA."
According to the Daily Beast, Margo attended Trump's inauguration and posted photos to Instagram of herself in a gold MAGA hat. The photos have since been removed.
Late Wednesday night, Claudia posted a video on Instagram apologizing for her "really disgusting, vile, stupid tweets" which had resurfaced, saying she "was a dumb kid" when she posted them.
"I'm not racist, I can't believe I even have to say that," she said, through tears. "But I'm so sorry to anyone who read those tweets and had a reaction and was upset, because you're totally entitled to that reaction."
CORRECTION
A previous version of this article attributed a statement provided to BuzzFeed News by Claudia Oshry's attorney to all of the Oshry sisters.