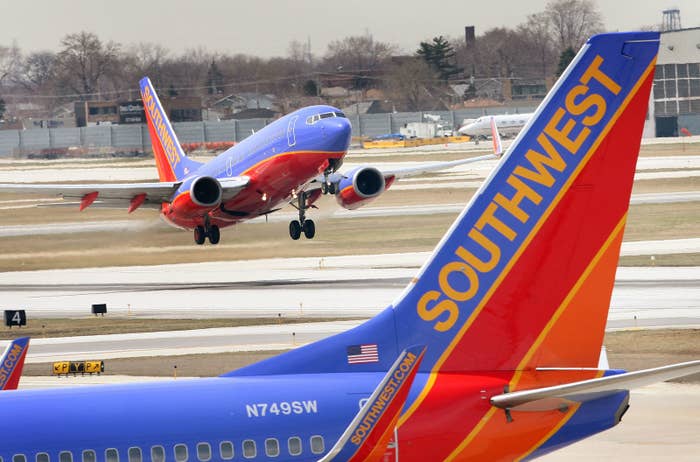 A Texas mother is complaining that a Southwest Airlines employee mocked her 5-year-old daughter's name, which is Abcde.
Traci Redford said she and young Abcde (pronounced "Ab-city") were flying from Santa Ana, California, to their home in El Paso, Texas, a few weeks ago when a gate agent began mocking the girl's name.
"The gate agent started laughing, pointing at me and my daughter, talking to other employees," Redford told ABC7. "So I turned around and said, 'Hey, if I can hear you, my daughter can hear you, so I'd appreciate if you'd just stop."
Redford claimed her daughter heard the employee mocking her and asked why.
"She said, 'Mom, why is she laughing at my name?' And I said not everyone is nice and not everyone is going to be nice and it's unfortunate," she said.
The gate agent also allegedly took a photo of the girl's boarding pass and posted it on social media, which Redford said she found out about from someone who saw it online and reported it to the airline.
Redford, who could not immediately be reached for comment by BuzzFeed News, said that "after two weeks of doing a formal complaint, Southwest hadn't done anything."
In a statement to BuzzFeed News, Southwest Airlines spokesperson Chris Mainz offered the company's "sincere apology to the family" and said the employee's social media post "is not indicative of the care, respect, and civility" expected of employees.
Southwest has "followed up with the Employee involved, and while we do not disclose personnel actions publicly, we are using this as an opportunity to reinforce our policies and emphasize our expectations for all Employees," Mainz said.
"We take great pride in extending our Southwest Hospitality to all of our Customers, which includes living by the Golden Rule and treating every individual with respect, in person or online," he added.
While certainly unique, Abcde Redford isn't the only person to have that first name.
Abcde Santos, a 7-year-old autistic girl, was turned away by a mall Santa in 2014 because he feared the pit bull she used as a service dog.
After the name made headlines from that story in 2014, Vocativ reported there were 328 people named Abcde in the United States, almost all of whom are children.
The name has become something of an urban legend on the Bump, a pregnancy forum, with a number of moms claiming to have actually met children named Abcde in real life. Several posts on the site have dubbed it one of the "worst names ever."
Of course, there are always nicknames. Baby Name Wizard lists several possible ones for Abcde, including Ce-Ce, Sidy, Abby, Xyzzie, Aebi, and Seedy.
CORRECTION
The Redford family is from Texas. Due to an editing error, an earlier version of this post incorrectly said the family is from California.