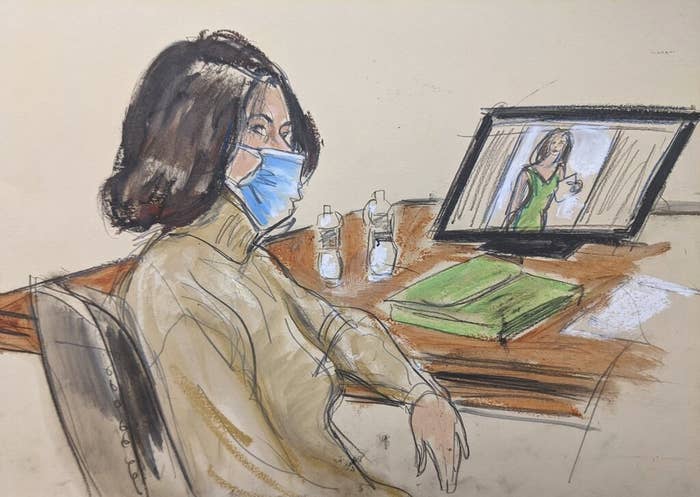 The first alleged victim testified in Ghislaine Maxwell's federal trial this week, sharing in graphic, emotional detail how Maxwell and Jeffrey Epstein sexually abused her from when she was 14 to 16.

Maxwell was the former girlfriend and longtime associate of Epstein, the disgraced financier and convicted sex offender, whose August 2019 death in prison — where he was awaiting trial on federal sex trafficking charges — was ruled a suicide. Federal prosecutors have accused Maxwell of being Epstein's "partner in crime" who made it possible for him to sexually abuse and traffic underage girls for a decade. If convicted, she could face up to 70 years in prison.
The testimony of four women who said they were abused while underage is central to the case against Maxwell, with two of the women alleging that she recruited them when they were only 14 years old.
On Tuesday, the first of the four accusers testified, describing how Maxwell allegedly groomed her for sexual acts with Epstein, while at times actively participating in the abuse. She also testified Wednesday that Epstein introduced her to Donald Trump at his Florida resort Mar-a-Lago when she was 14, before he was president.
The witness, who was identified in court by the pseudonym "Jane" and who is now in her early 40s, said she first met Maxwell and Epstein in 1994 while she was attending a summer arts camp in Michigan. Epstein told her they were major donors to the camp and that they gave children scholarships. After finding out she was from Palm Beach, Florida, where he had a home, he suggested he might know her parents and asked for her mom's name and phone number, Jane said
Weeks later, at the beginning of her eighth-grade year, Jane's mother told her that Epstein had called and invited them to tea.
That meeting was the first of many for Jane. Jane testified that she began regularly visiting Epstein and Maxwell — without her mom — and the two often took her shopping or to the movies. Epstein frequently gave her wads of cash, she said, and they asked her about her life, her family, and her dreams. Soon, Maxwell felt akin to an "older sister," she said.
But that same year, while she was still 14, Epstein began sexually abusing her, Jane said. Maxwell played a significant role, she said, allegedly grooming her by normalizing talking about sexual topics, goading the young teen into sexual contact with Epstein and, at times, Maxwell herself.
"It made me feel confused because that did not feel normal to me," Jane said in her testimony Tuesday. "When you're 14, you have no idea what's going on."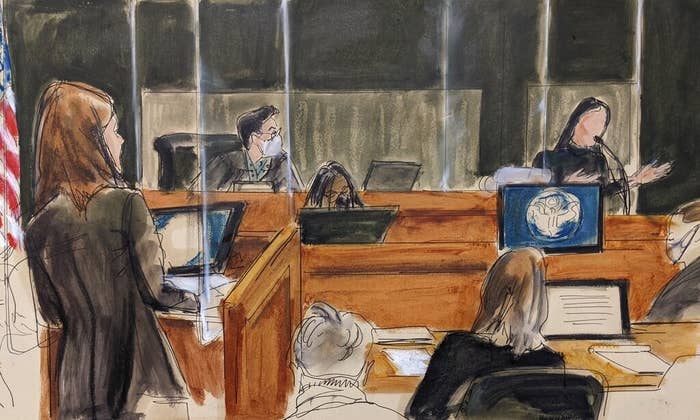 The first time Epstein sexually abused her was in his pool house, Jane said, adding that he pulled his pants down and began masturbating on her. After he was finished, he cleaned himself up in the bathroom and acted like nothing had happened, she said.
"I was frozen in fear," she said. "I'd never seen a penis before, let alone not seen anything like this."
Jane told the court that she was too frightened and ashamed to tell anyone about what had happened to her. She continued seeing Epstein and Maxwell, who she said would often instruct her in how to sexually gratify Epstein. According to Jane, Maxwell also had sexual contact with her. They would perform a variety of sex acts with Jane, including orgies, and the alleged abuse continued until she was 16, Jane said.
On Wednesday, Jane testified that she had taken part in the Trump-run Miss Teen USA beauty pageant in 1998 and that she had been introduced to him by Epstein in the 1990s at Mar-a-Lago. She did not describe any improper conduct during the meeting or offer other details about it.
Maxwell has been charged with conspiracy to entice minors to travel to engage in illegal sex acts, enticement of a minor to travel to engage in illegal sex acts, conspiracy to transport minors with intent to engage in criminal sexual activity, transportation of a minor with intent to engage in criminal sexual activity, sex trafficking conspiracy, and sex trafficking of a minor. She has pleaded not guilty.
Maxwell's defense lawyers have attempted to depict her as an innocent party, suggesting she's being treated as a "scapegoat" since Epstein is no longer alive to stand trial.
"Ever since Eve was accused of tempting Adam with the apple, women have been blamed for the bad behavior of men," her lawyer, Bobbi Sternheim, said in her opening statement.
But federal prosecutors say Maxwell was an active participant in Epstein's "pyramid scheme" of sexual abuse, recruiting, grooming, and arranging travel for the young girls so they could be victimized.
"For a decade, the defendant played an essential role in the scheme," Assistant US Attorney Lara Pomerantz said in her opening statement. "She knew exactly what she was doing — she was dangerous."
Defense attorneys, however, have described the alleged victims as troubled women and liars out for money. Jane, who received $5 million from the Epstein Victims' Compensation Fund, was accused by Sternheim of only getting involved in the case when "money was on the line," and he suggested her work as an actor made her a "pro at playing roles."
When asked what the money she received from the Epstein victims fund meant to her, an emotional Jane said, "I wish I would have never received that money in the first place because of what happened."
She said that was speaking out to "finally find some closure to all this."
"Hopefully this just puts it all to an end and I can move on with my life," Jane said.