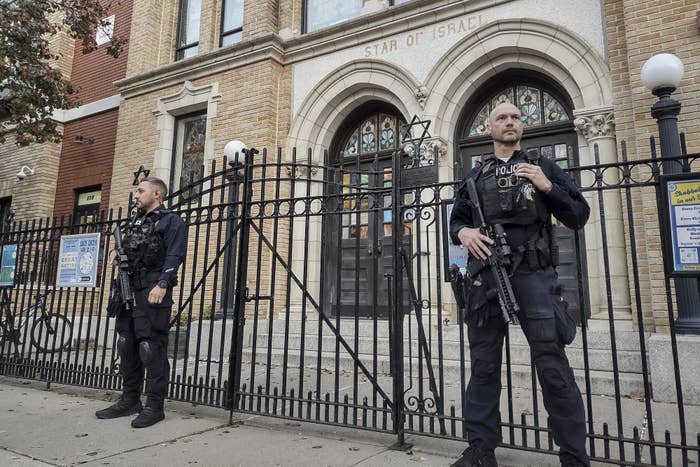 A day after it issued an alarming warning about a threat to synagogues in New Jersey, the FBI said it has identified the person behind it.
On Thursday afternoon, the FBI's Newark office tweeted that it had "received credible information of a broad threat to synagogues in NJ." Further details were not shared, but they asked the public to "take all security precautions to protect your community and facility."
Antisemitic beliefs and conspiracy theories have at times inspired deadly violence against Jewish people, with several of the attacks being committed at synagogues. In October 2018, a man who railed against Jews online fatally shot 11 people at a synagogue in Pittsburgh. Less than a year later, a man who praised the Pittsburgh shooter in an online diatribe fatally shot a woman at a synagogue in Poway, California. And in recent weeks, antisemitism has trended on social media, as some of the biggest names in the country have spouted conspiracy theories and disturbing beliefs.

On Friday — just hours before the beginning of Shabbat, the Jewish holy day — the FBI said it had "identified the source of the threat," who it said "no longer poses a danger to the community."
"As always, we would like to remind the public, to remain vigilant and if they observe suspicious activity to report it to law enforcement immediately," the FBI said.

In an email, a spokesperson for the FBI's Newark office declined to comment to BuzzFeed News on whether the individual is in custody, or what it meant that he "no longer poses a danger to the community."
The individual has not been publicly identified.
On a conference call with hundreds of Jewish leaders and law enforcement officials Friday morning, the FBI also did not say whether the individual had been arrested, according to the New York Times.
James E. Dennehy, the FBI's special agent in charge of the Newark office, said the identified person is a man who lives in New Jersey. He is believed to have acted alone, but investigators are still reportedly looking into the matter and who else he might have been in touch with.
"He expressed radical, extremist views and ideology, as well as an extreme amount of hate against the Jewish community," Dennehy said.
Dennehy said the man "no longer poses a threat to the community at this time," and it "doesn't appear there are others who pose a threat to Jewish synagogues affiliated" with him.
The threat came amid a disquieting wave of antisemitism in the US. Brooklyn Nets star Kyrie Irving apologized on Thursday after tweeting a link to a documentary regarded as antisemitic. Kanye West has recently come under fire for his tweets attacking Jews, including one where he threatened to go "death con 3 On JEWISH PEOPLE." It was removed from Twitter for violating the site's policies, and West's account was briefly locked. Since then, he has posted several more antisemitic tweets, including at least one other that was also removed by Twitter.
The rapper, whose legal name is now Ye, was widely condemned for his remarks, which played into centuries-old conspiracy theories claiming Jewish people control the media, economy, government, and even the weather. Several brands, including Balenciaga and Adidas, cut ties with him.
Just about 0.2% of all people on Earth are Jewish; the population has never recovered to the size it was before the Holocaust. Ye has more than twice as many Twitter followers as there are Jews in the world.

Ye's comments have served as fuel for some recent real-world incidents of anti-Jewish hatred. According to the LA Times, members of a hate group were seen giving Nazi salutes on a highway overpass in Los Angeles last month while displaying a banner that read "Kanye is right about the Jews." In Jacksonville, Florida, the same message was projected on a stadium, CNN reported, and banners were seen on overpasses that said "end Jewish Supremacy in America" and "honk if you know that it's the Jews."
In recent years, Jewish people have been killed in hate crimes at a kosher deli in New Jersey, a Hanukkah party at a rabbi's home in New York, and a synagogue in Germany on Yom Kippur, among other incidents.