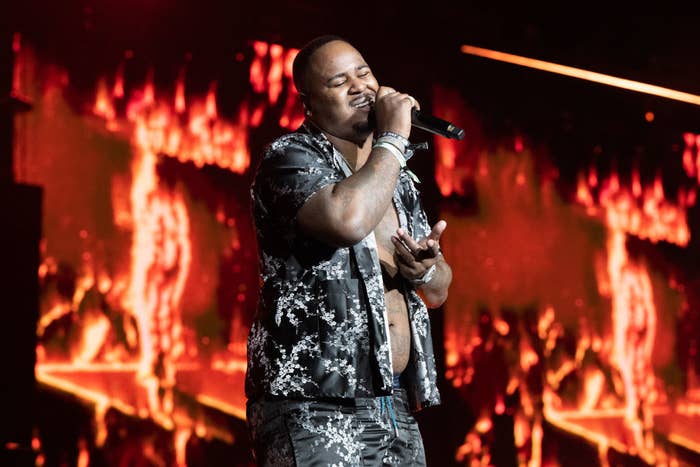 Rapper Drakeo the Ruler was killed in a stabbing backstage at a musical festival in Los Angeles on Saturday night, his rep confirmed to multiple news outlets. He was 28.
Drakeo, born Darrell Caldwell in Los Angeles, had been scheduled to perform at the Once Upon a Time in LA festival, which was set to feature 50 Cent, Snoop Dogg, Ice Cube, and dozens of other artists.
Late Saturday night, the festival suddenly announced it was ending early, posting on Instagram that performances were over and directing attendees to leave the venue, the Banc of California Stadium in Exposition Park. The LAPD tweeted that the festival had "concluded early" following an "incident" and said they would be in the area to investigate.
A representative for the rapper did not immediately respond to BuzzFeed News' request for comment.
Festival organizers said in a statement that there had been "an altercation in the roadway backstage," and "out of respect for those involved and in coordination with local authorities, artists and organizers decided not to move forward with remaining sets so the festival was ended an hour early."
A spokesperson for the Los Angeles Fire Department told BuzzFeed News on Sunday they were notified of a "reported stabbing" at the venue at 8:39 p.m. and transported "one adult male in critical condition."
A source with knowledge of the incident told the Los Angeles Times that Drakeo was backstage when a fight broke out among multiple people. He was stabbed during it, the source said, and later died of his injuries. An LAPD spokesperson declined to comment, but an officer told the LA Times no arrests have been made and "detectives are still trying to figure things out."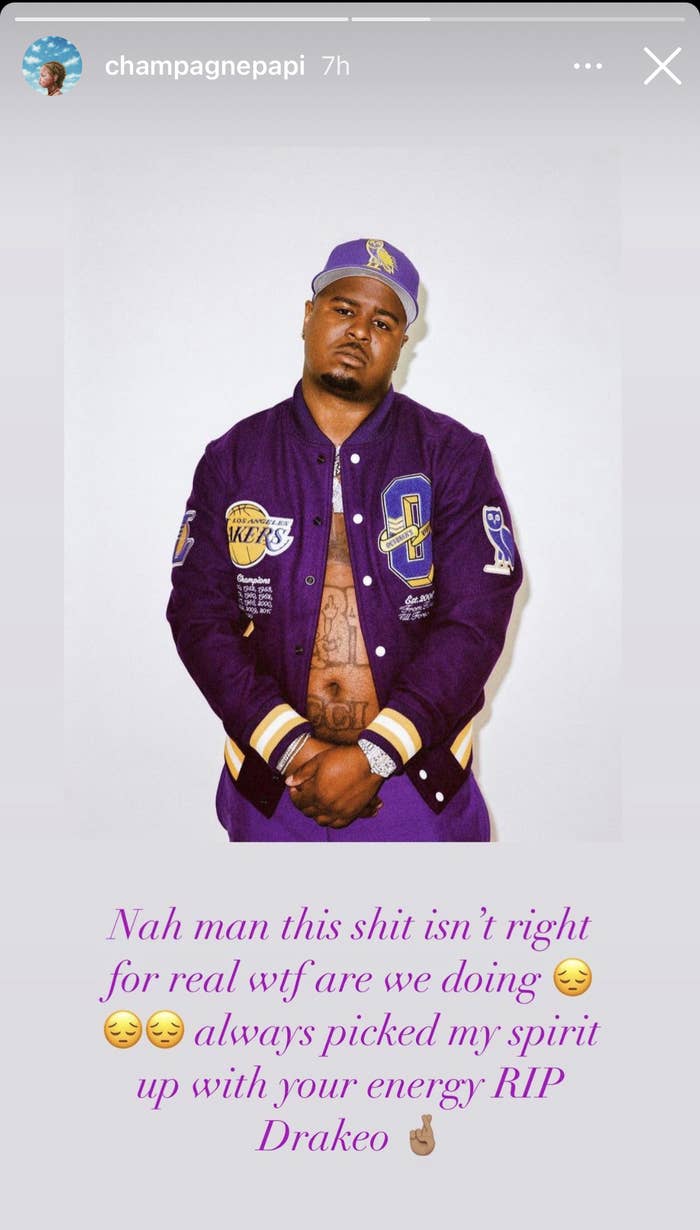 Drake, who had worked with the up-and-coming rapper in February on his song "Talk to Me," posted about the loss on his Instagram story early Sunday morning.
"Nah man this shit isn't right for real wtf are we doing," Drake wrote. "[A]lways picked my spirit up with your energy RIP Drakeo."
Snoop Dogg said he was "saddened" by the incident, adding that he was informed while in his dressing room and left the event immediately.
"My prayers go out to everyone affected by [the] tragedy," he said in a statement on Twitter. "Please take care, love one another and stay safe ya'll. IM PRAYING FOR PEACE IN HIP HOP."
Drakeo was released from jail in November 2020 following a plea deal after having served nearly three years for charges related to a 2016 fatal shooting. He was acquitted of murder charges but convicted of being a felon in possession of a firearm. He released his album Thank You for Using GTL while still incarcerated, having recorded it entirely over the jail's pay-per-minute telephone line.
Raised by a single mother, Drakeo aspired to use his musical career to "get [his] mom and everybody that [he] can take care of out of poverty," he told the Ringer shortly after his release from jail.
"I've got to make sure that they'll never have to want for nothing again," he said. "I want to show people that no matter how hard the situation is, my story proves that anything is possible."

In a Rolling Stone interview in March, Drakeo spoke about his music and what he wanted fans to know about him.
"I just want people to know that I'm here to stay. I want them to take my music seriously and feel everything," he said. "I might talk a certain way or say certain things, but I've been through a lot in my life. I want them to feel what I went through. I want them to know that I'm a real person, that we're the same."
The California Highway Patrol, which is handling the investigation, asked people with information about the incident to call (323) 644-9550.