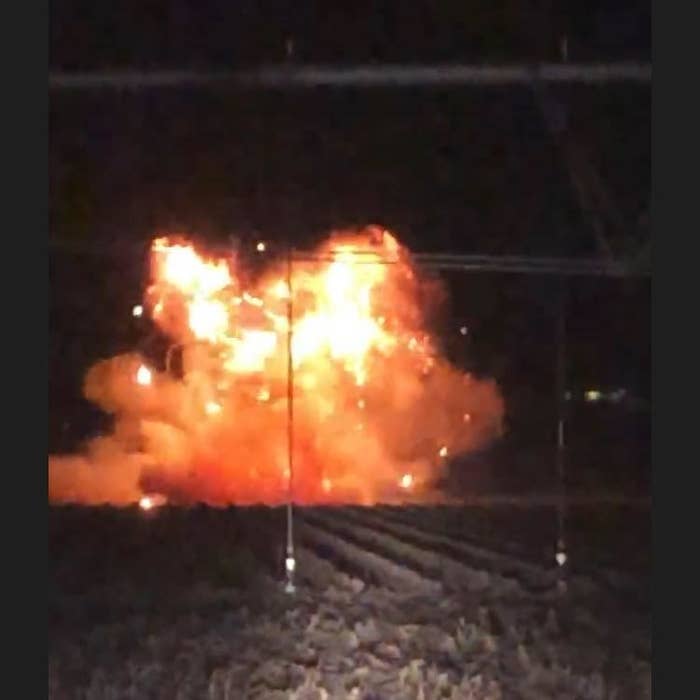 A Texas woman kissed her 14-year marriage goodbye with a giant blaze of fire on Saturday.
After finalizing her divorce the day before, Kimberly Santleben-Stiteler, 43, gathered with her loved ones for a "divorce party" on her dad's farm in Lacoste, Texas, she told the Star-Telegram.
As part of the festivities, Santleben-Stiteler decided she wanted to burn her wedding dress.
"I wanted to remove all things from our marriage from our house — photos in the attic, ring in the safe (but probably going to sell it), and the dress I wanted to burn," Santleben-Stiteler, who did not immediately respond to a request for comment from BuzzFeed News, said.
"I had a lot of advice and suggestions from friends and family, like donating it for premature babies and baptism gowns," she said. "However, to me, the dress represented a lie. I wanted to have a divorce party to burn the dress."
But this wound up being no ordinary wedding dress burning — it was a wedding dress explosion.
At the suggestion of her dad and brother-in-law, Santleben-Stiteler rigged the dress with $200 of Tannerite, an explosive, and shot it with a gun from 100 yards away.
"We have a friend who is a bomb tech, and he kept saying, 'That's really a lot,' like five different times when we told him our plan, so we had to back it up," Santleben-Stiteler's sister, Carla Santleben-Newport, told the Star-Telegram.
When the dress blew up in a fiery inferno after a single shot, the whole party cheered.
Then there came a flood of concerned texts. People had reportedly felt the explosion "at least 15 miles away."
"We were all getting messages asking if that was our explosion people were feeling and hearing around the county, up to at least 15 miles away," Santleben-Newport said. "It was like, 'Uh, is everything okay over there?'"
Santleben-Stiteler said blowing up her dress felt "liberating."
"On the one hand, it was like being on set of some action movie. The explosion was huge," she said. "It was liberating pulling that trigger. It was closure for all of us."