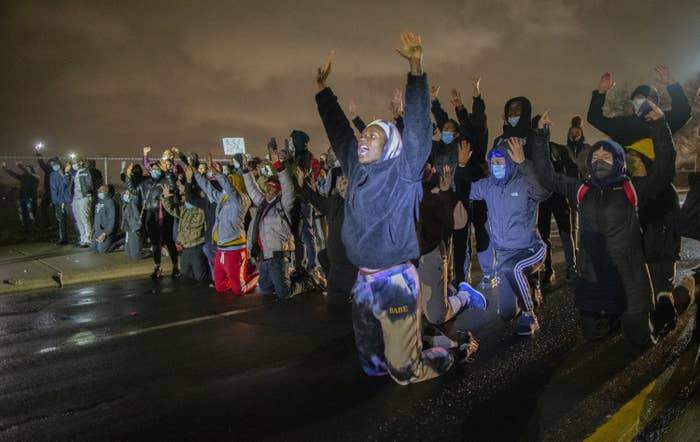 The cop who fatally shot 20-year-old Daunte Wright during a traffic stop resigned Tuesday following continued protests over the police killing of another Black man in Minnesota.
The police chief of Brooklyn Center, Tim Gannon, also submitted a letter of resignation, Mayor Mike Elliott told reporters Tuesday.
The announcements came after a massive crowd gathered outside the Brooklyn Center Police Department. Protests had continued into Tuesday morning for the second night in a row, with hundreds answering calls of "Say his name!" with "Daunte Wright!"

Officers launched tear gas at the protesters, videos show, despite Brooklyn Center's city council passing a resolution that same night prohibiting its use, CCX News reported. Elliott said Tuesday that the policy adopted by the council only applies to city officers, noting that other law enforcement agencies that are not under his control have been deployed to the city.
"They are giving orders to respond using tear gas and rubber bullets and we have not given those orders here in Brooklyn Center," Elliott said. "We are committed to not using those tactics."
About 40 people were arrested during the protests, mostly on charges of rioting and for violating the area's 7 p.m. curfew, Minnesota State Patrol Col. Matt Langer said at a news conference.
A few officers received "minor injuries" from being hit with debris, he said, and looting incidents were "pretty limited and sporadic in nature."
On Monday night, the police officer who killed Wright was identified as Kim Potter, a 26-year veteran of the department.
Gannon told reporters that Potter had meant to use her Taser on Wright, but accidentally shot him instead.
In body camera footage of the incident, Potter can be heard yelling, "Taser! Taser! Taser! Oh shit, I just shot him."
Potter was placed on administrative leave pending an independent investigation, but on Tuesday she resigned from the department.
"I have loved every minute of being a police officer and serving this community to the best of my ability, but I believe it is in the best interest of the community, and my fellow officers if I resign immediately," she wrote in a letter to city officials.
When previously asked whether Potter would be fired, Gannon didn't answer directly, but said, "I think we can watch the video and ascertain whether she will be returning."
The incident has further heightened grief and tension in the Minneapolis area, where Derek Chauvin, the police officer who killed George Floyd, is currently on trial for murder.
In an interview with Good Morning America on Tuesday, Wright's father, Aubrey Wright, said he "can't accept" the excuse that the fatal shooting of his son was a mistake.
"I lost my son. He is never coming back. I can't accept that," Aubrey Wright said. "A mistake? That doesn't even sound right."

Potter is president of her police union, the Brooklyn Center Police Officers Association, a role in which she has represented other officers who have killed people, KSTP-TV reported.

Elliott said the city was notified of her resignation just before 10 a.m. Tuesday. The mayor said the city council had also passed a resolution Monday night in support of relieving Potter and Gannon of their duties. In response to questions about whether the city could still formally fire the officer, Elliott said officials were continuing with their internal process "to make sure that we're being accountable to the steps that we need to take."
Gannon said officers pulled Wright over Sunday afternoon over an expired registration tag on his car, and when they ran his name through their system, found he had a warrant out for his arrest. He had missed a court appearance for two misdemeanor charges: carrying a handgun without a permit and running from police last June, according to court documents obtained by BuzzFeed News. A spokesperson for the Minnesota Judicial Branch said the appearance Wright missed was a Zoom hearing.

While officers attempted to arrest him on Sunday, Wright tried to break free and get back in his car. Body camera footage shows Potter warning Wright she would tase him, but then she fatally shot him.
Wright's mother, Katie Wright, had been on the phone with him during the incident, she told KARE 11. He called her when he was pulled over because she had recently given him the car and he needed the insurance information, she said.

Katie Wright said she heard her son ask an officer why he was being pulled over, and the officer said they would explain once he got out of the car. She then heard "scuffling" and demands from an officer to put his phone down.
"A minute later, I called and his girlfriend answered, which was the passenger in the car, and said that he'd been shot," she said. "And she put it on the driver's side, and my son was laying there, lifeless."

The Minnesota Department of Public Safety's Bureau of Criminal Apprehension is investigating the shooting, while the county attorney's office in neighboring Washington County will be making decisions about whether to file any charges.
Hennepin County Attorney Mike Freeman said in a statement that he turned the case over to the Washington office due to a local practice meant to "avoid any appearance of a conflict of interest in handling such cases."
But on Tuesday morning, Elliott told reporters he believed the case needed to be referred to the state attorney general's office and called on Gov. Tim Walz to move the case from local to state prosecutors.
"That needs to happen," Elliott said. "We understand that the sensitivities revolving around this case ... requires that the attorney general steps in."
At a candlelight vigil on Monday, several members of Wright's family spoke about their loss.

"My heart is literally broken into a thousand pieces, and I don't know what to do or what to say," his mother told the crowd. "But I just need everybody to know that he is much more than this. ... He had a smile that was angelic, he lit up the room, he was funny, he played, he was an amazing son, and he's going to truly be missed by everybody."
Wright was the father of a two-year-old boy, his mother said.
"I just need everyone to know that he was my life, he was my son, and I can never get that back," she said, "Because of a mistake? Because of an accident?"

His brother, Dallas Bryant, said Wright was "an amazing kid, amazing brother, amazing father, amazing uncle."
"Everybody who knows Daunte knows what kind of kid he is," Bryant said. "He's the kid to give you the shirt off of his back. He is the most loyal person to anybody, he would do anything that you wanted him to do."

Watching the video of the last moments of his brother's life, Bryant said he "could tell he was scared." He challenged the police's explanation that the shooting was simply accidental.
"My brother lost his life because they were trigger happy," Bryant said. "You know your left from your right. You know the difference between plastic and metal."

Jonathan Mason, who was a youth development specialist who mentored Wright when he was in high school, recalled his warm personality and how he dreamed of owning a business one day, according to the Star Tribune.

"He was someone who had a future," Mason said. "Daunte was funny, he was lively. He was the center of attention. He had a very, very welcoming personality. He would joke with you back and forth."
Mason said he would talk with Daunte and the other Black boys he mentored about police encounters and how they should handle them.
"He was afraid police would do something like this to him," Mason said. "We talked about this daily. We talked about police brutality. We talk about these things in the Black community."

During the mayor's news conference Tuesday, several community members talked about the history of racial profiling in the city and asked about how leadership would engage with community members moving forward and reduce opportunities for officers to use deadly force.
"We believe that our brother was racially profiled and that part of the excuse that was used was the tags," one person said.
Acting Police Chief Tony Gruenig, who had been appointed to lead the department just an hour earlier, said he did not yet have a plan but was committed to working with the community to address the issues. According to Elliott, none of the department's 49 sworn officers live in Brooklyn Center and few are people of color.
"We do feel very strongly that we need officers to be from the community," Elliott said. "It helps inform the culture of the department. It helps infuse knowledge of the community into policing and I think that can only help to enhance the work of the officers."

In the Oval Office on Monday, President Joe Biden offered his condolences to the Wright family and said he had watched the video of the incident, calling it "fairly graphic."

"The question is was it an accident? Was it intentional? That remains to be determined by a full-blown investigation," Biden said.

In a statement Tuesday, former president Barack Obama and his wife, Michelle, said their "hearts are heavy over yet another shooting of a Black man, Daunte Wright, at the hands of police."
"The fact that this could happen even as the city of Minneapolis is going through the trial of Derek Chauvin and reliving the heart-wrenching murder of George Floyd indicates not just how important it is to conduct a full and transparent investigation, but also just how badly we need to reimagine policing and public safety in this country," they said.

"Michelle and I grieve alongside the Wright family for their loss. We empathize with the pain that Black mothers, fathers, and children are feeling after yet another senseless tragedy," they added. "And we will continue to work with all fair-minded Americans to confront historical inequities and bring about nationwide changes that are so long overdue."