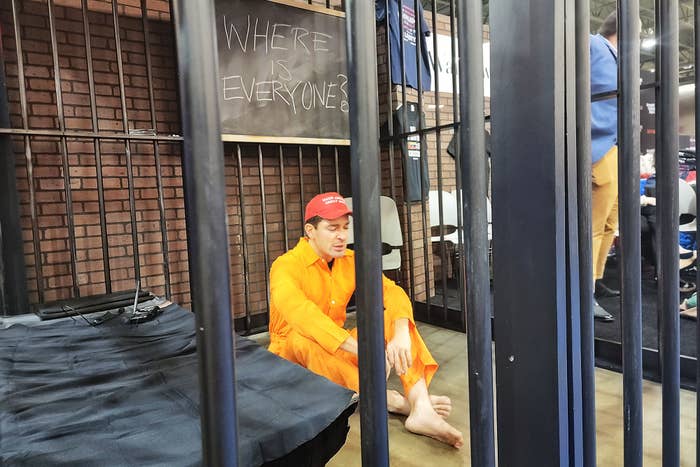 The Conservative Political Action Conference, aka CPAC, is underway, featuring such distinguished guests as Papa John himself and the Hungarian prime minister who denounced "mixed race" societies in a speech last month.
The Dallas conference also included a booth that...well, here's the video:
The booth was set up as a mock prison cell, inside of which a man in an orange jumpsuit was seen crying. Viewers were given headsets that played the courtroom testimony of Jan. 6 insurrectionists.
Freelance journalist Laura Jedeed, who spotted the booth, described it as being like a "silent disco" but "instead of dancing, you stand around and watch this guy cry."
A spokesperson for CPAC told BuzzFeed News that the booth was run by the pro-Trump #WalkAway campaign founded by right-wing influencer Brandon Straka. (The identity of the man in the cage could not be independently verified.)
Straka — who was scheduled to speak at CPAC and whom some journalists speculated to be the man inside the cell — was convicted earlier this year for his role in the Jan. 6 insurrection, and has been reviled as a "snitch" and a "traitor" for cooperating with the FBI in exchange for a plea deal.
A #WalkAway campaign spokesperson did not immediately respond to a request for comment from BuzzFeed News.

The melodramatic exhibit drew quite a bit of mockery online, but the response was far different among CPAC attendees, Jedeed told BuzzFeed News.
"The crowd was somber as they studied the man in the cage and listened to the audio of people arrested for Jan. 6–related crimes on the headset," Jedeed said. "No one else seemed to find it particularly funny."