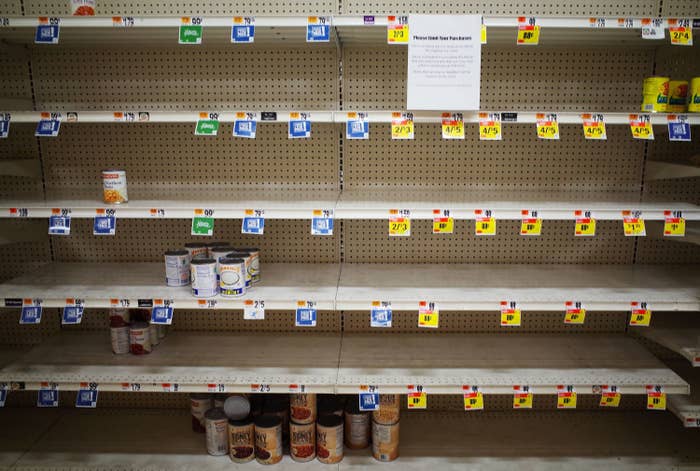 The journalists at BuzzFeed News are proud to bring you trustworthy and relevant reporting about the coronavirus. To help keep this news free, become a member and sign up for our newsletter Outbreak Today.
As the coronavirus spread around the world over the past few weeks, panicked shoppers have been filling their grocery carts with cans of beans, loaves of bread, and anything else they think they might need to weather weeks in quarantine or lockdown.
But for one group of Americans, the panic buying and hoarding have only added stress to their trips to the grocery store.
Participants in the Special Supplemental Nutrition Program for Women, Infants, and Children (WIC) tell BuzzFeed News there is often not enough food left on the shelves they are allowed to buy under the federal program.
"I'm scared that we're going to run out of food quickly since it's four mouths that my mother is trying to feed, including herself," said one 20-year-old college student in California who asked to remain anonymous and whose mother receives WIC benefits for her half sibling. "Food runs out quickly at the house, and we can't always trust that the stores are going to have WIC-approved food during this pandemic."
WIC participants — which include pregnant and breastfeeding mothers with low incomes and children under 5 — are granted a monthly check, voucher, or card that they can use to buy food staples such as cereal, beans, eggs, milk, rice, and more.
There are, however, strict guidelines for what groceries can be bought through WIC, and only certain brands and sizes are eligible. That means if the specific brand of WIC-eligible canned black beans is all sold out, WIC users are out of luck — they can't just buy another brand.
Kelli Sullivan, a 30-year-old teacher in La Crosse, Wisconsin, told BuzzFeed News she relies on WIC each month to buy milk, cereal, bread, yogurt, juice, cheese, eggs, peanut butter, beans, and fresh fruits and vegetables for her two young children.
The working mother has fine-tuned a system for how to stretch the food she buys with her benefits to last the entire month. But with grocery store shelves suddenly cleared out of WIC-eligible items, that strategy has been upended, and she's now struggling to feed her family.
"Before, I could just pick a store and know there would be no issues getting what we need," said Sullivan. "Now I have to stop at several stores, often with my kids, hoping to find eggs, bread, and cheese."
Since supermarket shelves started being emptied of WIC-eligible items, advocates have been urging non-WIC users to pay attention to price labels that denote which ones can be bought through WIC and to instead buy other items.
But with many of her go-to WIC products selling out rapidly, Sullivan must now prioritize which food items her family needs most.

"Before, I didn't have to pick and choose which food items to get my kid, [but] now I have to prioritize what they need more of — milk or fresh fruit, for example," she said.
And sometimes that means forgoing eating those things herself so her children have enough.
"It's difficult as a parent to not know if what we need will be at the store. And what we are able to get I make sure most of it goes to my kids," she said. "So I skip having a glass of milk with them at dinner or not have any fruit so I can make sure they are getting enough."
During this pandemic, WIC users often have to stop at several stores in order to find all the things they need, thereby risking more potential exposure to the virus as they encounter more and more people.
The 20-year-old college student, who lives in San Fernando, said she worries about her mother "constantly putting herself out in the open" and exposing herself and their family to the coronavirus.
"Because everyone has been panic-buying ever since Trump declared that the coronavirus is a national emergency, my mom has been struggling to find WIC-eligible food at almost every single store she's been to in our city," the 20-year-old said.
Her mother has been having trouble finding WIC-eligible milk, eggs, whole grains, cereal, and fruits and vegetables, she said.
"When my mom went to the stores yesterday, she was only able to find some junk food — some small bags of chips and ice cream pops," the student said.
For now, they're making do thanks to some family friends who gave them extra fruits and vegetables. Her mom also has a few canned goods and some rice and beans saved.
"I also have some food back at my college up in Santa Cruz that I'm going to bring back this weekend to help my mom out," she added.
With the intensive restrictions on WIC items facing new issues during the pandemic, advocates are pushing states to request waivers from the Department of Agriculture to allow different brands and sizes of food items to be purchased through WIC.
A USDA spokesperson told BuzzFeed News, "States have the flexibility to modify their WIC-approved foods lists at any time to include any foods that meet federal standards. However, WIC participants can only purchase foods approved by their state."
"Under the Families First Coronavirus Response Act, states can begin submitting waiver requests to allow for additional substitution options, as well," the USDA spokesperson added. "USDA is prepared to assist states, as needed, to ensure that WIC participants receive the nutritional support that they need."
Rev. Douglas Greenaway, the president and CEO of the National WIC Association (NWA), told BuzzFeed News those waivers will be crucially important in feeding children and their mothers with low incomes.
"We're absolutely, 100% behind the need for those waivers, recognizing the possibility that some food items may not be available on retail store shelves," he said.
Greenaway said stores and manufacturers have told NWA the issue is less about shortages than it is about stocking. In other words, there's enough food to go around, it's just being snagged off the shelves too quickly and store staff can't keep up with the crowds.
He believes there's also the "issue of neighbors not respecting the needs of their neighbors and hoarding products" that's leading to apparent shortages.
"We really need to be respectful of those most in need and not simply load the grocery cart up with every possible item we think we need to survive for months on end," he said.
The 20-year-old college student who spoke with BuzzFeed News hoped shoppers will be more mindful of buying non-WIC food items if they can.
"I wish people knew that my mother can't get other foods that don't have the WIC label on them," she said. "I would like people to leave the foods that have the label and get a different brand of food instead ... because my mom doesn't have much of a choice."