CMA Awards Deny Scrubbing Social Media Of Beyoncé Performance After Backlash
The chief executive of the Country Music Association said Beyoncé's representatives had not approved a promotional clip published on social media.
At the 50th Annual Country Music Awards on Wednesday, Beyoncé joined the Dixie Chicks on stage for a rendition of "Daddy Lessons."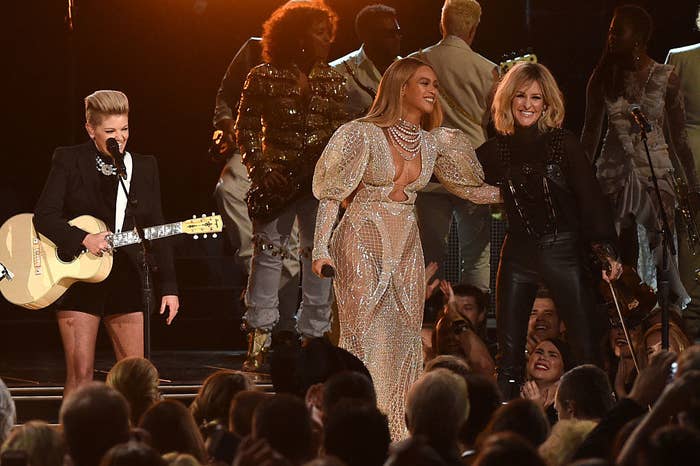 The following day, people noticed something strange: The CMA website, and all their social media platforms, contained absolutely no mention of the performance at all.
Even without a single mention of Beyoncé, the CMA Facebook page has been flooded with racist comments about the singer.


People have been sharing their anger over the glaring omission — as well as screenshots of an apparently deleted promotional tweet.
But another screenshot — which shows the exact same tweet, except with the typo corrected — was also deleted.
A CMA spokesperson denied any mentions of Beyoncé's performance were erased, saying only an "unapproved promo" was removed.
"In advance of the broadcast, CMA removed a five-second promotional clip from ABC.com and CMA's Facebook page. The promo was unapproved and CMA removed it prior to the broadcast," the spokesperson told BuzzFeed News.
"Beyoncé's performance with Dixie Chicks was a highlight of the evening and we are continuing to share the amazing full-length performance clip via our official social channels."
In an interview, the chief executive of the Country Music Association said Beyoncé's representatives had not approved the clip shared on social media.
"Beyoncé's team hadn't approved that, so we pulled it down," Sarah Trahern told the New York Times about the deleted post. "Fans can get kind of passionate and read other things into it."
As for the limited social media posts about her performance, Trahern told the Times Beyoncé provided her own photographer and that the singer only approved one official live video of the song on ABC's website.
Still, some claimed the CMA "used Beyonce for ratings."
Following the backlash (and 12 minutes after a phone call with BuzzFeed News), the CMAs re-grammed one of Beyonce's Instagram posts from the show.
And also shared a video of the performance from the Dixie Chicks' Facebook page around the same time.