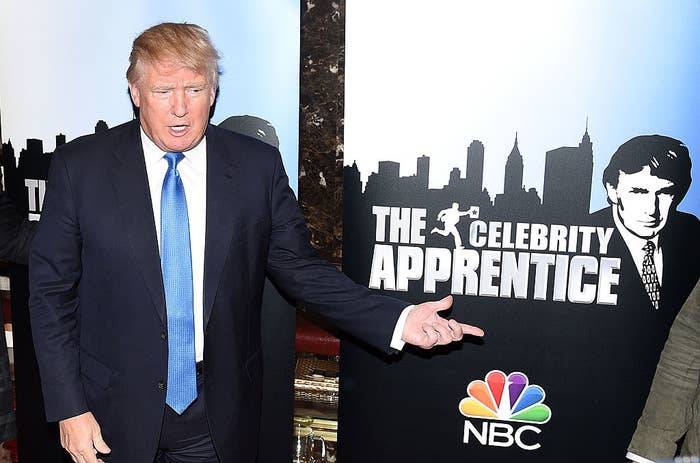 Top aides and supporters of Hillary Clinton Sunday called on the Hollywood studio MGM to release unaired tapes from The Apprentice.
"Voters deserve to know the full extent of Donald Trump's misogyny, divisiveness, and lack of temperament," said Clinton National Press Secretary Brian Fallon, who said he believed MGM should release the tapes. "I cannot fathom why people would sit on it."
Releasing the tapes "would be in everybody's interest," said Clinton communications director Jennifer Palmieri. "It would be useful to know what he has said — but we don't need more evidence to know that this is someone who demeans not just women but a lot of people in our society."
And Missouri Senator Claire McCaskill pointed to a recent Associated Press report on Trump's conduct on the set, and to grotesque comments that the Washington Post reported Friday from a taping of Access Hollywood.

"He had the language of a predator," she said. "If there is more evidence out there, we should see it."
The comments put new pressure on the MGM Studios, which has owned the rights to The Apprentice since 2015. MGM spokespeople did not respond to requests for comment Sunday.

Trump spokesman Jason Miller refused to say whether the Trump campaign would object to the studio releasing the video.
"I'm not going to get into that," he said.
Former Apprentice star Omarosa Manigault also ignored a question about whether MGM should release the tapes, though she said she was confident they are innocuous.
"I'm not concerned at all," she said.
More than 20 former contestants, crew members, and editors told the Associated Press of sexist incidents on the set, including Trump's rating contestants by the size of their breasts and openly discussing which ones he would like to have sex with.

But what could be many hours of unreleased video is sitting in storage in Los Angeles. Apprentice executive producer Mark Burnett "is pro-Trump and has made clear to his teams that he will sue anyone who leaks," a source close to the producer told BuzzFeed News.
In response this weekend, Clinton supporters promised to cover leakers' legal fees — with some even opening a crowdfunding campaign for the purpose.