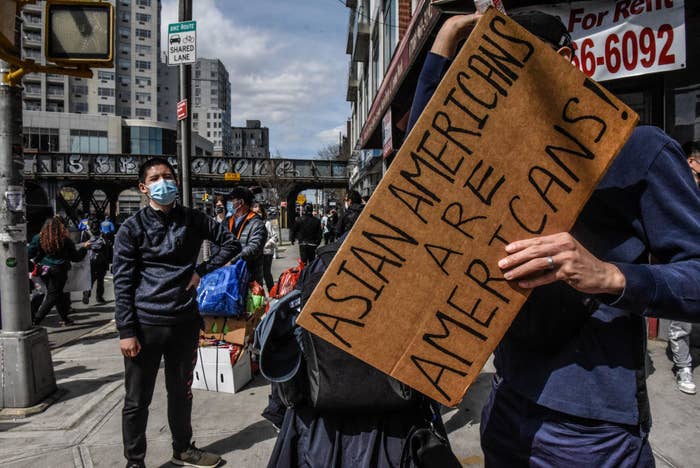 A Chinese immigrant who was violently attacked months ago in New York City has died of his injuries, police said Saturday.
Yao Pan Ma, 61, had been collecting bottles and cans in East Harlem on April 23, 2021, when a 49-year-old man ambushed him, knocking him to the ground and repeatedly kicking him in the head, leaving him bloodied and brutalized. In the months since, Ma had been in a coma and on a ventilator and was moved to hospice care in November, a spokesperson for his family previously told BuzzFeed News.
Shortly after the incident, Jarrod Powell, 49, was arrested and charged with attempted murder and assault as a hate crime. During a deposition, Powell claimed a "Korean" man and a "Japanese" guy had robbed him, but "did not provide any details relating to the description of the perpetrators of the alleged robbery other than that they were Asian," court records state.
Following Ma's death on Dec. 31, the attack is being treated as a homicide, police said.

Ma and his wife emigrated from China to the US in Nov. 18 and moved in with her parents in Harlem after losing their Chinatown apartment to a fire, the family's spokesperson said. Back in China, where the couple's children and grandchildren remained, Ma had been a talented chef. In New York, he got a job cooking and washing dishes at a restaurant in Chinatown, but lost it when the pandemic shuttered restaurants across the city.
The family struggled to make ends meet after that; Ma did not qualify for unemployment benefits, and his in-laws received less than $1,000 in Social Security income. To support all four of them, Ma and his wife began collecting empty bottles and cans, living off the 5-cents-apiece refunds.
After he was attacked while gathering the recyclables, Ma's wife was too afraid to go out and continue doing so. She found work as a home health aide for a time but is now unemployed again. During her visits to the hospital to see her husband, she would play Chinese opera music for him, uncertain but hopeful he might be able to hear it.
Ma is one of the many victims in a wave of anti-Asian violence that has swept the US during the pandemic. Like him, a number of older Asian people, many of them immigrants, have been severely injured or even killed in similar unprovoked beatings. In March, six Asian women were killed in a string of shootings at spas in Georgia.
According to a recent report by the organization Stop AAPI Hate, there have been more than 10,000 reported anti-Asian hate incidents in the US since March 2020, 16% of which were physical assaults.