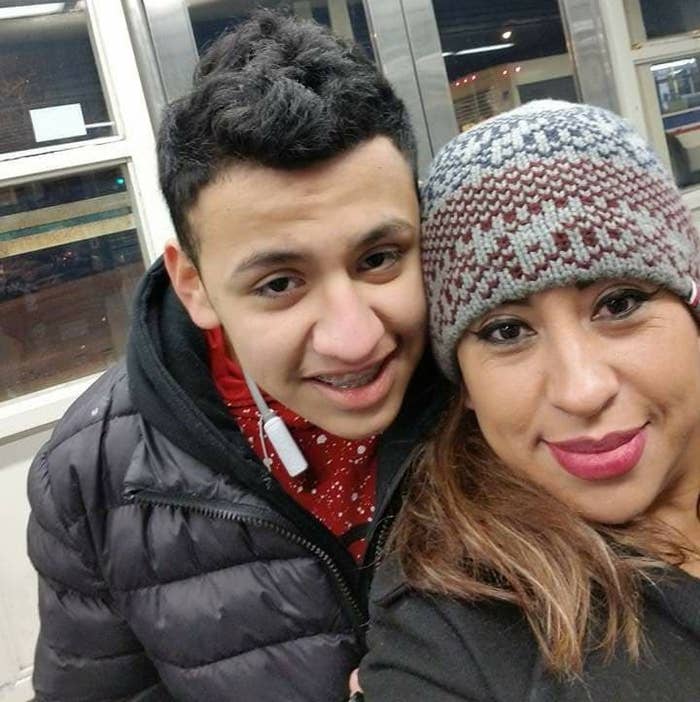 A 15-year-old boy who was shot to death in Chicago while delivering newspapers over the weekend was trying to earn enough money to buy his sister a birthday present and take his girlfriend out on a date, his family said. Instead, police think he may have been the target of mistaken identity in a gang-related shooting.
The boy, Brian Jasso, and his mother's boyfriend, 28-year-old Erik Campeano, were delivering newspapers early Sunday morning when the shooting occurred, Campeano's sister, Kenia Esbeidy Campeano Mendoza, told BuzzFeed News.
"He was a quiet person. He didn't have enemies, let alone any involvement in gangs," Campeano Mendoza said in Spanish. "He really liked to help his mother."
Brian had started delivering papers to earn money so he could buy his sister headphones for her 12th birthday and take his girlfriend out on a date, his family told the Chicago Tribune.
Campeano offered to give Brian the money, but he reportedly said he wanted to earn it himself.
Prior to the shooting on Sunday, Campeano and Jasso were in the car together just beginning the delivery route, according to the Tribune. While stopped at a traffic sign, a car behind them accelerated and rear-ended them.
Someone in that car then reportedly began flashing their brights in a signal to pull over. Sensing something was wrong, Campeano stayed in the car and began driving away. Then, someone leaned out of the passenger seat window and started firing a gun.
"I just heard shot after shot," Campeano told the Tribune in Spanish. "I pulled him down when they broke the rear windows."
Campeano pulled Brian down to protect him, but the boy sat up at some point and was shot in the back of the head.
It was only when they'd gotten away from the shooters and pulled into a gas station that Campeano realized Brian was wounded and unresponsive.
"I tried to protect him in that moment, but I couldn't," Campeano told the Tribune. "I don't know why he got up. We had made it, but he got up and that's when they killed him."
Police told BuzzFeed News that neither Jasso nor Campeano have any criminal background, and that suspects in the incident have not yet been identified.
Brian's mom, Carmen Manzano, told the Tribune she hopes whoever killed her son comes to regret it.
"I hope the person who did this sees this so they could know whose life they took," Manzano said in Spanish. "He was a person who had dreams, he was a person who wasn't doing wrong like they are doing bad things on the street."
The family has set up a GoFundMe to cover funeral expenses.