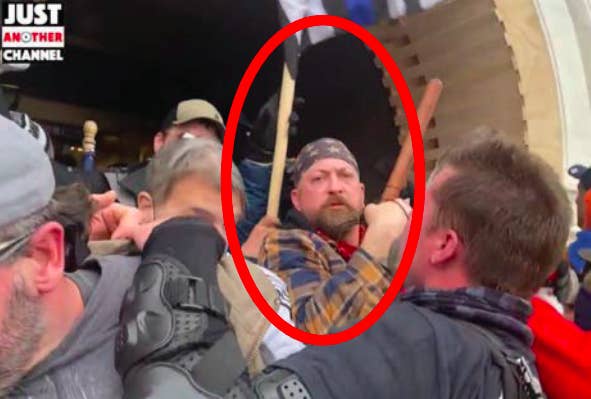 A man who was filmed macing police officers during the attempted coup at the US Capitol last month was arrested by the FBI on Thursday, authorities said.
Peter Schwartz, a 47-year-old from Owensboro, Kentucky, faces numerous charges, including one for forcibly assaulting an officer.
According to an affidavit, Schwartz was part of a mob that swarmed officers outside the entrance to the Capitol, yelling at the authorities while striking and spraying them with harmful substances.
Video of the incident, which was posted on YouTube and reviewed by federal agents, apparently shows Schwartz being handed a canister of Mace and spraying the officers with it. One officer appears to get hit, take a step back, and turn away to avoid inhaling the spray.
Later in the footage, Schwartz is seen wielding a wooden baton. In a separate video clip, a man believed to be Schwartz maces officers again.
Schwartz posted about his participation in the insurrection on Facebook, the affidavit states.
"All the violence from the left was terrorism," he allegedly posted the following day. "What happened yesterday was the opening of a war. I was there and whether people will acknowledge it or not we are now at war. It would be wise to be ready!"
On Jan. 11, a friend of his tipped off the FBI as to his identity, telling authorities Schwartz had owed him money, according to the affidavit. The friend said Schwartz told him he went to the Capitol, saying there were "more people [there] than voted for Biden."

This is not the first time Schwartz has been charged with a violent crime. In April 2020 in Owensboro, he was found guilty of making a terroristic threat and being a felon in possession of a handgun after he had "made verbal threats to kill [his girlfriend] and her son," according to court records viewed by BuzzFeed News.
Schwartz was sentenced to two years of probation for the incident.
It is unclear what the prior conviction was that led to the "felon in possession," charge. John D. Austin, an attorney who represented Schwartz in the April case, told BuzzFeed News he did not recall what it was.
On Jan. 28, a warrant was issued for Schwartz's arrest for violating his probation. He was arrested Thursday in Uniontown, Pennsylvania, where he appeared in front of a judge, the Pittsburgh Post-Gazette reported. It is not clear what Schwartz was doing in the city.
The friend who tipped off the FBI told the agents that Schwartz had been "released from prison due to COVID-19," but Bruce Kuegel, the Daviess County commonwealth attorney, told BuzzFeed News he was unaware of that and had no indication it was accurate. Schwartz was not imprisoned for the April case, but he had been in jail during the trial.
Schwartz "was supposed to be at a rehabilitation facility" on the day of the riot, the friend also told the FBI.
Austin was unable to comment on the federal case, as he is not currently serving as his attorney, but said Schwartz did undergo drug treatment during his probation. He did not recall COVID-19 being the reason Schwartz was released from jail during the trial but added that it could have played a role.