Public outrage toward the Trump administration's policy of separating families crossing the border reached a fever pitch this week, particularly after this photo went viral: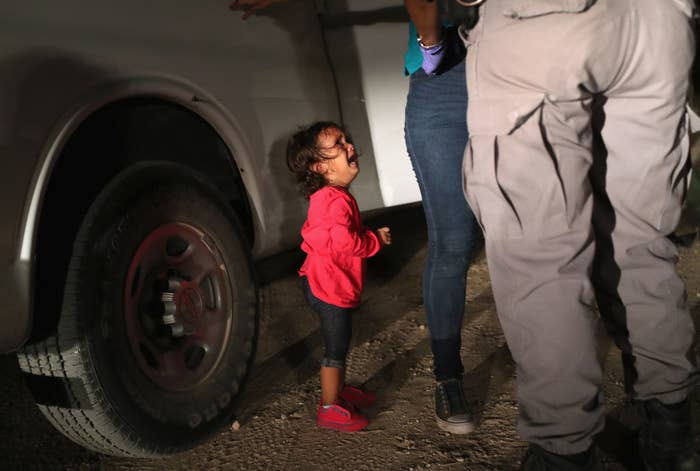 The photo, taken by Getty photographer John Moore, shows a 2-year-old Honduran asylum-seeker sobbing while her mother is searched and detained at the Texas border on June 11.
The family entered from Mexico by rafting across the Rio Grande, and were then detained in McAllen, Texas, and "sent to a processing center for possible separation," according to Moore, who took the pictures during a ride-along with Customs and Border Protection agents.
(Trump has since signed an executive order addressing the separations, though it's unclear if it actually changes anything.)
The photo was covered widely, appearing on the front page of the New York Daily News and New York Times.
On Saturday, BuzzFeed News first asked about the whereabouts of the child and her mother, and if they had been separated.
A US Customs and Border Protection spokesperson said, "We're still researching and will get back to you."
"I would tell you," the spokesperson said at the time, "that being an infant, she will not be separated from her mother unless there is the criminal or immigration history of an adult in the family unit, evidence of abuse that would indicate that the child's safety is at risk, questionable familial relationships (fraud), [or] insufficient detention space to accommodate a family unit where both parents are present."
Despite the spokesperson saying they would get back to BuzzFeed News, they never did.
After AP reported on Wednesday that babies had in fact been separated from their parents and were being held in "tender age" shelters, BuzzFeed News again followed up.
A spokesperson for Customs and Border Protection then said the mother and daughter have not been separated and are now in Immigration and Customs Enforcement custody.
He could not, however, say where the two are presently, or whether the mother is being prosecuted. He referred further questions to ICE.
ICE spokesperson Matthew Bourke claimed the agency does not know who the mother and daughter are — and that it could not share their whereabouts unless BuzzFeed News were to provide the mother's name and date of birth.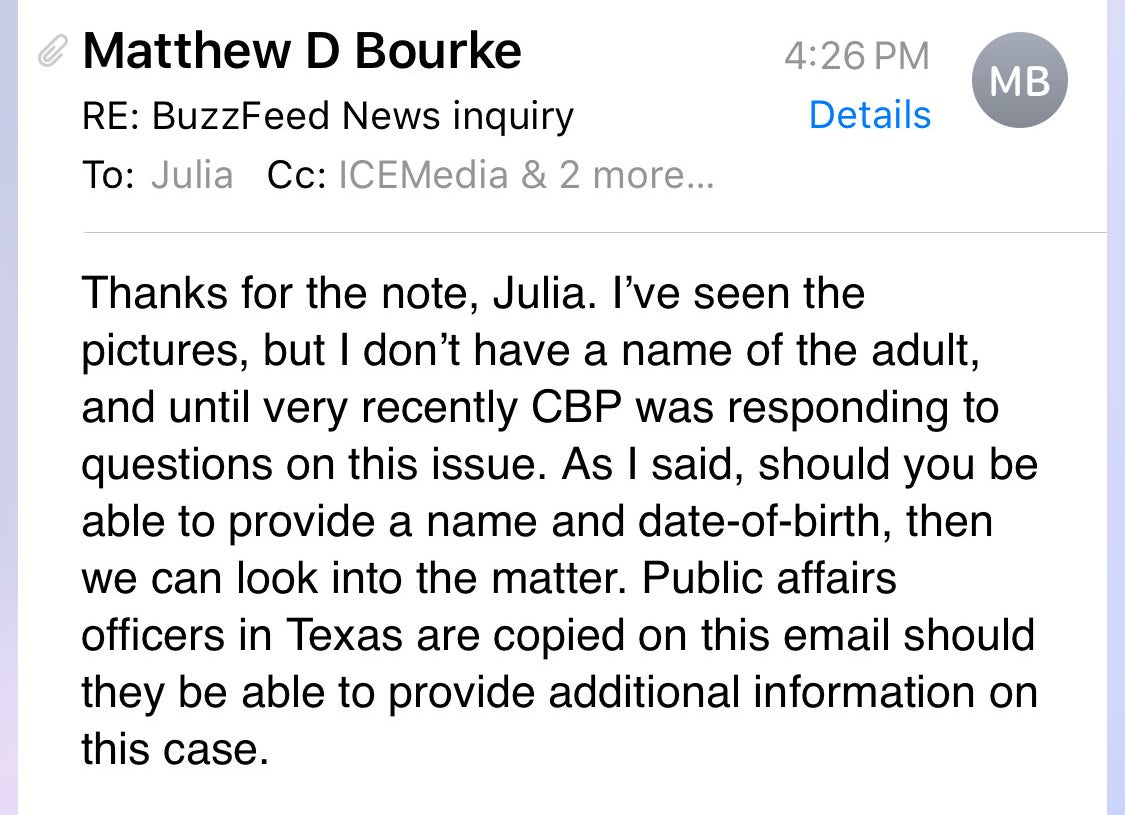 Her name — much less her date of birth — is not currently known.
Bourke said he'd "seen the pictures, but I don't have a name of the adult, and until very recently CBP was responding to questions on this issue."
(CBP had directed BuzzFeed News to ICE for further questions.)
"As I said, should you be able to provide a name and date-of-birth, then we can look into the matter," said Bourke.
A second ICE spokesperson, Adelina Pruneda, also replied saying they "do NOT know who this person is."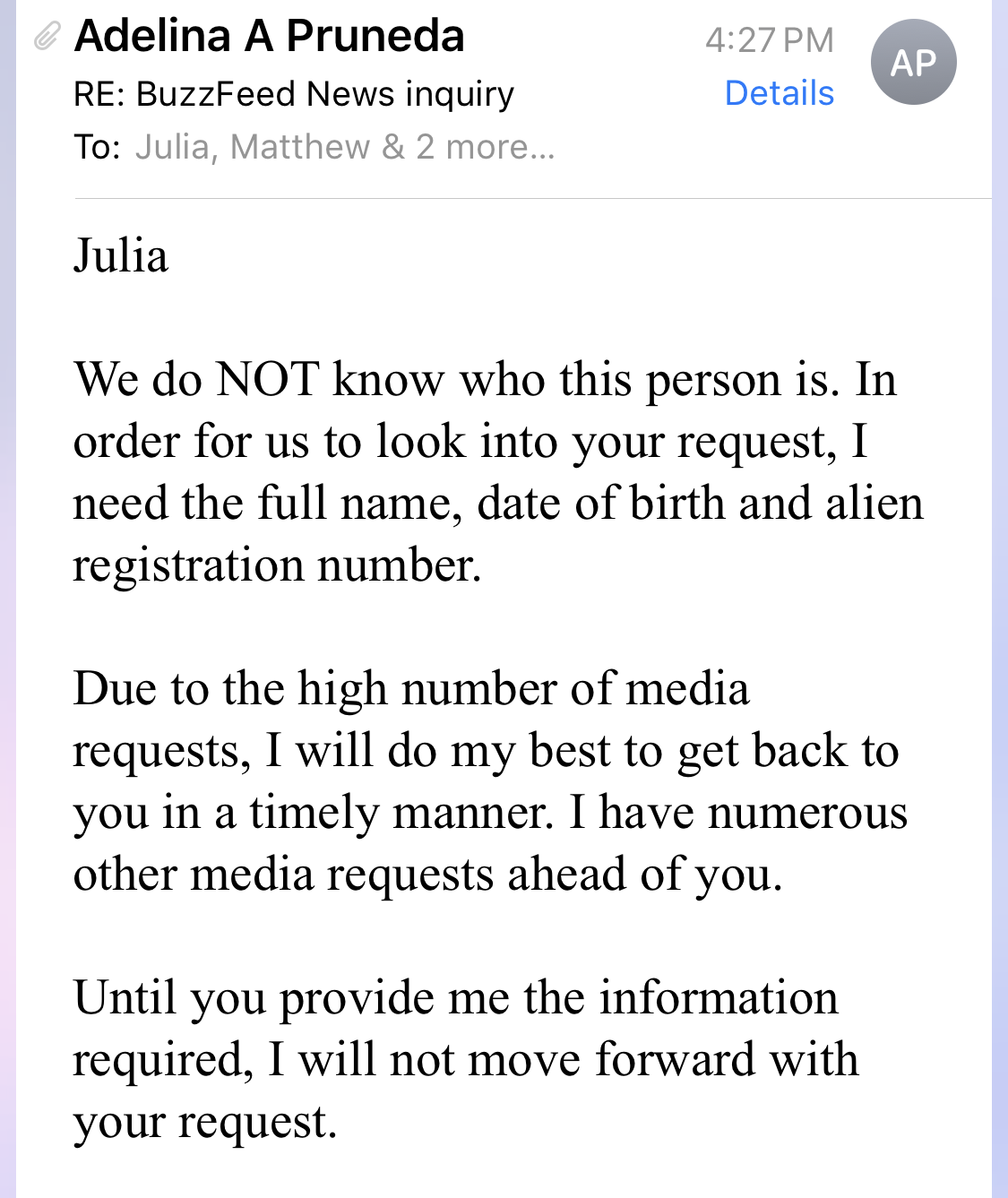 Pruneda said they also would need an "alien registration number" in order to look into the matter.
BuzzFeed News went back to the CBP spokesperson to ask if they could share the mother's name, birthdate, and "alien registration number."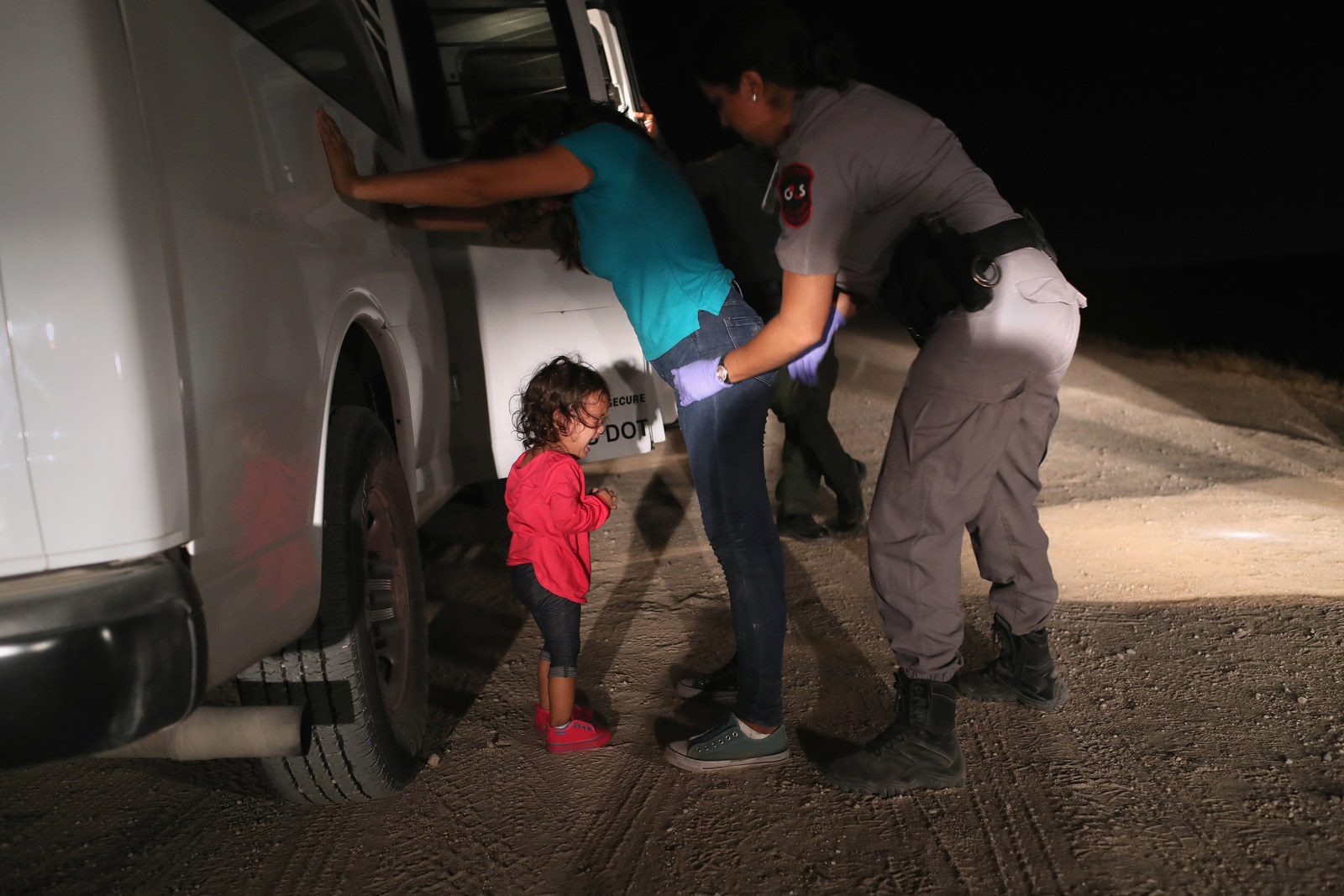 On Thursday evening, after this story's publication, ICE provided a statement to BuzzFeed News about the girl's mother, but not the infant due to privacy reasons.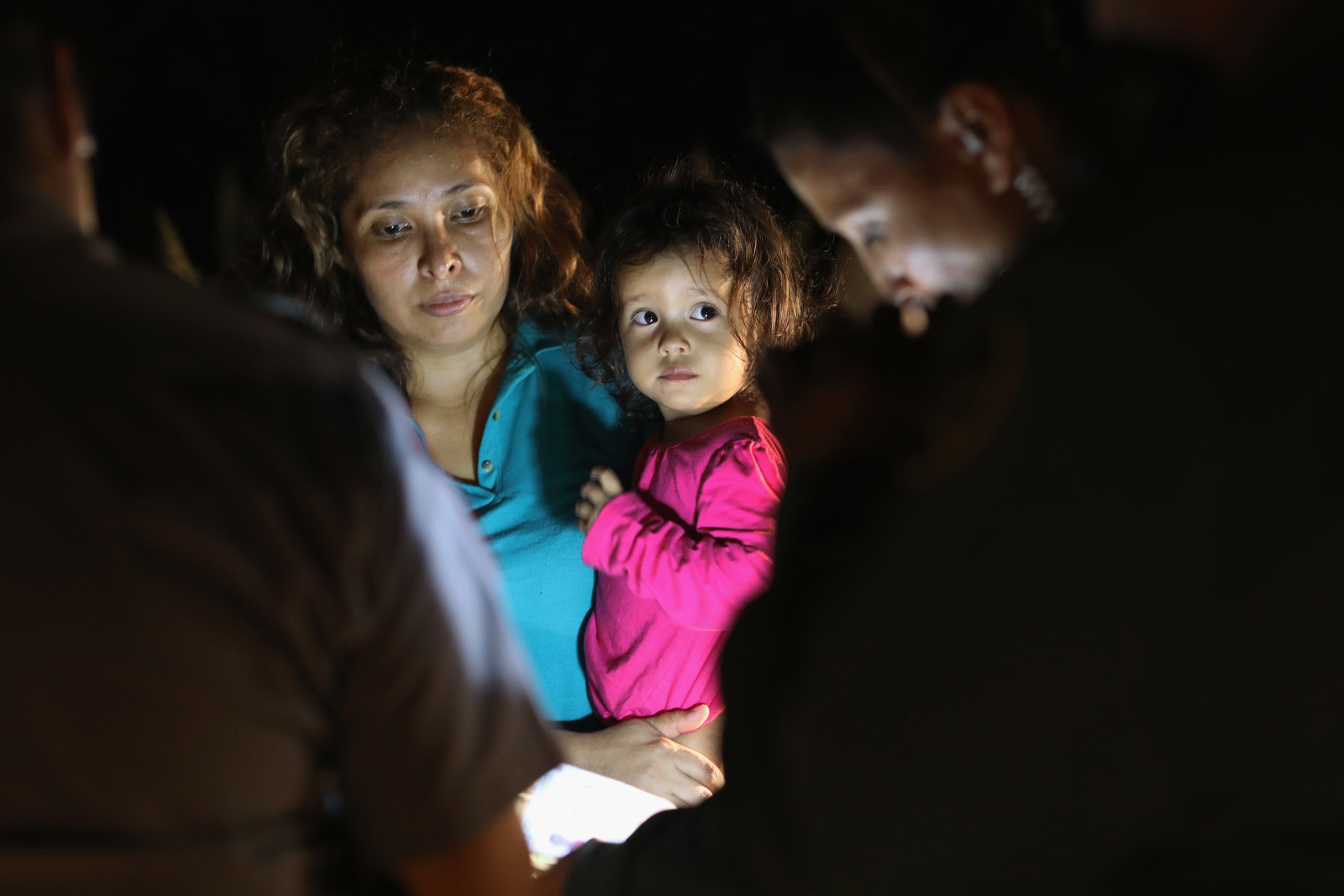 The ICE statement read:
On June 12, 2018, Sandra Maria Sanchez, 32, a previously deported woman from Honduras illegally re-entered the United States," . She was arrested by agents with U.S. Customs and Border Protection's (CBP) Border Patrol near Hidalgo, Texas, while traveling with a family member. On June 17, 2018, Sanchez was transferred to ICE custody, and is currently housed at the South Texas Family Residential Center in Dilley, Texas. Her immigration proceedings are ongoing.

On July 3, 2013, Sanchez was encountered by immigration officials in Hebbronville, Texas. On July 9, 2013, she was transferred to ICE ERO custody. On July 18, 2013, Sanchez was removed to Honduras under expedited removal.
The girl's father told the Daily Mail he hadn't heard from his wife and child for several weeks until he saw the pictures of them being apprehended.
"The photo of her...it broke my soul," he told Univision. "As soon as I saw it I knew it was my girl."
Hernandez, who is still in Honduras, said he didn't agree with his wife's decision to leave for the US.
"The situation here is really hard, yes, it's real hard, but I don't think it was that bad to go and make a decision to risk your, for her to risk herself, the mother and the girl, and the life of the girl," he said.
The girl's photo has been used as the key image for a Facebook fundraiser that has so far raised more than $15 million to reunite immigrant children and parents.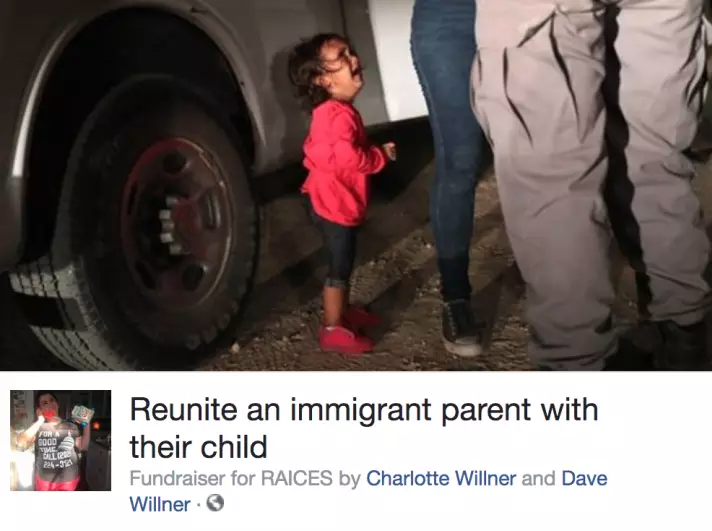 On Thursday, the little girl was also on the cover of Time magazine.
UPDATE
This story has been updated with the Univision and Daily Mail interviews with the man who says he is the girl's father.
UPDATE
This story has been updated with the ICE statement about the girl's mother.