In a video that's been going viral, a US Border Patrol SUV is seen hitting a Native American man in Arizona and speeding away.
The video was taken by Paulo Remes, the 33-year-old member of the Tohono O'odham Nation who was hit by the vehicle.
"They just ran me over, bro," Remes can be heard saying in the video, which was taken Thursday in the village of Topawa.
Because the tribe's land straddles the US–Mexico border, they have strongly opposed President Trump's proposed border wall, which would divide their people.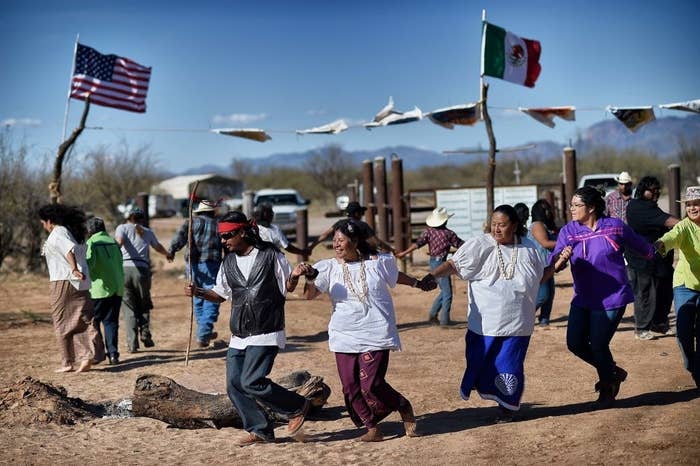 After being hit, Remes was treated for bruising at a hospital, but is now "doing all right ... just a little sore, really," he told the Arizona Daily Star.
The SUV did not stop after hitting him, Remes said, instead turning on its sirens and speeding away.
"What I think he did was turn on the sirens to get away from the scene of the crime," he said.
In a statement to BuzzFeed News, a spokesperson for US Customs and Border Protection said it is "actively investigating this incident" and "fully cooperating with the Tohono O'odham Police Department as they investigate."
The agent's identity will not be released "at this time" since the incident "is still under investigation," he said.
"We stress honor and integrity in every aspect of our mission," the US Customs and Border Protection spokesperson said. "We do not tolerate misconduct on or off duty and will fully cooperate with all investigations of alleged unlawful conduct by our personnel."
Edward D. Manuel, chair of the Tohono O'odham Nation, released a statement demanding "action and transparency on behalf of the Remes family and all families who have suffered at the hands of increased militarization of the border."
What happened to Remes is not an isolated incident, his mother, Juanita Remes, said in the statement.
In 2002, Border Patrol Agent Cody Rouse ran over and killed Bennett Patricio Jr., a member of the Tohono O'odham who was 19 at the time. A judge later cleared Rouse of any wrongdoing, declaring it an "unavoidable accident."
"Justice needs to be done on these people who take human life for granted," Juanita Remes said.