A Restaurant Is Facing Backlash After Putting Up A "Black Olives Matter" Sign
"Show off your gluten-free crusts, not your implicit racial bias."
An Italian restaurant in Albuquerque, New Mexico, is facing backlash after putting up a sign that said, "Black Olives Matter."
Rick Camuglia, the restaurant's owner, told BuzzFeed News he approved the sign after his chef came up with the phrase, and was "astounded about" the "negative backlash."
"We thought it was a cute play on words that would draw somebody to try our black olives," he said. "It was literal. There was nothing positive or negative about [Black Lives Matter] that inspired us to put that on the sign."
Camuglia said his opinion on the sign has "not really changed" following the backlash because he "knew what the intention was."
Commenters have called the sign "offensive" and "in very bad taste." They said the restaurant took a "tragedy and play the words to drum up business."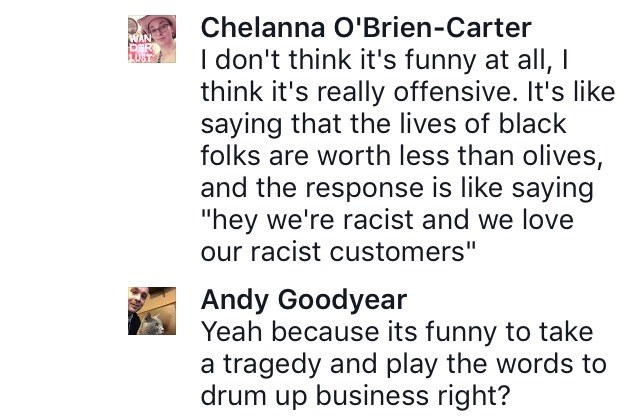 Some have even left negative reviews of the restaurant.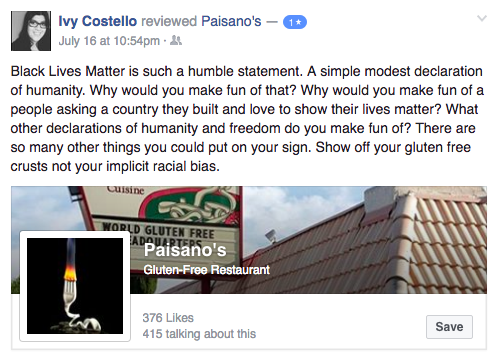 Though some said they found nothing wrong with the sign.


The restaurant's staff was also criticized for deleting critical comments from its page.

One of these commenters, Linzee Locke, told BuzzFeed News that she received hateful responses to her comment. She said the hate included "photos of black cows saying it was a Black Lives Matter meeting" and "a photo of a Caucasian man on a motorcycle with machine guns saying 'We are ready.'"
"I fully expected that the restaurant would reach out to me via Messenger or comment apologizing for their customers and for their offensive sign," Locke said. "That did not happen. My messages — all of which were polite, profanity-free, etc. — were deleted, and I was blocked from their page."
Camuglia said that, in general, his chef, who runs the Facebook page, decided to delete what he referred to as "horrible, outrageous statements."
"In hindsight it probably wasn't a good idea, but I don't see why it should cause any uproar," he said.
Camuglia and the restaurant have since posted a message on Facebook thanking supporters.