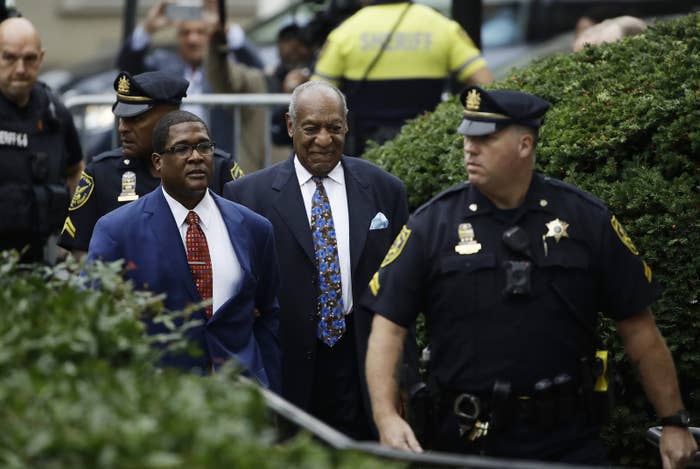 NORRISTOWN, Pennsylvania — Prosecutors on Monday tried to convince a judge to declare Bill Cosby a sexual predator in advance of him being sentenced for raping Andrea Constand at his Pennsylvania home in 2004.
Cosby faces the possibility of spending the rest of his life behind bars if he is given the maximum sentence of 30 years.
"Your honor, I have testified. I have given you my victim impact statement. The jury heard me. Mr. Cosby heard me," she briefly said in court. "All I am asking for is justice as the court sees fit."

If declared a predator by the court, Cosby would be required to register for life with the Pennsylvania State Police, attend sex offender counseling for the rest of his life, and be subject to community notification if he's ever released. Cosby's attorneys have argued that designating him a sexually violent predator "is by any measure excessive when applied to an 81-year-old blind man."
Dr. Kristen Dudley, a member of the sex offender assessment board, said Cosby meets the criteria for "other specified paraphilic disorder," and to be deemed a "sexually violent predator."

Paraphilia is a catch-all diagnosis referring to abnormal, dangerous sexual behaviors, and in Cosby's case, with "nonconsenting women," Dudley said in court, adding that people with paraphilia are "likely to reoffend." The judge said he will reserve judgment until he hears from Cosby's defense witness on Tuesday.

While there were numerous women who have accused Cosby of sexually assaulting them in the courtroom, only Constand was permitted to make a statement.
Constand's mother, father, and sister all read their victim impact statements to the court. Her father, Andrew, testified that he started taking Ativan to sleep after finding out what had happened to his daughter and "today, many years later, I take double the medication."
"The thought of what happened to my daughter will be with me forever like a dark cloud hanging over my head," he said.
At the close of the hearing, Montgomery County District Attorney Kevin Steele asked the judge to give Cosby the maximum sentence in state prison "because of the showing again and again of no acceptance of responsibility for his actions, no remorse."
"He seemingly doesn't think that he's done anything wrong," he added.
Cosby was convicted in April of drugging and raping Constand, who his defense team tried to paint as a con artist who showed romantic interest in the comedian in order to concoct false assault allegations and secure a nearly $3.4 million civil settlement, at one point calling her a "pathological liar."
The jury for Cosby's first rape trial last year was unable to reach a verdict. However, for his retrial, the jury of seven men and five women voted after about 14 hours of deliberation to convict on three counts of sexual assault. Prosecutors were able to call on five other accusers who testified that they too were drugged by Cosby. Four of them, including model Janice Dickinson, said they were also sexually assaulted.
More than 60 women have accused Cosby of drugging and sexually assaulting them over the span of decades, but Constand's allegation was the only criminal case to be brought, in large part because most of the accusations were too old to prosecute.