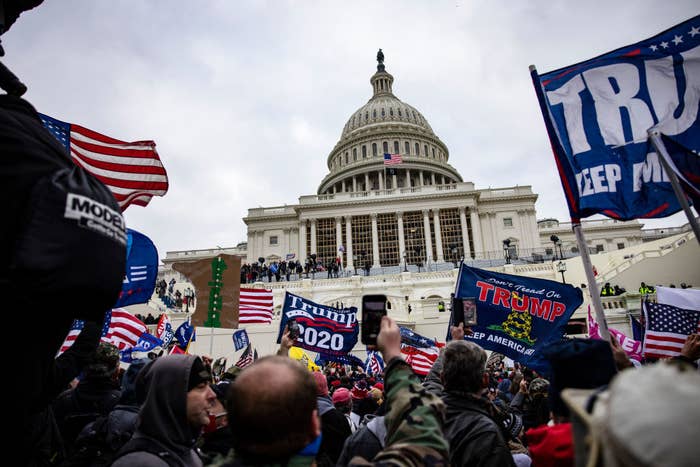 Far-right internet troll Tim Gionet, better known as Baked Alaska, was arrested Friday for his role in the deadly insurrection at the US Capitol.
Gionet was arrested by the FBI on charges of "knowingly entering or remaining in any restricted building or grounds without lawful authority" and "violent entry and disorderly conduct on Capitol grounds," a criminal complaint obtained by BuzzFeed News shows.
Gionet (who briefly worked for BuzzFeed years ago) livestreamed the Jan. 6 attack on Congress on DLive, a streaming platform popular with right-wing extremists, and at one point turned the camera to show his face.
"We are in the Capitol Building, 1776 will commence again," he said on video, the court documents state.

Despite participating in the coup attempt — including shouting anti-Semitic and QAnon dog whistles, and encouraging others to remain in the building — he at one point identified himself as a member of the media to responding police officers and asked them where he should go. He then accused one of the officers of shoving him, though "no shoving can be seen on the video," the records state.
"You're a fucking oathbreaker you piece of shit," Gionet then said to an officer.
Court documents also state that Gionet said on camera, "Occupy the Capitol let's go. We ain't leaving this bitch."
His livestream may be the reason many of the Capitol rioters have been and will be discovered by law enforcement, Vice reported. The FBI is using Gionet's video to help identify the people who were there and has asked the public to assist in tracking them down.
Thanks to a feature on DLive where viewers can "tip" streamers, Gionet could have earned more than $2,000 from the Capitol riot livestream, according to the New York Times.
However, DLive has since suspended Gionet's account, along with several other accounts, and said the platform would be "freezing their earnings and abilities to cash out," and that "donation[s] and paid subscriptions will be refunded."
"While we strongly advocate for the empowerment of our content creators, we also have zero tolerance towards any forms of violence and illegal activities," the company said.

This is not the first site Gionet has been deplatformed from. In 2017, he was permanently banned from Twitter for violating its hateful conduct policy, and he was banned from YouTube in October 2020 for harassing store workers for wearing masks.
He has also been banned from Uber, GoFundMe, Patreon, and PayPal.
Gionet was previously arrested in December for pepper-spraying a bouncer after he got kicked out of a Scottsdale, Arizona, bar and refused to leave, the Phoenix New Times reported. He was charged with assault, disorderly conduct, and criminal trespassing for the incident, which he also livestreamed.
On Thursday, a Scottsdale judge issued a warrant for his arrest due to Gionet allegedly violating the terms of his release by leaving the state to go to the Capitol riot, according to AZ Central.
A lawyer representing Gionet in the Scottsdale case did not immediately respond to a request for comment.